Have you heard the news? The skilled trades shortage is getting worse.
From 2015 to 2018, the number of U.S. employers struggling to find workers with the right skills jumped from 32 percent to 46 percent. That's nearly half of employers in the country.
The skills gap is worst in the trades. Positions for welders, electricians and HVAC mechanics and installers are the number one hardest to fill right now.[1]
Technical training could hold the solution to the nation's skilled worker shortage and your search for a career with job security, but which field should you choose? It's time to investigate.
Learn more about 3 skilled trades career options in this article.
Have You Considered a Career in the Skilled Trades?
Fill out the form to recieve a no obligation info packet.
Skilled Trades Career Comparison
If you like building and fixing things, a career in the skilled trades could be a great option for you. See what sets the work of welders, electricians and HVAC technicians apart below.
Welder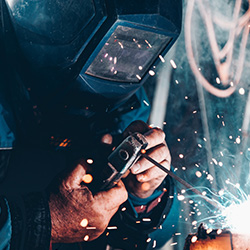 If you particularly like building things, you might want to consider becoming a welder. These professionals use hand-held or remotely controlled equipment to fuse metal parts.
These industries rely on welding for producing strong metal joints:
Auto manufacturing and repair
Construction (buildings, bridges and highways)
Petroleum processing and transport (refineries and pipelines)
Power plants[2]
Most welders work in manufacturing, but many are also employed in other fields:
Specialty trade contractors
Self-employment
Merchant wholesalers, durable goods
Maintenance and repair[3]
Benefits of Being a Welder
Career Mobility
Once workers learn the basic welding processes, they can typically move from one industry to the next with these skills. For example, if a welder were to be laid off from a job in the oil and gas industry, he or she might be able to find work in auto manufacturing.[4]
Travel
It's not just industries in the U.S. that need welders. These pros get to ply their trade around the world, building ships in ports across the globe, joining metal seams and installing pipelines in exotic environments.[5]
Career Fulfillment
Welders often have a hand in projects from start to finish and can enjoy the satisfaction of creating useful and even beautiful objects. Imagine working for months on a skyscraper and then looking up at the glittering structure when it's finished.[6] Welders helped construct the Empire State Building and still play a role in erecting city skylines today.[7]
Electrician

Were you that kid who was always taking apart electrical appliances, figuring out how they worked, and then putting them back together? Then you might enjoy a career as an electrician.
Similar to welders, these tradespeople have a hand—literally—in the construction of homes, businesses and factories. But, rather than fusing together steel beams, electricians work with wiring. They're tasked with installing, repairing and maintaining communications, electrical power, control and lighting systems.[8]
Electricians primarily work in the contracting industry, but are also represented in other fields:
Manufacturing
Government
Employment services[9]
Benefits of Being an Electrician
Daily Variety
Whether you work for yourself or for a contractor, there's a good chance you could enjoy a lot of variety when it comes to your tasks and work settings.[10] A typical day could have you performing wiring work at different construction sites or in residential homes.[11]
While you may not have as many opportunities to travel the world as a welder would, your work could take you to different cities or counties throughout the week. You can also expect to enjoy a combination of indoor and outdoor work as an electrician.[9]
Career Advancement
Many electricians start out working for electrical contractors and then climb their way up the career ladder to owning their own contracting businesses. Here's what this career path could look like:
Step 1: High school diploma or GED
Step 2: Electrician training
Step 3: Journeyman electrician license
Step 4: Master electrician license
Step 5: Leadership roles (field manager, service manager and general manager)
Step 6: Electrical contractor's license and business ownership[12]
Being Your Own Boss
If you're not a fan of the typical 9-to-5 workweek, you might be especially interested to know that 9 percent of electricians are self-employed.[9] This means you'll likely be able to set your own schedule and choose which customers you want to work with.
HVAC Mechanic and Installer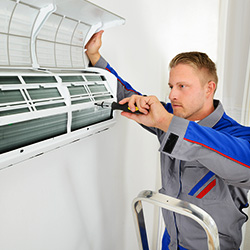 Do you like to work with your hands and solve problems?[13] A career in HVAC service could be a good fit for you.
Like electricians, HVAC technicians also work on wiring but mainly to install, maintain and repair heating, ventilation, air conditioning and refrigeration equipment.[14] The majority of techs work for plumbing, heating and air-conditioning contractors, but they are also employed in other industries:
Retail trade
Wholesale trade
Educational services[15]
Benefits of Being an HVAC Technician
Solving Problems
HVAC technicians put their technical know-how, mechanical skills and practical smarts to work to solve complex problems. They can feel the satisfaction of overcoming new obstacles on a regular basis in order to keep their customers comfortable and happy.[16]
Active Work
HVAC technicians travel to various worksites throughout the day. They can perform services indoors and outdoors. They're on their feet a lot. Overall, it can be an active job, which is great if you shudder at the thought of sitting at a desk in an office all day.[15]
Helping People
Perhaps more so than for welders and electricians, HVAC technicians get to see firsthand how their work helps people. If you've ever endured a sweltering day with a broken A/C unit, you likely know how much relief a tech can bring when he or she gets the system back up and running.[16]
Finding Your Role in the Skilled Trades
Choosing a career in the skilled trades can hold much promise given the strong need for these workers, but's a big decision. Considering the factors discussed above, as well as others, like demand in your region, can help inform your choice.
Want to learn more about technical training for a career as a welder, HVAC technician or electrician? Call Tulsa Welding School at (855) 237-7711. We've been preparing students for successful entry into the trades since 1949 and can help you learn the skills to get your start in these industries within the year.
[1] https://go.manpowergroup.com/talent-shortage-2018#hardesttofillroles-explorebycountry
[2] https://www.bls.gov/ooh/production/welders-cutters-solderers-and-brazers.htm#tab-2
[3] https://www.bls.gov/ooh/production/welders-cutters-solderers-and-brazers.htm#tab-3
[4] https://www.bls.gov/ooh/production/welders-cutters-solderers-and-brazers.htm#tab-6
[5] http://gowelding.org/articles/facts-about-career-welding/#content
[6] https://www.bls.gov/ooh/construction-and-extraction/structural-iron-and-steel-workers.htm
[7] https://www.weldingsuppliesfromioc.com/blog/3-of-the-worlds-biggest-welding-projects/
[8] https://www.bls.gov/ooh/construction-and-extraction/electricians.htm#tab-2
[9] https://www.bls.gov/ooh/construction-and-extraction/electricians.htm#tab-3
[10] https://careertrend.com/what-are-some-advantages-of-being-an-electrician-13654389.html
[11] https://careertrend.com/info-8037924-benefits-being-electrician.html
[12] https://explorethetrades.org/what-we-do/education/electrician/why-become-an-electrician/
[13] https://www.owlguru.com/career/refrigeration-mechanics-and-installers/quiz/
[14] https://www.bls.gov/ooh/installation-maintenance-and-repair/heating-air-conditioning-and-refrigeration-mechanics-and-installers.htm#tab-2
[15] https://www.bls.gov/ooh/installation-maintenance-and-repair/heating-air-conditioning-and-refrigeration-mechanics-and-installers.htm#tab-3
[16] https://www.justrightair.com/webapp/p/632/6-reasons-why-you-should-consider-hvac-as-a-career
This blog has been labeled as archived as it may no longer contain the most up-to-date data. For a list of all current blog posts, please visit our blog homepage at https://www.tws.edu/blog/