Electrical Lineworker
Campus Availability:Dallas Metro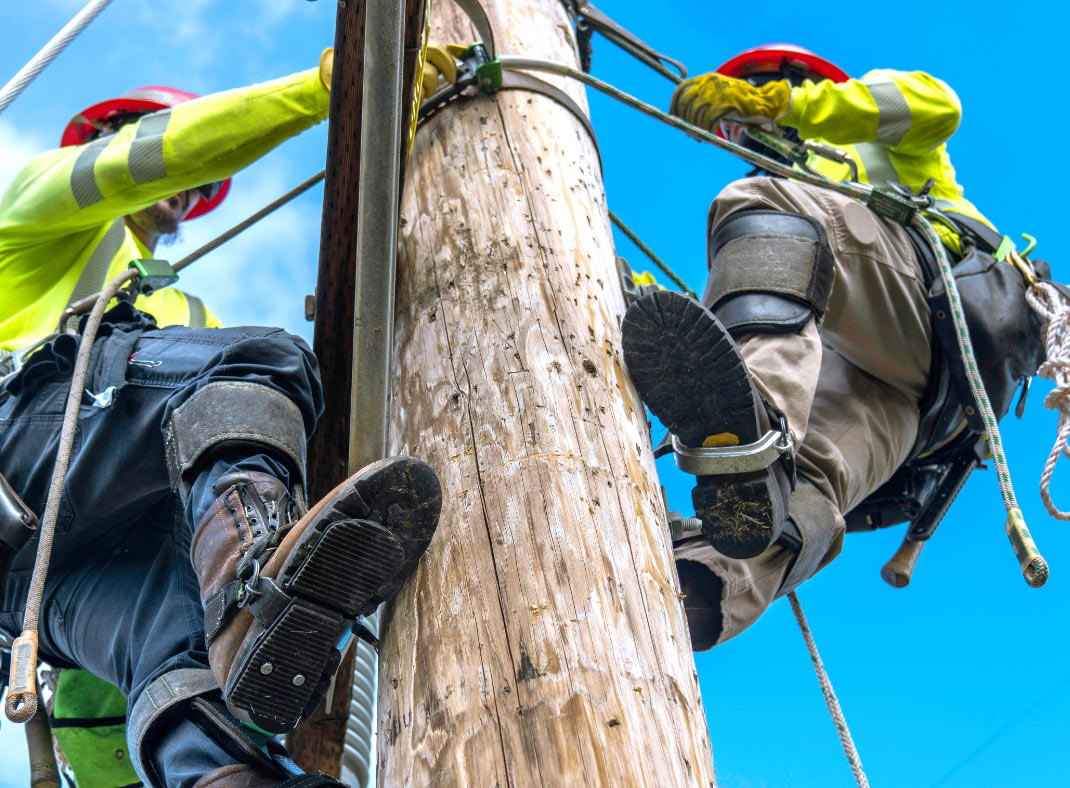 Looking to train for a career where adventure and adrenaline meet purpose and impact?
The Electrical Lineworker program is designed to prepare students for entry-level employment in the field of utility power transmission and distribution construction, troubleshooting, and commercial electrical maintenance and repair.
Curriculum That Prepares You for the Industry
The Electrical Lineworker program courses prepare you for environments, scenarios, and safety standards you'll encounter while working in the industry:
Climbing in Elevated Work Site (Pole Climbing)
Overhead Construction
Underground Construction
System Design and Operation
National Electric Safety Code
AC and DC Circuits, and Electric Power
The curriculum is consistent with the national standards for electric power generation, distribution, and transmission industry as described in the United States Department of Labor Occupational Safety and Health Administration.
Students will have the opportunity to qualify for OSHA-10 certification upon successful completion of this program, students will receive a Diploma.
Employment is Expected to Grow for Line Installers and Repairers in the US by 11,100 Jobs by 2031!i
Staff and Faculty Committed to Your Success
Meet our Electrical Lineworker faculty, Zachary Taylor. Learn from expert faculty who have years of experience in the lineworker field.
Request More Info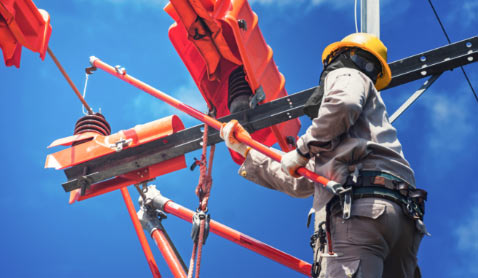 Video Tour

Take a video tour of our campuses! Explore the classrooms, labs and shop floor with our unique interactive experience.

Watch Video Tour
Employer Partnerships

TWS has partnerships with major employers across the United States and even internationally. Our dedicated Career Services team will be there to support you every step of the way after graduation.
The Right Tools for the Job

When you begin your education at TWS, we provide you with an extensive gear package. You get the high quality professional tools you need to succeed. Ask your Admissions Representative for more information about the gear package for your program.
Meritize Student Loans

Tulsa Welding School believes in equal access to education for everyone. We've partnered with Meritize to offer student loans that are customized based on individual student performance.

*Available to those who qualify

Learn More
Upcoming Class Start Dates
Class Schedules
Program Courses
OSHA and Compliance Training
The student will receive basic, as well as more advanced, training about common safety and health hazards on the job. Students will be required to become proficient and qualify on various hands-on safety tasks that are necessary for employment as a Lineworker.
During this course students will earn their OSHA 10 card and American Red Cross Public Safety Two Year Certification. Bucket Escape, Pole Top Rescue and Bucket Rescue 1-year qualifications will also be earned, as well as an ATSSA Flagger Certification.
EL101
3 Semester Credit Hours
43 Lecture Hours
34 Lab Hours
77 Total Contact Hours
Job Briefs and Leadership Training
During this course the student will be introduced to job briefs, learning their importance and how to create and effectively deliver one.
Creating and delivering a successful job brief from a leadership position means doing an effective job hazard analysis, mitigation and implementing direct controls for each hazard, and clearly communicating this information to the crew in regards to their roles and responsibilities.
EL102
2 Semester Credit Hours
20 Lecture Hours
41 Lab Hours
61 Total Contact Hours
Pole Climbing School
During climbing school, students will learn proper technique to correctly and safely climb utility poles at various heights. They will become proficient with assembling, inspecting, wearing and using climbing tools including hand tools, a wood pole fall restraint and secondary rope.
During this portion of the Electrical Lineman Training Program, students will work to become competent climbers, maintain positive fall restraint while transitioning obstacles and pass qualification testing at the end of the course.
EL103
3 Semester Credit Hours
4 Lecture Hours
91 Lab Hours
95 Total Contact Hours
General Pole Line Construction
During EL104 students will study construction standard drawings for different types of services. Classes will then apply this knowledge in a hands-on setting. In this course students will be introduced to pole line construction, where they will learn the most common tasks performed with in the field.
Students will gain experience digging pole holes, converting tangent construction to alley arm construction, guy wires and anchors. They will practice and master the required knots and utilize them during the pole line construction.
EL104
3.5 Semester Credit Hours
39 Lecture Hours
56 Lab Hours
95 Total Contact Hours
Field Equipment, Tools and Materials
Students will become familiar with various field equipment, tools and materials during EL105. Students will learn to do pre-flights, set up and operate a Digger Derrick and Bucket Truck. They will work together to load and set poles and transformers/material.
This course will also explore uses of other tools of the trade including ladders, chain saws and hotsticks.
EL105
4 Semester Credit Hours
84 Lecture Hours
86 Lab Hours
120 Total Contact Hours
Introduction to Transformers and Grounding
Students will learn about the various transformers and distribution methods used in the industry including the Wye and Delta connections and how those connections are used in power distribution.
Upon course completion they will have a basic understanding pad-mounted and overhead transformers, and how they work, as well as connection types often used in the field. Additionally, students will learn to properly install protective grounds and bonds (EPZ) at the worksite.
EL106
1 Semester Credit Hours
13 Lecture Hours
19 Lab Hours
32 Total Contact Hours
Sound Interesting? Contact us for more information on this course and the Electrical Applications Program.
Interested in a Different Program? Select One Below:
Electrical Lineworker program is a short program and not eligible for Title IV funding due to the definition of an Academic Year.
cAccording to BLS data Texas employed 11,960 Electrical Power-Line Installers and Repairers (49-9051) and 14,360 Telecommunications Line Installers and Repairers (49-9052) through May 2022. http://data.bls.gov/oes.
Tulsa Welding School Dallas Metro (Irving, TX) does not have any graduates as this is a new campus/program and average wage and employment rates are not yet available.