James, 37, from Tulsa, OK, graduated the Professional Welder program at Tulsa Welding School in July 2020.
Thanks for your time, James. What did you do before enrolling in welding school?
I spent my formative years after high school basically bouncing from job to job. I was never good at holding down a job because I get bored pretty easily. I was getting ready to get married, and realized I needed to stick with a job, so I made sure to get one I couldn't get out of easily. I joined the U.S. Navy in May 2007 and was medically separated in June 2016. 
Thank you for your service. Were you a welder in the Navy? 
No, I was an aircraft electrician. 
Have You Considered a Career in the Skilled Trades?
Fill out the form to recieve a no obligation info packet.
What did you do after separating from the Navy?
After I came back to Tulsa, I spent almost three years at community college. I started with Nursing, then changed my major to Cybersecurity. After a few years of hanging around college, I realized that I'm still a hands-on person, not a "sit behind a desk" person. 
So where did the idea of welding come from? Had you ever done any welding?
I'd touched a welder once before, at a job at a golf course. That was it. Going to welding school was actually my wife's idea. They were having an open house. She knew I wasn't happy because the idea of being behind a desk for the rest of my life was bothering me. I went to the open day and met Gary in the Admissions team. He gave me a tour, and I signed up on the spot that day.  
What made you sign up there and then?
TWS Student Store
The TWS student store is now open! Visit GoShopTWS.com go grab all the latest TWS swag.
Shop Now
It was a chance to work with my hands again, a chance to build things again. As I said before, I've always been a hands-on person, and welding was one of those things that was always in the back of my mind that would be kind of cool. Another reason is a hobby of mine is racing cars, and welding is something that could be a very helpful skill. So, I knew it could help me out in my personal endeavors, and I knew it was a good trade to have because my stepdad used to be a welder. It just seemed really interesting to me.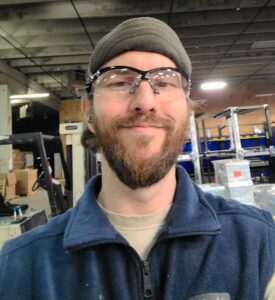 Did you use your GI Bill?
I had four months left on my GI Bill. If it weren't for COVID I would have had to use my own money to pay for the last three months. But because of COVID, they extended the GI Bill to cover the cost. Even during a pandemic, there's a silver lining!  
What did you enjoy most during your time at Tulsa Welding School? 
I'd have to say it was the whole process. It was exciting for me. I told Gary the day I signed up that I'd be number one in my class. He said, "Good luck with that, it's a challenging program!" I knew it would be, which is why I spent many extra hours in the booth after class, which the school allows. I spent those extra hours making sure I was as good as I could possibly be in every welding process that we did at school.
So, did you win Top One?
I did. I was Top One in every phase of the process except for two. I lost to Judge Leiter in Phase Three, and I lost to a guy who transferred from the Houston campus in Phase Six or Seven. I can't remember his name. So, I did win Top Welder, and got a nice MIG welder from the school as a prize. I had the choice of a MIG or a Stick welding machine. I have some sinus issues and for the dirtier processes, I have to wear an air filter. That's why I prefer the cleaner processes.
Did you work while attending school?
I was able to focus on school. The GI Bill gives you a little money to live on if you pick the right one. That was really important to me because I have three daughters as well. So the job I'm at now is the first real one I've had in the four years since I left the Navy, besides a little Uber and Lyft driving.  
Where are you working now?
I'm working for a company called Innovations Manufacturing, based out of Denver, Colorado. I started in October. We build aluminum ramps of all sizes, for sheds mostly. I love it out here. I knew I wanted to move out west because I love the country. The mountains are beautiful, and the air is nice.  
I didn't get a welding job initially. I took a job running a saw, cutting the material for the welders to weld. But I took it because I wanted to be out here so bad, and it was such a good opportunity. I very specifically wanted to TIG weld; that was my favorite process, and that's what they do here. 
Are you welding now?
I am. About a month in another employee moved on, and as I was promised when I took the job, as soon as there was an opening, I was the next man up. We are actually moving from one shift to two shifts now, and I've been made supervisor on the second shift. I'm still a junior man at the place, so it won't be a huge pay bump, but I'm not expecting a whole lot because I'm just six months out of school.
Are you happy with what you're making? 
I'm looking at this job as an investment in myself because I'm getting experience doing aluminum TIG welding, which is a finicky type of TIG compared to some other types. While the money is not amazing right now, especially for the type of process we're doing, it's adequate. I can afford a small apartment and live comfortably in Denver, pretty much the most expensive landlocked city in the States, but as I said, this is more of a long-term investment in myself. I'm also good at not bouncing jobs anymore! I'm old enough that I value stability now, rather than bouncing around to get a little bump in the next check.     
What's your career plan from here?
My eventual idea is to have my own automotive performance shop where I can weld on roll cages, exhausts, things like that. I'm kind of flying by the seat of my pants right now. I have long-term plans, but they're not set in stone.  
What do you enjoy most about your new trade?
Just the idea that I can take something as strong as steel or aluminum, or hopefully titanium one day, and turn it into a molten puddle with something in my hands and just manipulate it. That's pretty cool to me. 
What advice do you have for new students, for them to be successful at TWS?
Don't be afraid to ask questions. Don't be afraid of the instructors. They are there to help you in any way they can. They're not going to weld for you, but they'll hold your hand and show you. If you need help, you need to ask for it, don't wait for an instructor to come by and look at your weld. If an instructor isn't available, know who the best welder in your class is at that process, and ask them for help. Judge was one of my main competitors from day one, but he and I and another guy were always bouncing ideas off each other. Even though we were all inexperienced, each of us may have been better at a certain process than the other. There's always something you can learn from someone else.  
If you're a TWS graduate and would like to share your success and be an inspiration to others, please email [email protected] to be considered for a Graduate Connection interview. Please include details such as your graduation date (month/year), program, and campus name (Tulsa/Jacksonville/Houston). 
This blog has been labeled as archived as it may no longer contain the most up-to-date data. For a list of all current blog posts, please visit our blog homepage at https://www.tws.edu/blog/