The glass ceiling may still be sometimes hard to crack for female welders and other skilled workers, but thanks to new education initiatives encouraging girls to enter the skilled trades as well as science, technology, engineering and mathematics (STEM) fields, this male-dominated sector may attract more young women workers.
Though women's participation in the skilled trades is slowly rising, women only make up just 8.9 percent of construction workers. The need for women welders may become even more imperative as massive labor shortages are expected within the next decade in this industry.  Exposing girls to welding in high school is one very promising-looking solution.
Rise in Vocational Opportunities for High School Students
From shop classes to introductory courses to lab sessions, high school vocational opportunities allow students to tap into economic trends, learn more about emerging industries like energy extraction, and equip themselves with unique skills they can sharpen should they continue in a professional welding program after graduating from high school. The National Center for Welding Education and Training has argued the need to train girls as well as boys to help overcome a future shortage of welders.
How High School Classes Prepare Girls for Welding Careers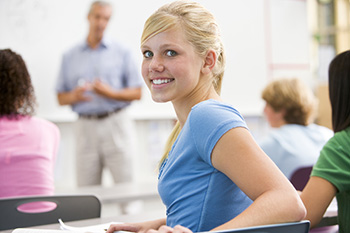 So, what are these new classes actually teaching the next generation of women welders? One Oregon school is pulling out all the stops with a girls-only welding, computer technology, and woodshop class. The female students spend six weeks in a woodshop and six weeks in a welding lab, supplementing their hands-on training with computer design and computer science classes. The class gives students the opportunity to complete a whole project from start to finish, such as designing and welding a piece of furniture. It also allows them to build confidence in a relatively pressure-free environment while teaching important technical skills that may come in handy later. 1
Have You Considered a Career in the Skilled Trades?
Fill out the form to recieve a no obligation info packet.
In New Mexico, another high school is hoping to increase the number of women welders in the area. Santa Teresa High School doesn't have a welding program exclusively designed for girls, but teachers actively  2
Advantages & Challenges for Girls in the Skilled Trades
Of course, choosing vocational training isn't always a clear or easy path for girls. A lack of female representation in the skilled trades may hold female students back from these valuable opportunities as they are taught to follow more traditionally feminine ideals according to one female student. With women only making up 3 percent of professional welders, it's no surprise that some schools are finding it difficult to prepare girls for this male-dominated career. 3
In fact, as the need for skilled workers continues to increase, more industries, agencies, and companies are using scholarships and grants to encourage young people – particularly women – to pursue welding- and other vocational training. For instance, in 2014, the U.S. Department of Labor awarded nearly $2 billion in total to three programs dedicated to supporting women in the trades and other nontraditional occupations. These grants aim to break down barriers for women in male-dominated fields to help them find long-term employment and middle-class wages. 4
A Bright Future for Girls in Welding
Some of the nation's biggest industries, like manufacturing or construction, may depend on women with valuable welding skills to fill job shortages in the years to come. As more high schools inspire girls to join the skilled trades, young women can look forward to a lifetime of encouraging job opportunities if they take advantage of these educational, vocational, and professional opportunities.
1 – http://www.oregonlive.com/sherwood/index.ssf/2014/12/at_sherwood_high_school_girls-.html
2 – http://cbs4local.com/news/local/girls-dominate-construction-and-welding-classes-at-santa-teresa-high-school
3 – http://www.pbs.org/newshour/bb/the-only-girl-in-school-to-spark-an-interest-in-welding/
4 – https://www.dol.gov/newsroom/releases/eta/eta20141177
This blog has been labeled as archived as it may no longer contain the most up-to-date data. For a list of all current blog posts, please visit our blog homepage at https://www.tws.edu/blog/