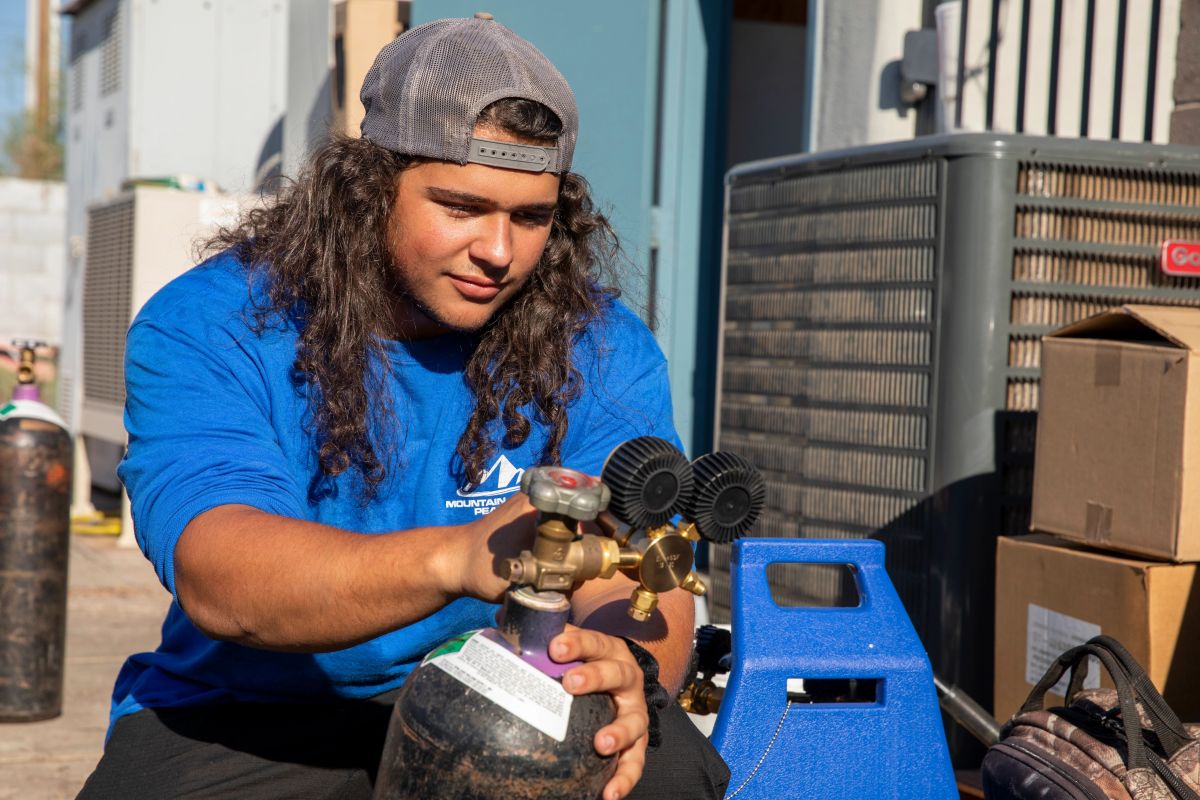 Are you interested in becoming an HVAC technician but need help deciding which school you should choose or whether you need a certificate to start working in the trade? While you can start as an apprentice without a formal education, building a solid foundation of knowledge and skills is essential before you begin installing and repairing HVAC systems in the real world.
With over 37,0001 graduates since its inception, Tulsa Welding School has trained trade professionals to work as HVAC, welding, and electrical technicians for many years. Plus, over 16,0002 employers have hired our graduates. We pride ourselves in our ability to offer career services resources to identify jobs you are passionate about and prepare you for the all-important interviews that employers will schedule. Students choose Tulsa Welding School because they get hands-on training, use the latest in VR technology, and receive ongoing student support to prepare them for the job of their dreams.
How Do I Get an HVAC School Certificate?
A great way to get your HVAC school certificate is by attending Tulsa Welding School. We offer classroom lectures and hands-on training to prepare you for an apprenticeship after graduation. We also use the latest virtual reality (VR) technology with Interplay Learning to practice what you will encounter as an HVAC technician while you aren't in the lab. VR can help you reinforce your knowledge on HVAC troubleshooting and diagnostic techniques that will serve you well as an apprentice.
How Long is an HVAC Training Program?
You can complete an HVAC training program in as little as seven months. You can complete a diploma program in the HVAC trade quicker than attending a 2- or 4-year traditional college. How can we train you so quickly? We focus only on the knowledge and skills you will need to become an HVAC apprentice. You won't take English composition or 13th Century Literature, just the fundamentals of electricity, HVAC systems, solar, and refrigeration.
What Do You Learn During an HVAC Program at TWS?
Tulsa Welding School offers a Refrigeration Technologies program focusing on heating, ventilation, air conditioning, and refrigeration. From residential to commercial systems, you will work on real-life scenarios and use virtual reality technology to hone your skills to start working as an apprentice.
Have You Considered a Career in the Skilled Trades?
Fill out the form to recieve a no obligation info packet.
Some of the classes you will complete are electricity, solar, and refrigeration fundamentals. You also take courses in HVAC systems for residential and commercial applications, refrigeration systems and practices, and advanced troubleshooting techniques. These classes include the knowledge and skills needed to be a successful HVAC technician.
Want to Learn More?
Because HVAC is a hands-on job, technical training is typically required for anyone to enter this field. Many people invest in a trade program to learn the trade skills they need to be safe and effective as a professional. To learn more about our  Refrigeration Training program offered at our Dallas, TX campuses, contact us at Tulsa Welding School or call 1-855-981-7313.
Compliance Index
Total number of estimated graduates for TWS calculated based on historic data available as of Jan 1, 2023.
Indicates the total number of current partnered employers across all TWS locations as of May 2023.