Wish your work was more meaningful? Feel like your skills could be put to a better use than in your current job? Always had bigger and better dreams for yourself?
You're not alone. These are some of the reasons Americans change careers.[1]
If you've heard about the skilled trades shortage and are thinking of turning in your suit and tie for a hard hat and tool belt, consider these 5 tips to help make the transition successfully.
Tips for Pursuing a Career in a Skilled Trade
We hear about people changing careers often, but how common is it, really? We don't know the exact number because economists, sociologists and other experts can't agree on what constitutes a career change.[2]
But most people think of a career change as leaving your established occupation for another, different one: for example, moving from a job in architecture and engineering to one in construction and extraction.[3]
Have You Considered a Career in the Skilled Trades?
Fill out the form to recieve a no obligation info packet.
What makes for a successful career change? Recently, the Bureau of Labor Statistics offered some advice for changing occupations.  Let's consider these tips in the context of a transition into the skilled trades.
Tip 1: Find Out Why You Want to Change Careers
The first step to changing careers is determining why you want to leave your current occupation. What makes you unhappy? Sitting all day at a desk in an office?
Then a career in the trades could be a good change. Welders, HVAC technicians and electricians tend to move around a lot in their jobs and some work outdoors.[4][5][6] They're considered to have active jobs—if that's what you're looking for.
Work Values and Interests
Work values and interests are two important considerations. Similar to how you may have personal values like honesty and hard work, you can also have specific parts of your job that you find rewarding and meaningful. These can range from how much independence you have to your annual salary.
Welders, for example, help manufacture many important products, including ships, cars and airplanes. Welding plays an essential role in the construction of bridges, buildings, power plants and pipelines.[7] Metal fusing professionals may find satisfaction not only in playing such a vital role, but also in healthy wages and job security.[8]
People's interests can vary greatly, from movies and culture to motorsports and mechanics. Aligning your interests with your career can lead to greater satisfaction, especially if others in that field share those interests, too.[9]
If you're interested in building and fixing things, then you might consider working in the construction trades.[10]
Tip 2: Get the Facts about the Career You're Considering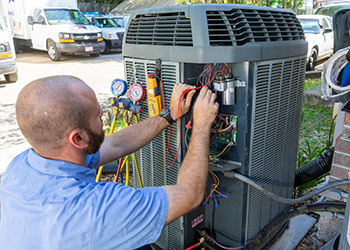 How promising is the career you're considering shifting to? Looking at job growth projections from the Bureau of Labor Statistics is a good place to start.
The national average job growth rate for all occupations is 7 percent.[11] Let's see how some skilled trades careers stack up.
You can also use the Bureau of Labor Statistics to find out what the training requirements for the occupations are. For example, a combination of formal welding training at a technical school and on-the-job instruction is typically required to become a welder.[18]
Knowing if you'll need to go back to school in order to change careers is an important consideration. Fortunately, welding training can be completed in as little as seven months. The training for many other trades also typically requires less time than a bachelor's degree.[19][20]
Tip 3: Meet People Working in the Industry You Want to Enter
Sure, you can look up plenty of data about skilled trades occupations, but nothing beats talking to a real welder or electrician. Check your circle of family and friends to see if anyone knows a tradesman or woman you can chat with. Prepare a list of questions you have about the industry like, "What did you like most about your work today?"
Meeting people already working in manufacturing or construction can also help you establish internal contacts who may be able to let you know about job openings or give you referrals for positions.
Tip 4: Align Your Skills With the Career
Changing careers can often require learning new skills. Determining the skills you already have first can help you figure out what you need to learn to enter the new occupation.
Take an inventory of the skills you've acquired from school, hobbies, past jobs and volunteer work. Identify skills gaps and how to close them in order to enter your new field.[21]
What skills do you need to enter a skilled trade? It depends on the specific trade. The Bureau of Labor Statistics offers required skills in the "How to Become One" tab of its career profiles.
Tip 5: Continue Researching
Changing careers can be a big decision, so make sure it's an informed one. Keep researching the skilled trade you're considering entering until you have all the facts.
Besides the Bureau of Labor Statistics, you can also check the Occupational Information Network (O*Net) for career facts and statistics.
With many employers struggling to find skilled trades workers, news agencies have been covering the shortage. Searching for information about these specific trades online or about the skills gap might also yield unbiased articles that shed light on the current state of trades occupations in the U.S.
Change Careers with Confidence
Since we spend so much time at our jobs and rely on them to pay our bills with, changing occupations can be scary. Will you like the work? Does it pay enough? Is there job security?
These are all important questions. Researching the answers to them can help you feel confident in your decision when you're ready to transition into a skilled trade.
[1] https://www.bls.gov/careeroutlook/2009/summer/art02.pdf
[2] https://www.bls.gov/nls/nlsfaqs.htm#anch43
[3] https://www.bls.gov/careeroutlook/2009/summer/art02.pdf
[4] https://www.bls.gov/ooh/production/welders-cutters-solderers-and-brazers.htm#tab-3
[5] https://www.bls.gov/ooh/installation-maintenance-and-repair/heating-air-conditioning-and-refrigeration-mechanics-and-installers.htm#tab-3
[6] https://www.bls.gov/ooh/construction-and-extraction/electricians.htm#tab-3
[7] https://www.bls.gov/ooh/production/welders-cutters-solderers-and-brazers.htm#tab-2
[8] https://www.bls.gov/ooh/production/welders-cutters-solderers-and-brazers.htm
[9] https://www.bls.gov/careeroutlook/2009/summer/art02.pdf
[10] https://www.trade-schools.net/trades/
[11] https://www.bls.gov/ooh/production/welders-cutters-solderers-and-brazers.htm
[12] https://www.bls.gov/ooh/production/welders-cutters-solderers-and-brazers.htm
[13] https://www.bls.gov/ooh/construction-and-extraction/structural-iron-and-steel-workers.htm
[14] https://www.bls.gov/ooh/construction-and-extraction/plumbers-pipefitters-and-steamfitters.htm
[15] https://www.bls.gov/ooh/installation-maintenance-and-repair/heating-air-conditioning-and-refrigeration-mechanics-and-installers.htm
[16] https://www.bls.gov/ooh/construction-and-extraction/electricians.htm
[17] https://www.bls.gov/ooh/construction-and-extraction/solar-photovoltaic-installers.htm
[18] https://www.bls.gov/ooh/production/welders-cutters-solderers-and-brazers.htm#tab-4
[19] https://www.bls.gov/ooh/installation-maintenance-and-repair/heating-air-conditioning-and-refrigeration-mechanics-and-installers.htm#tab-4
[20] https://www.bls.gov/ooh/construction-and-extraction/solar-photovoltaic-installers.htm#tab-4
[21] https://www.bls.gov/careeroutlook/2009/summer/art02.pdf
This blog has been labeled as archived as it may no longer contain the most up-to-date data. For a list of all current blog posts, please visit our blog homepage at https://www.tws.edu/blog/