Anthony, 31, from Splendora, Texas, graduated from the Welding Specialist program at Tulsa Welding School & Technology Center in Houston in July 2019.
Thanks for your time, Anthony. Tell us what you did before welding school? 
In 2006 I joined the U.S. Army when I was 17. I went to Iraq and then Afghanistan a couple of times. I was medically retired in 2015 due to injuries sustained overseas, getting blown up. When I got back, I worked for the family business, a heavy equipment company, before starting welding school in December.
Thank you for your service. Why did you decide to go to welding school?
Growing up on a farm, I'd welded a lot throughout my life. I also did some welding on armor in the Army, and we had weld trucks at the heavy equipment company. I did some basic stick welding there and that's when I really started welding more. But work got slow late last year because of all the rain, and I got bored. I figured I would use my GI Bill and go learn something that was interesting to me.
Have You Considered a Career in the Skilled Trades?
Fill out the form to recieve a no obligation info packet.
Were you lacking welding knowledge? Is that why you went to welding school?
Oh, yes. All I knew how to weld was stick, and only one type of stick: downhill. That was all I knew. So I went to school to learn structural uphill, pipe uphill, how to use the different rods and what the different rods mean. I didn't know how to TIG weld, and I'd never messed around with MIG welding. So I learned how to TIG weld stainless and carbon, then I got to learn how to use flux and MIG machines. I was aware that I only knew a small fraction of what there is to know about welding; I wanted to broaden my horizons, to learn the full scope of welding processes.
Did you have to move to go to welding school?
No. Splendora is about 45 minutes north of Houston. The welding school campus is on the north side, so I just commuted every day.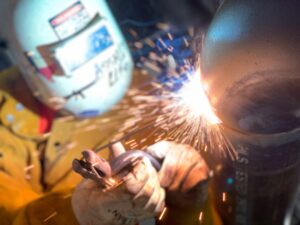 TWS Student Store
The TWS student store is now open! Visit GoShopTWS.com go grab all the latest TWS swag.
Shop Now
What did you enjoy most about Tulsa Welding School?
Some of the instructors there are also veterans, so I was able to relate to them. A lot of the students in my class were straight out of high school, so I was 12 years older than them. I was able to communicate with the instructors on the same level. They didn't make me feel like I was a dumb student! No, they were more than helpful.
What did they do?
They just made it clear that they were there to help. If we had questions, they encouraged us to ask. They weren't just there for a paycheck or because it was their job, they were there because they wanted us to succeed. I made really good friends with a couple of them–Mr. Jeremy Coulon and Mr. Luis Delossantos–and I stay in contact with them. In fact, I've hired a few guys from their classes! They went above and beyond to make sure that all their students had the same treatment and the same opportunity to succeed. They gave everyone the chance to succeed. Did everyone take that chance? No, but that's on the students, not the teachers. Out of all the classes I went through, those two were the most hands-on.
You graduated two months ago. Where are you working, and how did you get the job?
A company called Stickle Steam asked the school if they had anyone they could recommend for a supervisor position, running two or three crews who were installing their steam systems all over the country. After speaking with me, Jakis Pierce in Career Services felt I was the right person for the job. I graduated July 12 and I took over the first project on July 15.
That was quick! What was it like getting your first paycheck?
It was awesome! We put in 80-90 hours a week, and the company is awesome. We run 12+ hours a day, six days a week. I'm currently working in Omaha, Nebraska. I've been here since mid-July, but we're just wrapping up in the next couple of days. I'm going home for a few days, then I'll head to Tennessee to check in on a job there for a couple of days. Then I head out to Fresno, California. We go everywhere.
As a supervisor, do you still weld yourself?
I do quite a bit of welding. I do get a lot of hood time. I get up in the racks and put the pipe in, start the steam systems, I do all that. I enjoy it. It's a good fit for me.
Do you have a family?
I do. I have a wife and five kids between the ages of four and 15. I try to get home for a few days every two or two and a half weeks. One of the cool things about this company is that if you need some time off to see family or whatever, they pay for your travel time. They pay you for your drive-time home, and back to the job. They don't pay while I'm at home, other than five paid days off in the first six months.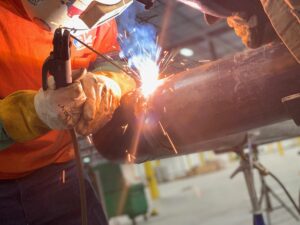 How does the family cope with you being away?
My wife understands that it's the best thing for the family right now, but that doesn't mean she enjoys it! The kids are all in sports and different stuff, so she stays busy!
I'm sure she does. What's your career plan from here?
I'll probably go back home in the next few years. I'll do some pipe or structural welding in the oil and gas fields around Houston when I get back.
What do you enjoy most about welding?
When a weld comes out slick! When it's just one of the most beautiful welds I've done—that's when I'm the happiest.
Did you make some lasting connections at TWS?
I'm always networking. I stayed in contact with some classmates from Tulsa, and the instructors I mentioned. I've actually hired some classmates! It's about who you know. I've seen these guys weld, I know how they act, and I know how they were in school. I know they showed up every day, and they showed up on time. That's who I'm going to pull from first, those guys and other welders that I know from jobs I've been on. I'll always go to them first before I go looking for people I don't have a clue about. I have to pay these people to discover if they're going to show up on time, or if they're good welders.
What advice would you give to new students for them to be successful at TWS?
Ask questions and practice, practice, practice. I did the morning class and took the opportunity to stay on during the afternoon when I could. It's awesome that even after graduating, I can go back to the school at any time to brush up. They'll give me a booth and materials, and I can spend as much time in there as I want…at no additional cost to me.
If you're a TWS graduate and would like to share your success and be an inspiration to others, please email [email protected] to be considered for a Graduate Connection interview. Please include details such as your graduation date (month/year), program, and campus name (Tulsa/Jacksonville/Houston). 
This blog has been labeled as archived as it may no longer contain the most up-to-date data. For a list of all current blog posts, please visit our blog homepage at https://www.tws.edu/blog/