Thinking about going to welding school and wondering what to expect?
If you've taken a high school shop class, you might already know a thing or two about welding. Physics, chemistry and math can also be great subjects to study before training to become a welder.
Whatever your background, you'll learn all the fundamentals you'll need for entry-level positions in the welding industry and probably make some new friends in your welding training program.
Get a closer look at what welding school could hold in store for you.
Discovering a New World at Welding School
The wide world of welding can be new and exciting, and trade school can be the perfect entry point. In your welding classes, you'll be introduced to new tools and equipment, safety gear and core welding processes and practices.
Have You Considered a Career in the Skilled Trades?
Fill out the form to recieve a no obligation info packet.
Suiting Up in Welding Safety Gear
Safety comes first in the field of welding.
While jeans and t-shirts are the standard uniform of most students, once you walk onto the shop floor, you'll suit up from head-to-toe in welding safety gear like these items:
Safety glasses and goggles
Earplugs or earmuffs
A long-sleeved wool shirt
Heavy jeans with unrolled cuffs
Work boots with steel toes
Flame-resistant aprons
Fire-proof welding jacket
Learning About Welding Safety Practices
Safety in the shop isn't just about what you wear. You'll also learn important safety practices to prevent accidents at school:
Clearing the floor of clutter and liquids
Opening windows and turning on fans to ensure proper ventilation
Grounding electrical connections
Removing combustibles from work areas
Lifting heavy items carefully to avoid injuries
Observing best practices welding ergonomics
Getting the Hang of New Tools and Equipment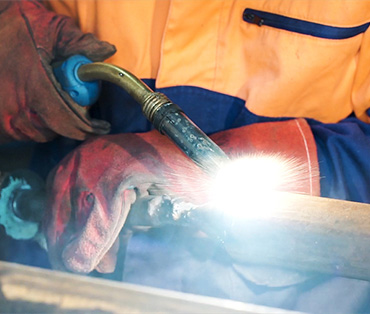 Cutting, bending, melting and generally manipulating metal requires many tools. As a beginner welder, you'll get the hang of using these tools of the trade:
Measurement Tools
Tape measure
Scriber
Soapstone
Water-resistant ink marker
Paint marker
Hand Tools
Hammers
Clamp wrenches
Wire brushes
Hand file[1]
Welding Equipment
Taking Welding Classes and Hands-On Training Sessions
University students often spend day after day sitting in class—but not welding students.
You'll be up on your feet working with the very tools and equipment used across the industry on your second day of a welding training program.
Tulsa Welding School students spend 80 percent of their time in interactive workshops receiving hands-on training, and the other 20 percent in class learning welding theory. That breaks down to just one day a week in class.
If you typically learn better by doing things than by listening to lectures, then this teaching style is for you. There are many benefits of hands-on training, such as improved retention and a sense of empowerment.[2]
Students learn the core arc welding processes used in major welding industries.
These processes can help welding school grads land positions in pipe and pipeline welding, structural welding, thin alloy welding and aircraft welding.
But that's not all. These very same skills are used in a host of other industries. Learn more in Welding Career Paths: The Ultimate Guide to a Career in Welding.
Classroom instruction typically covers the following subjects:
The Properties of ferrous and non-ferrous metals
An introduction to welding symbols
How to clean and evaluate welds
Reading welding design documents and specifications
Welding codes and quality control[3]
Unlike university courses that are on set days and times, Tulsa Welding School students enjoy flexible training schedules:
"The availability that the school offers you is excellent. You could go to class from 7 am to lunchtime, but you can go back any time. You could go to the afternoon or night class and participate, or go in on the weekends, too," said TWS graduate Blake Comeaux.
Meeting New Friends and Mentors
Aside from learning a skilled trade with excellent career potential, you'll also likely meet new friends and mentors in your welding training program. Across the board, this is one of the things many grads appreciate most about their time at TWS.
"The instructors were definitely the best part of it. They can be your friends at times, and like your dad at other times. Their words and wisdom help you. They push you to do more and to keep on getting better. They helped me graduate!" – TWS graduate Jose Dominguez
Learn about life after welding school and where a welding job could take you.
http://www.weldersuniverse.com/shop_tools.html
https://bizfluent.com/about-5076464-definition-handson-training.html
https://www.careerwelder.com/what-to-expect-during-welding-training/
This blog has been labeled as archived as it may no longer contain the most up-to-date data. For a list of all current blog posts, please visit our blog homepage at https://www.tws.edu/blog/