You've probably seen the classic image of a welder wearing a welding hood and holding a torch. Welding hoods, hard hats, safety glasses, and goggles are essential safety equipment for these professionals. If you're just starting welding school, here are some tips for choosing and caring for protective gear you'll need.
What Is Personal Protective Equipment?
The Occupational Safety and Health Administration (OSHA) requires employers to provide personal protective equipment (PPE). PPE is designed and worn to minimize exposure to hazards depending on the work environment. Welders are among the many workers OSHA requires to wear PPE.
OSHA and ANSI
OSHA mandates that certain categories of PPE meet the standards of the American National Standards Institute (ANSI). ANSI has been creating safety standards since the 1920s and the organization was the first to set them for head and eye protection for industrial workers. When selecting welding safety gear, make sure that it is approved by ANSI:
Face and Eye Protection: ANSI Z87.1
Head Protection: ANSI Z89.1 1
Head Protection Tips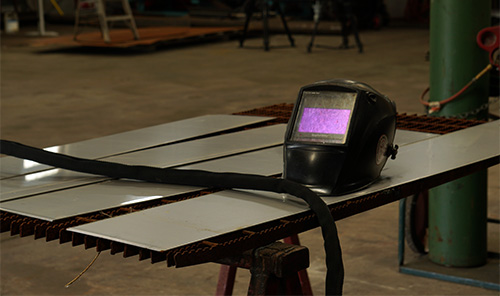 Size: Most welding hoods and hard hats are available in a variety of sizes. Select one that's neither too big nor too small.
Use: Never attempt to wear your helmet in a way other than what the manufacturer and safety rules dictate. Wearing your gear properly will ensure your safety on the shop floor. 2
Accessories: Ear muffs, visors, liners, and face shields are great because they can keep you comfortable and also prevent your headgear from slipping and sliding.
Care: Inspect your welding hood periodically, checking for holes, cracks, and tears. These are signs that it's time for a new one. Only use mild soap and water to clean your gear, never hard solvents like paint thinner.
Have You Considered a Career in the Skilled Trades?
Fill out the form to recieve a no obligation info packet.
Eye Protection Tips
Size: Make sure that your welding safety glasses fit properly and comfortably. They should not restrict movement or vision.
Type: Prescription lens can keep you safe by helping you see, but they can't provide the same protection as safety glasses. Either purchase prescription safety glasses or wear your corrective lenses under your protective ones.
Secondary Protection: Goggles, welding shields, and face shields can ensure full face and eye coverage and may be advisable, depending on the job.
Shade: Shaded lenses are mandatory when welding, brazing, or cutting with a torch. Shaded safety glasses are rated from 1 to 14 depending on the level of protection they provide. Always check which shade is right for the welding process you'll be using.
Why Is Personal Protective Equipment Important?
Whether you're taking welding courses or on the job, personal protective equipment can keep you safe.  Three out of every 5 eye injuries happen when people were not wearing eye protection according to the Bureau of Labor Statistics. 3 Taking the time to ensure that you are wearing PPE, and that it is in good working condition can go a long way to ensure your safety.
1 – https://www.osha.gov/Publications/osha3151.pdf
2 – Title: Welding Principles and Applications; Author: Larry Jeffus; Delmar Cengage Learning; Seventh Edition; Textbook page 49
3 – http://www.safetyandhealthmagazine.com/articles/12514-eye-protection
This blog has been labeled as archived as it may no longer contain the most up-to-date data. For a list of all current blog posts, please visit our blog homepage at https://www.tws.edu/blog/