Welders work with lots of different metals: aluminum, stainless steel, alloys—the list goes on. But really, all metals actually just fall into two distinct groups: ferrous and non-ferrous. If you're on the path to becoming a welder, you'll be working with them every day, so you better know the difference.
What Is the Difference Between Ferrous and Non-Ferrous Metals?
The short answer is that ferrous metals contain iron and non-ferrous metals do not.
That's pretty simple, but ferrous and non-ferrous metals both have specific characteristics that make them different enough to be separated. Ferrous metals are valued for their strength and durability, while non-ferrous metals are chosen for their malleability, corrosion and rust resistance, and non-magnetic properties.
Non-ferrous metals have a long history in human civilization. Copper, for instance, was discovered in 5,000 BC at the end of the Stone Age. Bronze, which is an alloy of copper and tin, was likely first used around 35,000 BC.
Ferrous metals emerged much later when iron production started around 1,200 BC. The first steel pieces were found in modern-day Turkey and date back to 1,800 BC.
Have You Considered a Career in the Skilled Trades?
Fill out the form to recieve a no obligation info packet.
So What Are Ferrous and Non-Ferrous Metals?
Having the differences that they do, ferrous and non-ferrous metals have unique industry applications and include different types of metals.
Ferrous Metals
Ferrous metals are sturdy and robust. They are a mainstay in the construction industry and are used to build all sorts of important structures:
Skyscrapers
Bridges
Shipping containers
Industrial piping
Automobiles
Railroad Tracks
Commercial and domestic tools
These types of metals fall under the umbrella of ferrous metals:
Cast steel
Carbon steel
Alloy steel
Cast iron
Wrought iron
Non-Ferrous Metals
Non-ferrous metals are malleable and used in manufacturing industries where metal parts need to be molded into a particular shape.
Since non-ferrous metals have no iron content, they are not as susceptible to rust and corrosion as ferrous metals are, making them the best choice for structures that need to withstand heavy weather conditions:
Gutters
Liquid pipes
Roofing
Road signs
Non-ferrous metals are also useful for electronic and wiring applications because of their non-magnetic properties.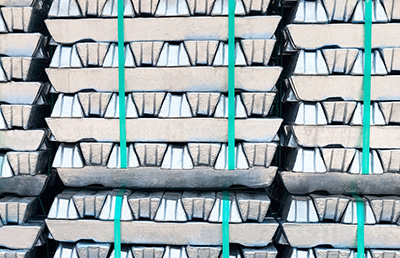 Here are some common types of ferrous and non-ferrous metals:
Aluminum
Copper
Lead
Zinc
Tin
Gold
Silver[1]
Nickel
Magnesium
Lead[2]
Welding Ferrous and Non-Ferrous Metals
Welding techniques and challenges differ from metal to metal, whether they are ferrous or non-ferrous.
When welding cast iron welders must pay attention to any potential cracking. Cast steel is easier to weld, but the metal stretches when heated, which can lead to distortion and fractures.[3]
High-carbon steel is welded through the oxy-acetylene process, which changes the base metal's properties and might make future repairs by welding impossible.[4]
Wrought iron produces a greasy appearance when heated, which typically means that the metal is ready to be fused with filler material, though wrought iron needs even more heat due to iron's higher melting temperature.[5]
If you are welding copper, magnesium (and its alloys) or nickel (and its alloys), an inert-gas-shielded-arc welding method is the best choice. While nickel can be welded quite smoothly, magnesium burns quickly when overheated and exposed to oxygen.[6]
Pure copper has high heat conductivity and a high coefficient of expansion. If the copper part that is to be welded is thicker than 3 millimeters or .12 inches, you will need two people and two torches working ahead of one another, with the leading troch preheating the metal.[7]
On the other hand, copper alloys, like brass and bronze, can be easily welded with an oxy-acetylene flame.[8]
Ferrous and non-ferrous metals each have different benefits and downsides. While the former is needed for projects that require resilience and stability, the latter is chosen when a product needs to be shaped, exposed to water or unsusceptible to magnetic forces.
As a welder, you need to know how these metals interact with welding equipment and how they are applied in the real world. Learn more about welding techniques for different types of metals.
[1] https://www.metalsupermarkets.com/the-difference-between-ferrous-and-non-ferrous-metal/
[2] http://www.esabna.com/euweb/oxy_handbook/589oxy17_1.htm
[3] http://www.esabna.com/euweb/oxy_handbook/589oxy16_1.htm
[4] http://www.esabna.com/euweb/oxy_handbook/589oxy16_3.htm
[5] http://www.esabna.com/euweb/oxy_handbook/589oxy16_10.htm
[6] http://www.esabna.com/euweb/oxy_handbook/589oxy17_6.htm
[7] http://www.esabna.com/euweb/oxy_handbook/589oxy17_5.htm
[8] http://www.esabna.com/euweb/oxy_handbook/589oxy17_2.htm
This blog has been labeled as archived as it may no longer contain the most up-to-date data. For a list of all current blog posts, please visit our blog homepage at https://www.tws.edu/blog/