The GI Bill® helps eligible service members, veterans, and sometimes family members pay for their educational pursuits, including trade school training. Trade schools are a category of educational training that is covered by the GI Bill®, and this can include vocational and technical training, such as electrician, HVAC, or welding.
You can find out which schools have been approved by Veterans Affairs by using their Search Tool. Tulsa Welding School (TWS) has been approved by VA at all 3 campuses in Tulsa, Oklahoma, Jacksonville, Florida, and Houston, Texas.
Which GI Bill® Is Better for Trade School?
There are a few different ways you might qualify for benefits under the GI bill. Here are the different GI Bill® options:
All three bills may provide up to 36 months of eligible educational funding. Which bill you qualify for depends on when were you enlisted, among other factors. If you qualify for multiple VA benefits, you will need to decide which benefits to take, and this decision cannot be reversed later.
You can call the Student Financial Services office at TWS for help determining which bill is better for your situation if you are considering enrolling in trade school. Contact TWS at 1-855-981-7313. You can also use the GI Bill® Comparison Tool from the VA website.
Have You Considered a Career in the Skilled Trades?
Fill out the form to recieve a no obligation info packet.
How Does the GI Bill® Work?
The GI Bill® is designed to help military service members and veterans pay for higher education. In most cases, you will first need to apply for education benefits. You will need to gather the required documents and information ahead of time. You can find all about that process here.
It takes about 30 days for the VA to make a decision and process your claim. If you've been approved, then you'll get a Certificate of Eligibility (COE) award letter. You will need to bring this to your qualifying school. Then, the benefits will be applied, depending on what you qualify for.
What Does the GI Bill® Cover?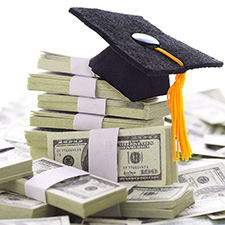 The GI Bill® covers higher education expenses, including vocational and technical training. Benefits may include:
Tuition and fees
Money for housing
Money for books and supplies
Money to help move from a rural area to attend school
You must qualify for benefits and also enroll, or plan to enroll, in a non-degree program at an approved school.
How do you get reimbursed? Depending on which GI Bill® you're using, you may get paid every month for the number of hours spent in training, as well as a possible monthly housing allowance.
You could be eligible to get tutorial assistance, on-the-job training, or help covering test fees under the GI Bill®.
You might also be able to transfer your GI Bill® benefits to a spouse or dependent child. Be sure to talk to someone from the VA or from your qualifying trade school to understand your specific situation.
What Other Military Benefits Should You Know About?

At Tulsa Welding School, we honor those who serve. Special military tuition rates may be available to qualifying service members, veterans, and their families.
You could look into the possibility of getting a military grant to help pay for vocational training. Similarly, there are some military scholarships out there that you can apply for.
After all your service to your country, you won't want to leave money lying on the table. Our Student Financial Services representatives are here to help you navigate your military benefits to help you pay for trade school training. Your next career could be just a phone call away.
There is also educational and career counseling available from the VA. This service may be helpful for those transitioning out of active duty and back into civilian life.
Career counseling can help you decide which type of job you may want, which training program could be right for you, how to break through any mental or emotional barriers to moving forward, how to put together a resume, and how to set goals. You can apply for career counseling with the VA here.