Essential jobs are jobs that are necessary to the functioning of critical infrastructure during the COVID-19 pandemic. They are held by "essential critical infrastructure workers" or, simply, "essential workers."1
Essential workers provide services that are vital to public health and safety and the well-being of communities across the country.1
While many industries have closed due to the pandemic, essential workers have a "special responsibility in these times to continue operations," according to the U.S. Department of Homeland Security's Cybersecurity and Infrastructure Security Agency (CISA).1
While many essential jobs can be found in the healthcare and public health sectors, the construction and manufacturing industries hold a host of opportunities too.1
Explore some career options in the essential skilled trades workforce below.
Are Construction Jobs Essential?
Yes, many construction jobs are essential. CISA identifies workers who support the construction, rehabilitation, inspection, operation and maintenance of critical infrastructure as essential.1
Critical Infrastructure
What does CISA mean by critical infrastructure? Here are some of the examples the organization gives when discussing essential construction jobs:1
Dams, levees and locks
Water and sewer lines
Traffic signals
Utilities
Digital systems supporting public works
Hospitals
Senior living facilities
Roads1
Essential Construction Workers
CISA lists some of the essential construction workers needed to keep this infrastructure operating:1
Plumbers
Exterminators
Builders (including building and insulation)
HVAC technicians
Contractors
Landscapers1
Critical Manufacturing
Essential jobs can also be found in the manufacturing industry. Specifically, CISA identifies workers who manufacture metals necessary for the supply chains that support the following industries:1
Aerospace
Transportation
Communications
Energy
Information technology
Chemical manufacturing
Food and agriculture
Nuclear facilities
Wood products
Dams
Power generation facilities
Wastewater and water treatment
Emergency services
Defense industrial base1
While CISA doesn't specifically say these workers are welders, they do fit the Bureau of Labor Statistics definition of what a welder does and where a welder works.2
What Welders Do
Welders, cutters, solderers and brazers cut and join metal components using hand-held or remotely controlled equipment.2
These metal components may be used in the manufacturing or construction of ships, cars, aircraft, buildings, bridges, pipelines, refineries and power plants.2
Have You Considered a Career in the Skilled Trades?
Fill out the form to recieve a no obligation info packet.
How to Become an Essential Construction Worker

The path to becoming an essential construction worker can depend on the specific field you want to enter. Let's take a look at the steps commonly taken to enter three skilled trades: HVAC, electrical work and welding.
HVAC Technician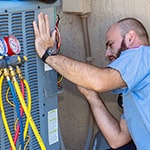 Heating, air conditioning and refrigeration mechanics and installers, typically referred to as HVAC technicians, service cooling, heating, ventilation and refrigeration systems. This equipment helps keep indoor air the right temperature and quality.3
The installation, maintenance, repair and replacement of these systems are some of the main responsibilities of HVAC technicians.3
Because HVAC equipment has become increasingly complex in recent years, many employers prefer to hire applicants with formal HVAC training. So, trade school can be one step to becoming an HVAC technician. Once hired, a new HVAC technician will typically receive on-the-job training from experienced technicians, as well.4
Environmental protection agency (EPA) certification is required for all technicians working with refrigerants. In some states, technicians must hold a licence.4
Electrician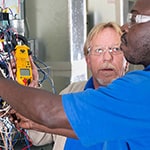 When electrical power, lighting, communications or control systems need service, an electrician may be called to do the job. These tradespeople install, maintain and repair such systems.5
Many electricians learn the basics of electricity in an electrician training program before going on to receive hands-on training, in many cases, through a 5-year apprenticeship.6
In most states, electricians must be licensed to demonstrate knowledge of the National Electrical Code and local and state electrical codes.6
Welders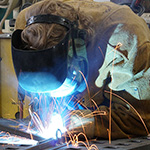 As mentioned earlier, welders fuse the metal joints found in an array of manufactured products and built structures.2
How does one become a welder? Generally, a combination of technical school welding training and on-the-job instruction is necessary.
Some jobs may require applicants to hold welding certifications, for example those offered by the American Welding Society.7
Join the Essential Construction Workforce
While "essential jobs" have received a lot of attention during the coronavirus pandemic, it's likely these positions will continue to be critical to the operation of the country once the health crisis is over.1
It's hard to imagine not needing electricians to keep the lights on, HVAC technicians to make sure the A/C continues pumping cool air into hospitals and senior living facilities and welders to manufacture planes and automobiles.1
If you're interested in joining the essential construction workforce, chat with a rep for Tulsa Welding School today. Call (855) 237-7711.
1https://www.cisa.gov/sites/default/files/publications/Version_3.0_CISA_Guidance_on_Essential_Critical_Infrastructure_Workers_1.pdf
2https://www.bls.gov/ooh/production/welders-cutters-solderers-and-brazers.htm#tab-2
3https://www.bls.gov/ooh/installation-maintenance-and-repair/heating-air-conditioning-and-refrigeration-mechanics-and-installers.htm#tab-2
4https://www.bls.gov/ooh/installation-maintenance-and-repair/heating-air-conditioning-and-refrigeration-mechanics-and-installers.htm#tab-4
5https://www.bls.gov/ooh/construction-and-extraction/electricians.htm#tab-2
6https://www.bls.gov/ooh/construction-and-extraction/electricians.htm#tab-4
7https://www.bls.gov/ooh/production/welders-cutters-solderers-and-brazers.htm#tab-4
This blog has been labeled as archived as it may no longer contain the most up-to-date data. For a list of all current blog posts, please visit our blog homepage at https://www.tws.edu/blog/