Texas is the state that employs the most welders in the U.S[1]
If you're completing your welding specialist training program in Houston, you're probably already considering where you could work. It just so happens that Texas has industries where welders are really needed:
Transportation
Trade
Utilities
Manufacturing
Energy
Constructio[2]
With manufacturing firms moving to Texa[3] and oil production ramping up in anticipation of higher oil price[4], construction is a promising market for welders.
Let's take a look at major construction projects that are under way in Texas. While some of them are expected to be completed by the end of 2018, you can still get a good impression of the construction industry and job prospects in Texas.
Pipeline Construction
The Valley Crossing Pipeline in South Texas is a $1.5-billion project that will transport natural gas to Mexico's state-owned utility and other distributors in South Texas.
Have You Considered a Career in the Skilled Trades?
Fill out the form to recieve a no obligation info packet.
The pipeline will be 168 miles long and may stimulate economic development along its route and in the region.
Moreover, a 140-miles water supply pipeline is being built to serve seven counties – from Burleson County to San Antonio.
The Vista Ridge Water Supply Pipeline will have three pump stations, a cooling tower, 18 wells, seven miles of well collection lines and a $10-million tank[5]
Flood-Resistant Building
Flood-resistant building is a big topic in Texas, especially after Hurricane Harvey.
Flood hazard areas like Houston and East Texas need flood-resistant design to protect from tides, storm surges and excessive rain.
Here are some examples of flood-resistant building:
Elevated structures
Materials that can withstand moisture
Design assemblies that dry easil[6]
New flood construction regulation by the City of Houston that requires both existing and future homes to be further elevated will result in more construction, too[7]
New Residential Construction
In Mesquite, 750 new affordable homes will be built by 2019. The area has already seen a boom in home construction, and North Texas-based builder Bloomfield Homes has sold hundreds of homes in another master-planned community in Mesquite.
These one- and two-story single-family homes will range from 1,800 square feet to 4,000 square feet, and cost between $260,000 and $400,000[8]
The Dallas-Fort Worth housing market continues to be among the strongest in the country, with an ever-increasing demand for new (and existing) homes. Sales are predicted to grow six percent due to the rapid population growth in the region[9]
Infrastructure Repair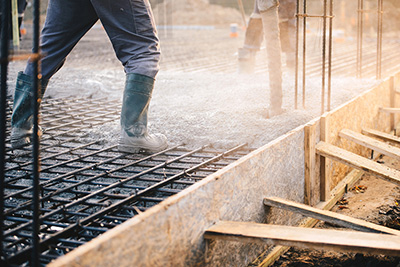 Infrastructure across the U.S. is in desperate need of maintenance and repair, and Texas is no exception.
The $2.4-billion reconstruction of US 290 in northeast Houston is a massive project. It started in 2011 and spans 38 miles, including a 10-mile extension of the HOV lane.
The reconstruction is badly needed because of the immense growth on the northwest side of Houston. Without it, traffic congestion would have increased more than 12 hours per day by 2035[10] Furthermore, the $1 billion replacement of the Houston Ship Channel Bridge has just begun and is set to be completed in 2024[11]
Texas is fairing very well economically and has plenty of opportunities for welders. Huge construction projects across many different industries mean lots of job opportunities for welders in the Lone Star state. It's really no surprise that Texas is the welding jobs capital of the U.S.
Welding jobs are aplenty in the construction industry. Learn more about construction industry trends and skilled labor and how you can help.
[1] https://www.bls.gov/oes/current/oes514121.htm#st
[2] https://www.investopedia.com/articles/investing/011316/texas-economy-9-industries-driving-gdp-growth.asp
[3] https://www.ibisworld.com/industry-trends/market-research-reports/texas/construction/industrial-building-construction-in-texas.html
[4] https://assets.recenter.tamu.edu/documents/articles/2046.pdf
[5] https://www.enr.com/articles/44255-infrastructure-energy-projects-lead-top-starts
[6] http://www.bautexsystems.com/company/news-events/construction-trends-in-texas-for-2018
[7] https://wtop.com/national/2018/04/houston-approves-new-post-harvey-flood-construction-rules/
[8] https://www.bizjournals.com/dallas/news/2018/03/06/north-texas-homebuilder-to-develop-750-new.html
[9] http://www.fortworthbusiness.com/news/residential-could-dfw-housing-market-overheat-in/article_f679457c-fd46-11e7-b65f-73cac3c7866c.html
[10] https://www.enr.com/articles/44603-long-road-to-completion-on-us-290-reconstruction
[11] https://www.khou.com/article/news/local/1b-construction-project-to-replace-houston-ship-channel-bridge-starts/285-560879951
This blog has been labeled as archived as it may no longer contain the most up-to-date data. For a list of all current blog posts, please visit our blog homepage at https://www.tws.edu/blog/