Similar with other professions, there are several steps to becoming an HVAC tech in Texas. Below are 10 steps men and women may take to ply the HVAC trade in the Lone Star State:
If in high school still, take vocational education classes.
Graduate from high school or obtain a GED.
Complete HVAC Training at a trade school.
Earn EPA certification.1
Prepare a professional resume for interviews.
Network and search for HVAC jobs.
Land an HVAC job.
Meet Texas HVAC certification and licensing requirements.2
Receive on-the-job training.1
Continue HVAC education and earn industry certifications.3
(Note that every HVAC technician's career trajectory is somewhat unique, and some individuals may take fewer or additional steps to working in Texas's HVAC industry.)
Learn more about each step of the HVAC career path in Texas in this article.
10 Steps to Becoming an HVAC Technician in Texas
As the second largest state in the U.S. with high summer temperatures in its major cities of Houston, San Antonio and Austin, Texas is one of the leading job markets for HVAC technicians—and the skilled trades in general.4,5,6
So how can you land a job with one of Texas' HVAC service companies or even become a contractor?
Consider taking these 10 steps.
Some are required by state or federal law.
Some are common to the job search process in any field.
Others are recommended for advancement in the HVAC industry.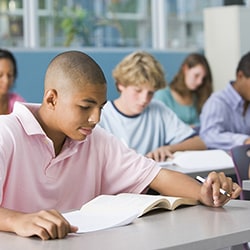 Step 1: Start Preparing for an HVAC Career in High School
The Bureau of Labor Statistics (BLS) indicates that high school students who want to pursue a career in HVAC can take certain classes to prepare. These include math, physics and vocational education. Exposure to the concepts and practices of plumbing and electrical work can also be beneficial.1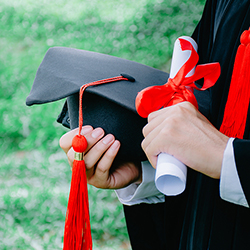 Step 2: Graduate from High School or Earn Your GED
A high school diploma or GED is the minimum requirement to get a job as an HVAC technician.7 Plus there can be many benefits to having this credential, including higher earnings and more educational and career opportunities.8,9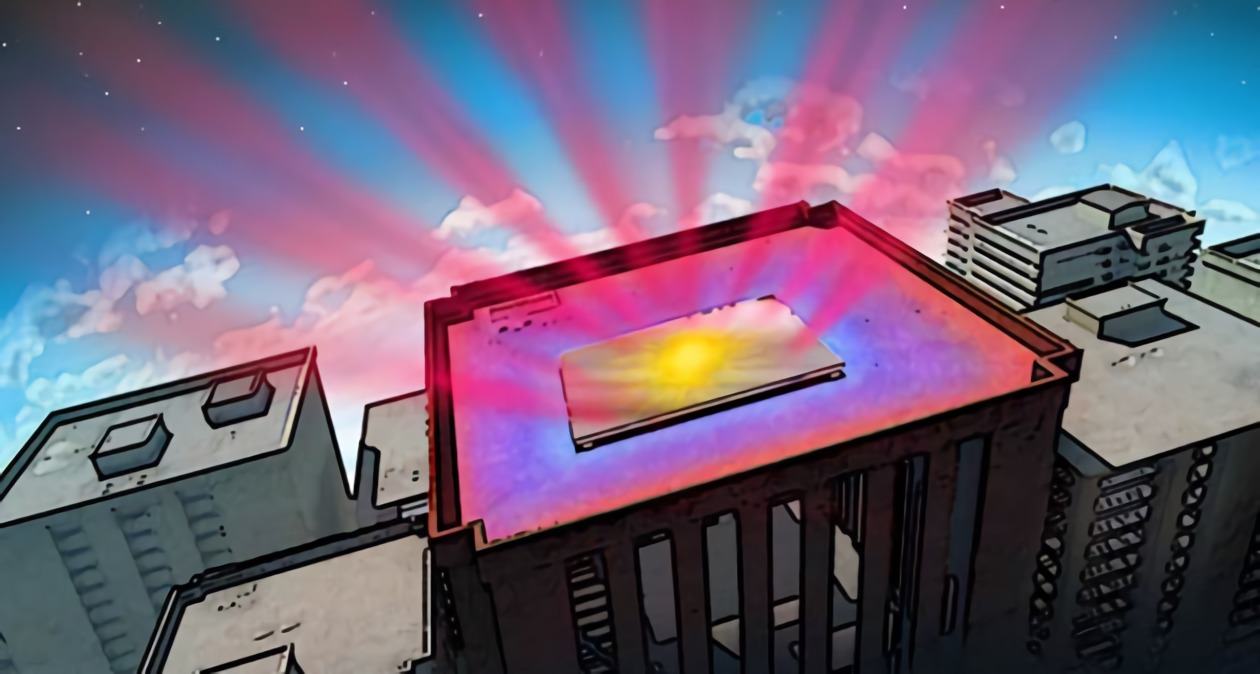 Step 3: Complete an HVAC Program at a Trade School
Taking refrigeration courses or HVAC training at a trade school is becoming more and more common these days as the complexity of the equipment increases. Technical training can take from 6 months to 2 years to complete and result in an associate degree or certificate.1
Aspiring HVAC techs can not only learn the fundamentals of refrigeration, electricity, residential and commercial comfort systems and other important HVAC skills, but also may gain a competitive advantage in the labor market. The BLS states that employers typically prefer applicants with postsecondary education.1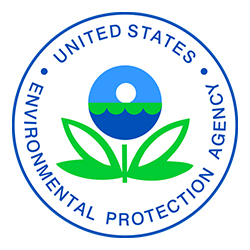 Step 4: Earn EPA Section 608 Technician Certification
Refrigerants are a key ingredient in the cooling processes of many types of HVAC equipment.10 If you're planning on working with them, you'll need Section 608 Technician Certification from the Environmental Protection Agency (EPA).1 This certification helps ensure the proper handling of these potentially environmentally hazardous substances.11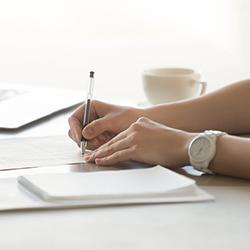 Step 5: Prepare Your Resume and for Job Interviews
This step is pretty universal to the job search process. Fortunately, there are many online resume building tips for skilled trades school graduates. You may also be able to receive help with job interview prep from your trade school's Career Services Department.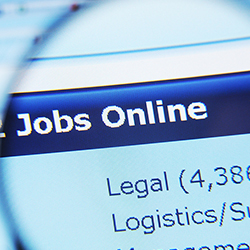 Step 6: Network and Use Job Boards
Networking and searching online and on physical job boards is yet another typical step to finding a job, whether in HVAC or another field.12 These days, it's possible to find job boards specifically for trades jobs as well.13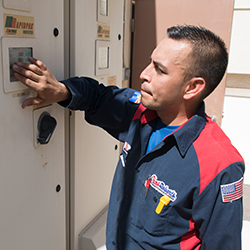 Step 7: Land an HVAC Job
Once you've completed your training, earned your EPA certification, prepared your resume and sharpened your interview skills, it's time to ace the HVAC job interview. Securing a position working under a licensed HVAC contractor will be necessary to register with the state of Texas as an HVAC tech, which is the next step.
Step 8: Meet Texas HVAC Certification and Licensing Requirements
HVAC Technicians in Texas must be registered and work under the supervision of a licensed air conditioning and refrigeration contractor. The main requirement is to submit the application and $20 fee to the Texas Department of Licensing and Regulation (TDLR).14
The TDLR also offers an HVAC certification for technicians that is optional and can be beneficial for those who would like to apply for the contractor certification after gaining more experience.15,16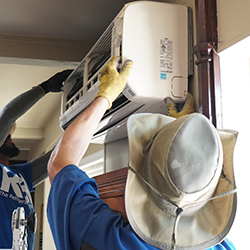 Step 9: Complete On-the-Job Training
The learning doesn't stop once you've landed an HVAC job. As the BLS notes, it's typical for newly trained HVACR techs to start out working alongside experienced technicians. They usually perform basic tasks like insulating refrigerant lines or cleaning furnaces.
Over time, they may take on more challenging duties, like cutting and soldering pipes or checking electrical circuits.1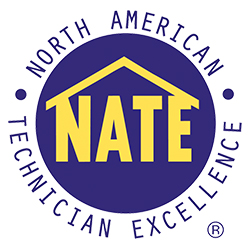 Step 10. Continuing HVAC Education and Industry Certifications
Even after you can officially call yourself a Texas HVAC Technician, you'll still want to take measures to stay abreast of the industry. These include continuing your education and earning industry certifications from organizations like North American Technician
Excellence (NATE). This step could also help improve career opportunities as you progress in your career.17
Complete HVAC Training in Houston, Texas

If you're seriously considering becoming an HVAC technician in Texas, then completing an HVAC program at a trade school is an important step. And, it's possible to learn the fundamentals of HVAC in as little as seven months in TWS' Refrigeration Technologies program. Call TWS at (855) 237-7711 to learn more about getting started on the path to a career in HVAC.
Have You Considered a Career in the Skilled Trades?
Fill out the form to recieve a no obligation info packet.
1 https://www.bls.gov/ooh/installation-maintenance-and-repair/heating-air-conditioning-and-refrigeration-mechanics-and-installers.htm#tab-4
2 https://www.tdlr.texas.gov/acr/acr.htm
3 http://www.hvwtech.com/hvac-certification/
4 https://globaledge.msu.edu/states/texas/memo
5 https://www.worldtravelguide.net/guides/north-america/united-states-of-america/texas/weather-climate-geography/
6 https://www.bls.gov/oes/current/oes499021.htm
7 https://learn.org/articles/What_are_the_Training_Requirements_for_Starting_a_Career_as_an_HVAC_Technician.html
8 https://www.bls.gov/careeroutlook/2018/data-on-display/education-pays.htm
9 http://learningpath.org/articles/The_Benefits_of_Earning_a_High_School_Diploma.html
10 https://www.sciencedirect.com/topics/engineering/refrigerants
11 https://www.epa.gov/section608/section-608-technician-certification-0
12 https://www.achrnews.com/articles/136690-hvac-contractors-reveal-the-best-places-to-recruit-new-employees
13 https://hvacjobscenter.com
14 https://www.tdlr.texas.gov/acr/technician-apply.htm
15 https://www.tdlr.texas.gov/acr/certified-tech-apply.htm
16 https://www.tdlr.texas.gov/acr/contractor-apply.htm
17 https://hvactraining101.com/hvac-technician-certification/
This blog has been labeled as archived as it may no longer contain the most up-to-date data. For a list of all current blog posts, please visit our blog homepage at https://www.tws.edu/blog/