Change is common in most industries, especially those where technology plays a big role. This is certainly the case with the field of heating, ventilation, air conditioning and refrigeration, or what's commonly known as HVAC and HVAC/R.[1][2]
Following industry trends can help HVAC professionals make the most out of their careers. It can provide insights into what type of credentials employers may be looking for, where the jobs are and ways to advance in the field.[3]
Check out 6 trends that could impact your career in HVAC this year below.
6 Career Considerations for HVAC Techs in 2019
1. HVAC Job Outlook
The U.S. Department of Labor's website Career One Stop says that one of the most important questions to ask before choosing a career is if there will be jobs waiting for you after training. Researching the Bureau of Labor Statistics' job growth projections can help answer this question.
How is the job outlook for heating, air conditioning and refrigeration (HVAC/R) mechanics and installers? Much faster than average, reports the BLS. While the average job growth rate for all occupations through 2026 is set to be 7 percent, HVAC technicians should enjoy 15 percent job growth. That's more than twice the national average.
Have You Considered a Career in the Skilled Trades?
Fill out the form to recieve a no obligation info packet.
2. HVAC Jobs
You know a healthy number of HVAC jobs will be created in the coming years, but where? Which industries and locations could offer the best prospects? HVAC technicians can find job opportunities across a variety of fields and regions.
Top HVAC Industries
Contractors
The plumbing, heating and air-conditioning sector will likely have the most job openings. Contractors employed the majority of HVAC technicians, 64 percent, in 2016.
Self-Employed
If you always dreamed of owning your own business, then pursuing a career in HVAC was a wise decision. Nine percent of HVAC technicians were self-employed in 2016. This means they get to work when and how they want to.
Educational Services
Keeping kids comfortable and healthy while in school is one of the many important roles an HVAC technician can play—and the business isn't bad either.[4] Four percent of HVAC techs worked in this sector in 2016.
Trade
Grocery stores and warehouses need HVAC/R to keep perishable items cool, so they're also top employers of HVAC professionals.[5] Retail trade accounted for 4 percent of jobs and wholesale trade 3 percent in 2016.[6]
Locations with the Highest Concentration of Jobs in 2017
State
Metropolitan Areas
Cape Coral-Fort Myers
Crestview-Fort Walton Beach-Destin
Panama City
Punta Gorda
Naples-Immokalee-Marco Island
Nonmetropolitan Areas
State
Metropolitan Areas
State
Metropolitan Areas
Wilmington
Myrtle Beach-Conway-North Myrtle Beach
State
Nonmetropolitan Areas
State
3. HVAC Pay
How much can an HVAC technician make? It depends. Does the tech have formal training, certifications and a license? How much experience does the tech have? Any specialized skills? High-level job tasks? Which industry does the tech work in? Where? All of these factors can influence how much an HVAC professional takes home every year.[8]
Typically, the more training, certifications, experience and specialized skills a worker has the more they could earn, depending on where they work.[9] Keep that in mind when looking at percentile wage estimates for HVAC technicians from the BLS for 2017.
4. HVAC Training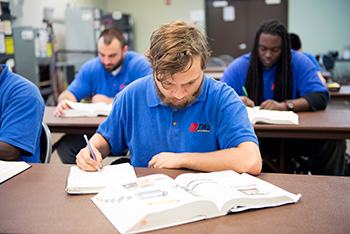 How can you improve your career and pay opportunities? HVAC training at a trade school can be one of the first steps to take. These days, most employers would rather hire HVAC technicians with a postsecondary education.
The good news is completing such a program can generally take less time than a 4-year college. A student can typically earn a certificate or an associate degree in heating, air conditioning and refrigeration in 6 months to 2 years.[10]
If you're thinking that work experience alone will do instead of training, you might want to reconsider. A salary survey last year found that an HVAC education was the most important factor for earning higher wages, according to Connecteam.
5. HVAC Certification
Not only is HVAC certification necessary but some types can also help with advancing in the field. Section 608 Technician Certification from the Environmental Protection Agency is mandatory for working with refrigerants.[11] Most techs won't get too far without this credential.
Then there are industry certifications that can help you level-up professionally. These include NATE, HVAC Excellence and RSES.[12]
6. HVAC Skilled Technician Shortage
You may have already heard about the skilled trades shortage, but did you know HVAC technicians are among the pros in short supply? Many HVAC contractors expected demand for their services to continue to grow, and 75 percent planned on hiring more workers in 2018, according to a Sage Construction and Real Estate and Associated General Contractors of America survey.[13]
A year later and the same old problem weighs on the industry. This time around, even more construction firms plan on expanding payrolls than last year: 79 percent. And Sage's study found that nearly just as many are concerned about being able to find and hire workers with the right skills.
What does this mean for HVAC technicians with training and up-to-date skills? Job opportunities.
Embrace HVAC Industry Trends
Change is one of the most certain things in life. Staying ahead of shifts in the HVAC industry and even embracing them can help technicians enjoy long-term career success. Keep these 5 trends in mind as you make career decisions throughout 2019.[14]
Innovations in HVAC equipment are another important trend to watch. Learn more about the rise in use and benefits of smart thermostats.
[1] https://www.bls.gov/ooh/installation-maintenance-and-repair/heating-air-conditioning-and-refrigeration-mechanics-and-installers.htm
[2] https://academy.getjobber.com/resources/articles/hvac-industry-trends-2018/
[3] https://www.inc.com/john-hall/7-ways-to-identify-and-evolve-with-industry-trends.html
[4] https://www.epa.gov/iaq-schools/heating-ventilation-and-air-conditioning-systems-part-indoor-air-quality-design-tools
[5] https://www.achrnews.com/articles/129545-ashrae-offers-advanced-energy-design-guide-for-grocery-stores
[6] https://www.bls.gov/ooh/installation-maintenance-and-repair/heating-air-conditioning-and-refrigeration-mechanics-and-installers.htm#tab-3
[7] https://www.bls.gov/oes/2017/may/oes499021.htm
[8] https://www.bls.gov/careeroutlook/2015/article/wage-differences.htm
[9] https://www.bls.gov/careeroutlook/2015/article/wage-differences.htm
[10] https://www.bls.gov/ooh/installation-maintenance-and-repair/heating-air-conditioning-and-refrigeration-mechanics-and-installers.htm#tab-4
[11] https://www.epa.gov/section608/section-608-technician-certification-0
[12] http://www.hvwtech.com/hvac-certification/
[13] https://www.achrnews.com/articles/137083-addressing-the-labor-shortage-in-the-hvac-industry
[14] https://www.inc.com/john-hall/7-ways-to-identify-and-evolve-with-industry-trends.html
This blog has been labeled as archived as it may no longer contain the most up-to-date data. For a list of all current blog posts, please visit our blog homepage at https://www.tws.edu/blog/