A trade job is any occupation typically requiring specialized skills learned through advanced training, rather than a 4-year college or university. Common types of career preparation for trades jobs include vocational training at a trade school, apprenticeship or on-the-job training.[1]
Trades jobs in the construction and manufacturing industries are often referred to as "skilled trades." And many of these fields are experiencing excellent job growth.[2][3]
Read more about the skilled trades, demand for the workers and how to land one of these careers in this article.
What Are Skilled Trades Jobs?
Skilled trades jobs are occupations that require a special skills, knowledge or ability that can be obtained through a vocational school, college classes or specialized training.
For many young people, skilled trades jobs are a hands-on, active alternative to white-collar careers that typically demand a degree from a four-year university program.
Have You Considered a Career in the Skilled Trades?
Fill out the form to recieve a no obligation info packet.
Skilled trades jobs can be found in the following industries:
Construction
Manufacturing
Healthcare
Technology
Energy
Let's look at some common skilled trades jobs:
Welder:
Welders use hand-held or remotely controlled tools to join or cut metal parts. They also repair metal items by filling holes, indentations or seams. The job duties of a welder include studying blueprints, calculating dimensions, starting welding torches and maintaining equipment.[4]
Those who wish to enter this trade usually need a high school diploma (or equivalent) and vocational or on-the-job training. In fact, welders who have completed up-to-date welding training have the best job prospects.[5]
Pipefitter:
The job of a pipefitter is to install and repair pipes, which transport liquids or gases within buildings. Here are the typical responsibilities of a pipefitter:

Reading blueprints
Estimating costs
Choosing equipment
Installing pipes
Repairing and replace parts
Troubleshooting malfunctioning systems[6]

The minimum educational requirement for pipefitters is typically a high school diploma or equivalent.[7] Trade schools like Tulsa Welding School allow students to enroll in pipefitting training in order to learn blueprint reading, safety procedures, plumbing codes and pipe systems installation.
Electrician:
An electrician's responsibility is to install, maintain and repair electrical power, communications, lighting and control systems.[8] They work indoors and outdoors. Typical environments are homes, businesses, factories and construction sites.[9]
To become an electrician, you need a high school diploma or equivalent, and most states require electricians to be licensed.[10] Through an electrician training program, students can obtain the knowledge and skills needed to pass such licensing exams.
Electro-Mechanical Technician:
Electro-mechanical technicians operate, test and maintain unmanned automated, robotic or electromechanical equipment. Their job duties include:

Blueprint reading
Testing electro-mechanical assemblies
Installing electronic parts and hardware
Evaluating test results[11]

This trade job often requires some postsecondary education,[12] such as vocational electro-mechanical technician training.
HVAC Technician:
The responsibility of an HVAC technician is to service heating, ventilation, cooling and refrigeration systems to maintain comfortable temperature and air quality levels in buildings. To achieve this, HVAC technicians install, clean and repair HVAC systems. They also inspect and test HVAC systems, make recommendations to improve system performance and keep records of the work they completed.[13]
Many who seek to enter this trade pursue postsecondary instruction like HVAC training, especially since HVAC systems have become increasingly complex.[14]
Are Trade Jobs in Demand?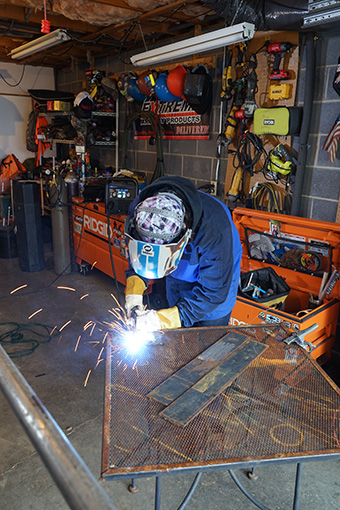 Yes. Trade jobs are indeed in high demand. Let's talk about why.
Skilled Trades Shortage
Now that baby boomers—who have long dominated many skilled trades—are retiring, 62% of firms recently surveyed by Adecco reported that they are struggling to fill key skilled trade positions.
Across the country, employers are scrambling to find skilled tradespeople. As the construction industry has been rapidly picking up steam from Miami to Seattle, contractors can't hire electricians, plumbers, carpenters and brick masons fast enough.
The Cost of the Skilled Trades Worker Shortage
This is especially true for construction and energy extraction positions, electricians, welders, machinists and pipefitters. If this labor shortage in the skilled trades isn't addressed, it could result in 31 million vacant positions by 2020 and a financial loss of over 100 million dollars for manufacturers over the next five years.
Efforts to Encourage Women to Consider Trades Careers
In Iowa, the Iowa Department of Education, Des Moines Public Schools, Homebuilders of Iowa and Turner Construction introduced the Construction Camp for Girls to encourage middle and high school girls to consider a career in construction. Women can in fact find great success in the trades while also helping to close the sector's workforce shortage.
How to Get a Trade Job?
One major reason for the dearth of skilled workers in this country is that a four-year college degree has for decades been considered the most lucrative career choice.
After World War II, white-collar industries were booming, and thus students were pushed towards a university education. However, tuition costs have since been rising sharply, and nowadays, many young people are considering alternatives that allow them to start earning money quickly and won't leave them with mountains of student debt.[15]
Here are some reason to consider a trade career:
There's a huge demand for qualified workers.
Training is affordable and quick.
Many trade jobs are growing.
There are plenty of opportunities for finding personal fulfillment.
So how do you get started in your trades career?
Pick Your Trade: Do you like to build things? Are you a math wiz? Do you enjoy interacting with people? Would you prefer to work outdoors? There are many trades jobs available. Evaluate your needs and goals. Then pick your trades career.
Enroll in Training: Depending on which trade you choose, the length of your training will vary. The vocational training programs at Tulsa Welding School range from seven to 14 months. Contact us and schedule a personalized tour before applying for admission.
Obtain Certification: After you complete your trades training program, you will receive a certificate. A welding or electrician certificate, for example, will let potential employers know that you have the skills and knowledge needed for the position.
Get Licensed: Licensing requirements vary drastically from trade to trade and from state to state. Some licenses demand a certain amount of work experience. Contact your local licensing board to learn what the requirements are.
Apply for Jobs: Once you are done with your training program and have acquired all necessary licenses, you can start job hunting. Our Career Services team will help you prepare resumes, search for jobs, practice for job interviews, and more.
If you have any lingering questions about a skilled trades career, don't hesitate to contact TWS at (855) 237-7711.
[1] https://www.ziprecruiter.com/e/What-Is-a-Trade-Job
[2] https://www.bls.gov/ooh/construction-and-extraction/home.htm
[3] https://www.bls.gov/careeroutlook/2014/article/manufacturing.htm
[4] https://www.bls.gov/ooh/production/welders-cutters-solderers-and-brazers.htm#tab-2
[5] https://www.bls.gov/ooh/production/welders-cutters-solderers-and-brazers.htm#tab-6
[6] https://www.bls.gov/ooh/construction-and-extraction/plumbers-pipefitters-and-steamfitters.htm#tab-2
[7] https://www.bls.gov/ooh/construction-and-extraction/plumbers-pipefitters-and-steamfitters.htm#tab-4
[8] https://www.bls.gov/ooh/construction-and-extraction/electricians.htm#tab-2
[9] https://www.bls.gov/ooh/construction-and-extraction/electricians.htm#tab-3
[10] https://www.bls.gov/ooh/construction-and-extraction/electricians.htm#tab-4
[11] https://www.bls.gov/ooh/architecture-and-engineering/electro-mechanical-technicians.htm#tab-2
[12] https://www.bls.gov/ooh/architecture-and-engineering/electro-mechanical-technicians.htm#tab-4
[13] https://www.bls.gov/ooh/installation-maintenance-and-repair/heating-air-conditioning-and-refrigeration-mechanics-and-installers.htm#tab-2
[14] https://www.bls.gov/ooh/installation-maintenance-and-repair/heating-air-conditioning-and-refrigeration-mechanics-and-installers.htm#tab-4
[15] https://www.popularmechanics.com/technology/a26454617/skilled-trades-jobs/
This blog has been labeled as archived as it may no longer contain the most up-to-date data. For a list of all current blog posts, please visit our blog homepage at https://www.tws.edu/blog/