Stephen, 19, from Flippin, Arkansas, graduated the Professional Welder program at Tulsa Welding School in January 2022.
Thanks for your time, Stephen. At 19, did you come straight to TWS from high school?
Yes, I moved to Tulsa 13 days after I graduated high school in May 2021.
So, why did you decide on welding school?
I'd been on social media and seen the nice things that welders have, how they're able to provide for their families, how they're able to go and do things. To me that idea beat sitting in a classroom for four more years and having to pay back $120,000 of college debt.
Have You Considered a Career in the Skilled Trades?
Fill out the form to recieve a no obligation info packet.
Was college an option you ever seriously considered?
No, I knew from about 7th grade that I didn't want to do any more regular schooling, that I wanted to do something hands-on. College was not going to be for me.
Did you weld in high school?
Yes, I went to a Vo-Tech center and got a certificate. It was just one year of welding in my senior year.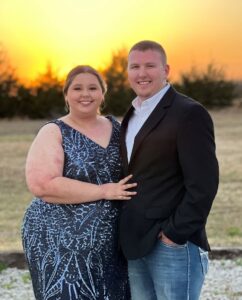 TWS Student Store
The TWS student store is now open! Visit GoShopTWS.com go grab all the latest TWS swag.
Shop Now
How did you find that, moving from a small town to a big city at 18?
I come from a small town. My graduating class was 46 kids. Less than two weeks later, I move to a city with a population of 750,000.
What did you enjoy most about your time at Tulsa Welding School?
What I enjoyed the most was the people. You have people from all different cultures, from all over the United States coming there. I have a buddy I met from California who is now working in New Mexico on the pipeline. I have a buddy that moved to Utah for a welding job. People have gone all over the place; I mean, welding can take you anywhere. You've just got to stick with it.
It sounds like you made some lasting connections in school, people you'll stay in touch with.
Oh yeah. I talk to at least one of my classmates pretty much every day. It doesn't have to be the same person. The friendships you create at Tulsa Welding School won't go away. You see them struggle. They see you struggle. It's bonding. It's also some peoples' first time being on their own, like it was for me. Tulsa was my first experience being out on my own away from home, so you can make good friends.
You mentioned the word "struggle." Did you have days where you got frustrated?
Yes, I struggled a lot. When you've just spent two or three hours welding and you think you're going to pass the weld test, then they put it under that machine and your weld snaps, your heart just breaks. They tell you to do it again, and I'm not going to lie, it broke me a couple of times. I got help from instructors, students, everybody, because I wanted to get everything down.
What made you keep going on days like that?
It was the last month that I found the hardest. I thought, "If I drop out now, I'm still going to have to pay back the student loans. I might as well do this." Also, I had people back home who told me I wasn't going to make it. What really kept me going was the desire to prove those people wrong. My best buddy's dad told me I wasn't going to finish. When I went home for a week before I started my job, I walked in the door and said, "I told you so!"  It felt great to be able to rub it in his face!
That's very satisfying! So, tell us about the job. Who are you working for and where are you living?
I work for Ditch Witch in Perry, Oklahoma, but we live in Stillwater. It's about a 30-minute drive each way, and Stillwater is about six hours from my hometown. Right now, I'm welding small parts like foot pedals and shifters for excavation equipment like trenchers and excavators.
What's your schedule?
My week runs Sunday night through Friday morning. I work nights and I will say that sucks! I've been working nights since January; my body hasn't got used to it, I never get enough sleep. Everybody else has a life going on. They don't stop just living life because I work from 9pm to 5am, so I have to work around them.
What's your long-term career plan?
I want to do travel welding, but I've stuck around here because my girlfriend Lakin wants to travel as well. She doesn't finish college until the end of 2023, so maybe by then the pipeline will open back up when the economy gets a little bit better. I figured I might as well make some good money while I'm being patient!
Ultimately, I'd like to make enough money over the next five to ten years to where I don't have to travel as much, and I can be more local. Maybe get my own shop at home, do a little fab work here and there.
What was it like getting your first paycheck?
I worked in AutoZone my senior year; my first check from Ditch Witch was triple that. And I'm hardly in debt for school. I'll be able to pay school off in a couple of years, unlike college that I'd be paying off the rest of my life. So, I'm extremely happy!
Nice! Did you do anything special?
Lakin and I went out. We drove over to Tulsa and had dinner, did a little shopping spree! We just did whatever we wanted. I'm making decent money that has also allowed me to buy a newer car. I don't have as many issues with this car, and it gets better gas mileage.
What do you enjoy most about welding?
I enjoy the fact that it's not something everybody can do. Yeah, some people are gifted with it and some people have to practice a whole lot, but it doesn't matter where you come from. Everybody has an equal opportunity to become a welder through the school, or even high school. It doesn't discriminate. I also find it so calming. Most jobs you have to work with people, but with my job I have my own little stall, my own music set up. When I'm in my stall it's just me and my thoughts. Honestly, sometimes it sucks, you get frustrated I'm not going to lie. But other times, if you just want to blow off some steam, you can take it out on the weld and just try to better yourself.
What advice do you have for new students to be successful at TWS?
Just show up every day, come in on your days off. Practice, practice, practice. There's never enough practice when it comes to this trade. There is always something to improve on. I still have my bad days at work where I'll put down a crappy weld and have to grind it out or throw it away. You've just got to realize that practice makes perfect. Don't practice until you get it right once, practice until you can't get it wrong.
If you're a TWS graduate and would like to share your success and be an inspiration to others, please email [email protected] to be considered for a Graduate Connection interview. Please include details such as your graduation date (month/year), program, and campus name (Tulsa/Jacksonville/Houston).