Ramona, 21, from Oakdale, Louisiana, graduated from the Welding Specialist program at Tulsa Welding School & Technology Center in Houston in March 2019. 
Thanks for your time, Ramona. What did you do after high school?  
I graduated in 2015. I did every sport you can think of. I had a scholarship to go play at Southern University, but two weeks before I signed, I tore my ACL. I really didn't know what to do after that.
What made you consider welding?
One day in my junior year, I walked by an AG class and saw students welding. It looked really cool. I asked the teacher if I could give it a try in a 30-minute break, and I loved it. I just thought it was the coolest thing. After blowing my knee and spending a year or so working at Sonic, not knowing what to do, I decided to go to welding school. I enrolled in a welding program in Louisiana.
Have You Considered a Career in the Skilled Trades?
Fill out the form to recieve a no obligation info packet.
This was before you came to Tulsa Welding School?
Yes, this was a program at a small local school. I did 18 months, but they canceled my program four weeks before graduation. My teacher got cancer–sadly he passed away this year–and there was no one else to teach us. It was a little crisis for me. I wasn't ready to work, so that's why I came to Tulsa. 
Did you consider Tulsa before going to the other school?
No, I didn't know anything outside of Louisiana. But I have family out this way, and a good friend of mine told me about Tulsa Welding School in Houston. I came out last summer, took a tour, did my financial aid and started in August 2018.
What did you enjoy most about Tulsa Welding School?
TWS Student Store
The TWS student store is now open! Visit GoShopTWS.com go grab all the latest TWS swag.
Shop Now
The instructors. I had two instructors who feel like family to me now. I still communicate with them and my careers advisor, Marquis. When you find a teacher that you bond with, you can always go back and ask them questions no matter what phase you are in. If you don't understand your current teacher's way of doing something, you can always ask someone else. That's what I liked. The teachers and the staff really cared. They don't go to work for the paycheck, they actually care. That's a good feeling.
Did it help to have done some welding before?
It did; it helped to know what I was doing. The only time it really felt intense for me was the final phase when you take a bunch of bend tests. I can't tell you how many times I cried on the phone to my mom! I was ready to go home to Louisiana, but by the grace of God, I did it!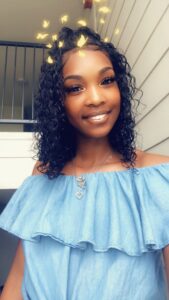 Did you consider the pipefitting program too?
No. Having already been in welding school for 18 months, I just wanted to do the seven-month program. 
Where are you working?
UTLX in Sheldon, Texas; I have orientation next week. This will be my first welding job. It took me a few months to get this job, but I persevered. I didn't give up, even though it's been a struggle. But I have my foot in the door now, and I'm not letting go.
The first time I went for an interview, they didn't pick me. I went through my panel interview and my weld test. Everything went well, but the lady said they had picked someone with more experience. I was devastated. I stood there crying by the UTLX sign. But later that day the lady called me back and offered me another position. You've got to keep the faith. 
Are you happy with the money you will be earning?
I am more than happy! The first position they offered wasn't paying as much as the one I got. After I finished my weld test, when she told me what the pay was, I instantly started crying and hyperventilating! She asked if I was okay? I said, "Yes, ma'am! Just give me a pen. Where do I sign?" I've come a long way from earning $8 an hour. I was struggling, and now it's a true blessing. That's all I can say. 
Congratulations! What's your ultimate career goal? 
I see my career going up. I have it mapped out in my mind. I am going to work on the pipeline by the time I'm 25. I'm going to get some experience in the next three years and then I'm going to get a truck. It's going to be all black with a sunroof and a pink lift kit, and I'm going to build a house. 
What makes you smile when you think about being a welder?
The way I look. I'm not a girly girl, but I do go to the nail shop. I get my hair done. When people look at me, they say, "You weld with those nails?" I'm like, "Yeah, I weld!" That's what makes me smile when I think about being a welder. Because when people see how I look, how I carry myself, they don't expect me to be a welder! 
What do you enjoy most about welding? 
Growing up, I had a lot of anger problems. Still to this day, I'm battling that within myself. But whenever I drop my hood, anything or anybody that's made me mad or upset me, it doesn't even matter. I put all my anger, frustration and passion into my welding. It's very therapeutic for me. It helps a lot.
How have you found being a woman in a predominantly male environment?
There have been a couple of times when people said I didn't know what I was doing. I'd just go prove them wrong. They'd sit there with their mouths open, looking crazy! It can be aggravating when guys tell women we don't know what we're doing. Women have steadier hands than men, so it's fun to prove them wrong! You have to be tough, wear your heart on your sleeve, and go about your business. If you let everything that people say get to you, you're going to quit. If people tell you that you can't do something because of your gender, your race, whatever…yes, you can. You can do it; just prove them wrong. It's their insecurities showing, not yours.
Did you make some lasting connections at TWS?
You have to know somebody in this field, even if you have experience. Fresh out of school, it can be frustrating, so it's good to always make connections, to take numbers. You never know when you need them. I've stayed in touch with some people from school. We help one another, and that's the way you've got to be. 
What advice would you give to new students for them to be successful at TWS?
Don't give up. You're going to have days when you don't want to go to school, days when you think, "This isn't paying off. I don't want to do this anymore. It's hard." But don't give up, because in the end, when you get your diploma, it's a beautiful thing! When I received my diploma, it was the best day of my life. I couldn't stop smiling. There were tears of joy. It was something I completed. It will make you feel good about yourself!

If you're a TWS graduate and would like to share your success and be an inspiration to others, please email [email protected] to be considered for a Graduate Connection interview. Please include details such as your graduation date (month/year), program, and campus name (Tulsa/Jacksonville/Houston). 
This blog has been labeled as archived as it may no longer contain the most up-to-date data. For a list of all current blog posts, please visit our blog homepage at https://www.tws.edu/blog/