Ty, 22 from Lufkin, TX, graduated the Welding Specialist program at Tulsa Welding School & Technology Center in Houston in March 2018.
Thanks for your time, Ty. What did you do before Tulsa Welding School?
I never thought about going to welding school when I left high school. I actually started working as a butcher at a meat market. I then got an opportunity to work as a helper at a fabrication shop. I worked my way up from helper to cut-shop foreman. I worked alongside a lot of welders, and that's where my interest started. I left that job and went back to cutting meat, but I got laid off and ended up at another fab shop doing what I did before. I felt I was at a dead end. I wanted to better provide for my family. That's what pushed me to go to welding school.
Talk to me about your family.
My fiancée Kaylee and I just got engaged. We are getting married in March. Our daughter, Katie, turned two in August.
Have You Considered a Career in the Skilled Trades?
Fill out the form to recieve a no obligation info packet.
So they were your motivation?
Yes, sir. I was working for the fabrication company during the day and at a restaurant at night. I was working 6, 7 days a week. I not only wanted a career that would help me better provide for my family, I also wanted something that would pay enough to give me the opportunity to spend more time with them.
What did you enjoy most about Tulsa Welding School?
It was a combination of everything. I liked the fast pace of the program. I also liked the opportunity to be able to work with people who know more than I do. You can't improve if you don't surround yourself with people who know things that you need to know, or people who can teach you things that you didn't even know that you needed to know!
Had you done any welding before TWS?
TWS Student Store
The TWS student store is now open! Visit GoShopTWS.com go grab all the latest TWS swag.
Shop Now
I did a little structural welding in high school and in those two fabrication jobs, but definitely nothing on pipe. Before I worked for that first fabrication company, I'd never even considered welding as a career.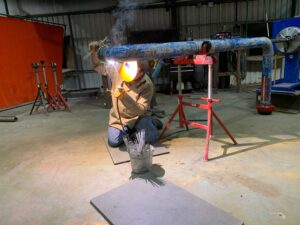 You graduated in March 2018. Where are you working?
About a month after graduation, I moved from the company where I'd worked through school and hired on with Henderson HP Piping. I weld high-pressure piping that goes on oil rigs. We repair and build new pipe. If it's an emergency situation, we may build something new, but a lot of the time, we repair old piping off the rigs. Sometimes we work on site at a rig, but most of the time we work in our shop. We have a location in Houston and a location in Midland-Odessa. Here in Midland-Odessa, I'm one of just two welders.
Was it exciting to get your first paycheck?
It was definitely a big upgrade from where I was before TWS. The hours and the overtime make a big difference. I work 60-, 70-, and sometimes 80-hour weeks. Anything over 40 hours is time and a half.
Are you getting the family time you wanted with those hours?
That was one thing we decided to sacrifice. When I first started for the company, I worked in Houston. It was a bit of a drive, but I came home every night. About two or three months after I started, they made me an offer to come out to Midland-Odessa. I could earn more money and have an opportunity to learn more. Kaylee and I talked about it, and we decided it was a good opportunity for us. It has separated us for a while, but it's worked out. After our wedding in March, they will move over here.
What's your career plan from here?
I plan to get my CWI [Certified Welding Inspector] certification within the next eight to ten years. I'm waiting that long because the more experience you have in one thing, the more it benefits you when you move to the next thing. If the opportunity opens up, I'd like to move into a foreman position before that.
What do you enjoy most about being a welder?
The money is good, but the way I look at it is, if you don't enjoy what you do, it doesn't matter what you make. To me, it's an art form. I enjoy what I can create, and I enjoy the fact that while I'm welding there's nobody bothering me. Welding is something that requires a lot of focus, a lot of skill. It's not something that you can go at with a halfway attitude. You have to be committed to what you're doing, or ultimately, you're going to mess up.
You graduated a year ago. Do you have a good network of connections?
Yes, I do. I talk to people I've worked with all the time, even people from the first fabrication company I worked at before TWS. Just the other day I talked to someone I graduated with, and I keep in touch with the instructors pretty regularly.
How important are those connections?
You often hear "It's not what you know, it's who you know." Well, I think both are important in this industry. It is important that you have the skills, that you can do what you say you can do, but if you don't know somebody, it can be hard to get a foot in that door. I was at dinner with the previous owner of the company the other night, and he said something that stuck with me: "At the end of the day, all you have is your reputation. Your reputation is what people are going to remember you by. Whether it's one year or ten years down the road, your reputation is what could help you get or cost you that next job." That advice really kind of stuck with me.
What advice would you give to new students considering TWS?
Honestly, the same advice that was given to me when I started. When you're going into this program, you will get out of it what you put into it. The simplest advice is just work hard and not give up. The more you ask questions, the harder you try, the more willing you are to let them teach you the things you didn't even know you needed to know, the more successful you will be. There are times when it will hit hard, when it will be frustrating, but you've just got to push through.
If you're a TWS graduate and would like to share your success and be an inspiration to others, please email [email protected] to be considered for a Graduate Connection interview. Please include details such as your graduation date (month/year), program, and campus name (Tulsa/Jacksonville/Houston). 
This blog has been labeled as archived as it may no longer contain the most up-to-date data. For a list of all current blog posts, please visit our blog homepage at https://www.tws.edu/blog/