Greydon, 20, from Humble, Texas, graduated from the Welding Specialist with Pipefitting program at Tulsa Welding School & Technology Center in Houston in May 2020. Greydon actually sang our national anthem at our last graduation ceremony!
Thanks for sharing your story Greydon; did you go to welding school straight out of high school?
I came to Tulsa Welding School about a year and half out of high school. As soon as I got out of high school, I went to community college to do my pre-requisites. My plan was to go to university and study for a degree in metallurgical engineering.
What made you drop out and go to Tulsa Welding School instead? 
Mainly the cost of the degree. I've always been money-saving oriented.
Have You Considered a Career in the Skilled Trades?
Fill out the form to recieve a no obligation info packet.
Why welding? Is there a family connection?   
I learned just before I started welding school that my grandfather had been a welder for the Southern Pacific Railroad, then the Union Pacific Railroad for a total of 30 years. But he never talked about his old job that much, so I wasn't aware of it. He passed several years ago. But I've liked the idea of playing with metal since I was about 11 years old.
What happened at 11?  
I was rummaging through my grandfather's garage and found a sword that my uncle had worked on when he was a child.
Did you weld in high school?  
TWS Student Store
The TWS student store is now open! Visit GoShopTWS.com go grab all the latest TWS swag.
Shop Now
I tried, but the program I wanted to be in didn't have enough funding, so they didn't have spots for all the kids. So, I had no experience whatsoever going into Tulsa Welding School. But I got straight into it; I had a little difficulty on the first day, but I got used to it really quickly.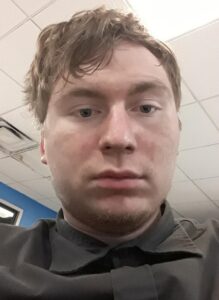 What did you enjoy most about Tulsa Welding School?
I really enjoyed the familiarity of the teachers, and how experienced they were, and how easily they could elaborate something to someone who had never welded before.
Did you have enough time with the teachers to get the instruction you needed?
Absolutely. I really enjoyed all of the teachers I worked with.
Did you sign up for the Pipefitting program from the start, or add it? 
I signed up for the Welding Specialist program, and added Pipefitting about midway through the welding program. I figured having a greater skill set would be a of greater service to myself and my family.
When did you start getting involved with Career Services?
My first day of school actually. At the time I wanted to work for the Union Pacific Railroad like my grandfather did. So, I met with them and asked how we could make that happen.
So, you graduated a couple of months ago…where are you working?
I'm working with Sabre Industries in Conroe, Texas. I'm currently a materials handler, which is basically like a welder's assistant. I started about a week and a half ago in early July.
Do you have a path to becoming a welder, and what are you working on?
Yes, I do. There is room for growth here. In fact, just next week I should be promoted to a tacker position, which is right below a welder position. But it's still welding in a way. We make the arms, legs, and poles for the big electrical towers that you see.
How are you enjoying it 10 days in?
Honestly, I love it! It's amazing. The pay is much better than I received at Sonic, which is the only other job I've ever had. I'm working about 58 to 60 hours a week, and there's plenty of room for growth. Everyone here is friendly with each other, it's really nice.
Did you have to move for the job?
Honestly, it's only a 40-minute commute from Conroe to Humble, so I am still at home. I'm a very family-oriented person, so I enjoy going home to my family. I'll look to get my own place in maybe a year or so.
What shift do you work?
I work the night shift from 5.00pm until 3.30am; it's really nice actually. I usually don't go to bed until 5am anyway and get up around 11am. It gives me the day to get things done before I head off to work.
You mentioned wanting to work for the railroad, where do you see your welding career going?
Honestly, I plan to stay at Sabre for 30 years if they'll have me and grow and evolve here. I was thinking about going to the railroad, the union, a year ago but I've been trying to contact them since the first day of school. They never got back to me so I figured I would forget about them. I decided to concentrate on the next place that would hire me, and if they seemed promising, I would just stay there.
So, no regrets about the railroad?
Not at all.
What do you enjoy most about your new trade?
I like to work with metal. That's pretty much it. I enjoy the practicality of it. Metal is a very versatile item; you can do almost anything with it.
Did you make some lasting connections at school?
I do keep in contact with three of the several friends I made at Tulsa Welding School.
What advice would you give to students for them to be successful at TWS?
Stay driven, keep your focus and your mind on what you are doing. If you do not think you can go through a year (at most) of hard work, do not do it. If you don't think you can handle a seven- or ten-month program at Tulsa Welding School, you're not going to be able to handle a full-time welding career in the field. It's a very intense, fast-paced program where you spend a lot of time under the hood. I would say I lost maybe half of my starting class because they couldn't handle it, so make sure you want it, and that you can handle hard work.
If you're a TWS graduate and would like to share your success and be an inspiration to others, please email [email protected] to be considered for a Graduate Connection interview. Please include details such as your graduation date (month/year), program, and campus name (Tulsa/Jacksonville/Houston). 
This blog has been labeled as archived as it may no longer contain the most up-to-date data. For a list of all current blog posts, please visit our blog homepage at https://www.tws.edu/blog/