Duston, 24, was born in Mississippi, but has lived his whole life just a few miles over the border in a small town called Sulligent, Alabama. Duston completed the ten-month Welding Specialist with Pipefitting program at Tulsa Welding School in Jacksonville in February 2023.
Thanks for your time, Duston. What did you do before coming to Tulsa Welding School?
After I graduated high school in 2016, I went to college and played football at the University of North Alabama. I had an injury, so I only played football for maybe two and a half of those years, but I graduated. I'm glad I had that college experience. It taught me a lot outside of football. I had a part-time construction job at school. I also worked at a phone company for a while. I did a few different things here and there.
Where did the idea of welding school come from?
I went to a vo-tech high school. So, I've done a little welding since 10th grade. After I got injured in college I dabbled in welding. I had a part-time construction job where I did a little structural welding. But the main reason I decided on welding school is that one of my best friends from college—we were roommates our freshman year—went to Tulsa Welding School. He graduated college a year before me because he had some extra credits. After he graduated TWS, he started working on the road. I also have another buddy who did some welding work. Both these guys told me I should try it because I already had experience. So, I thought about it, prayed on it, and finally decided that I did want to give welding another shot.
Have You Considered a Career in the Skilled Trades?
Fill out the form to recieve a no obligation info packet.
Why did you choose Tulsa Welding School?
Once I made the decision, I started looking for welding schools. I didn't know where I wanted to go; I didn't know if I wanted to do a community college program or go somewhere else. My college roommate said that he went to a nice school for welding, so I contacted him. He gave me Tulsa Welding School's information. After I talked to him and my parents, I did my research and reached out to TWS. From the time they called me back a couple of days later, to the time I arrived at Jacksonville was literally three weeks.
That's quick! How was the move?
It happened fast. I thought, you only live once, so let's go for it. So, my family and I—my girlfriend and our two-year-old daughter—jumped ship and went down to Florida. I haven't looked back since. I was out of my comfort zone because I'm from a small town. Even my college town was small. So, moving to a big city was uncomfortable for me at first. But I knew that if I got through that, I could get through anything.
TWS Student Store
The TWS student store is now open! Visit GoShopTWS.com go grab all the latest TWS swag.
Shop Now
Your hometown is in the middle of the three TWS campuses geographically. Why Jacksonville?
I have cousins that live in the Jacksonville/Gainesville area, so I figured I would at least know somebody. Also, of course, the beach is down there. I love Florida. I grew up going down there for vacations. Those factors played together. I said, I'm going to go down there and not look back. And that's what I did.
What did you enjoy most about your time at Tulsa Welding School?
I'd say the connections I made with the instructors. I built a strong connection with a lot of them, not all of them, but you will find instructors that you really connect with. They have a lot of experience. They really teach you a lot. I didn't really know what I was getting into going to Tulsa; I was just hoping that I'd like it, but it was a great experience.
How did you find the teaching style?
They show you the blueprint on what to do, and it's up to you to take that blueprint and put in the work to get there. They are there for you, but they're not going to hold your hand and do it for you. It's not high school, they are not going to spoon feed you. You have to want it for yourself. It's like working side by side because they really help you, but it's up to you to want to help yourself to get to that next level. They've already been there, so they're just there to help you get there, to be that bridge.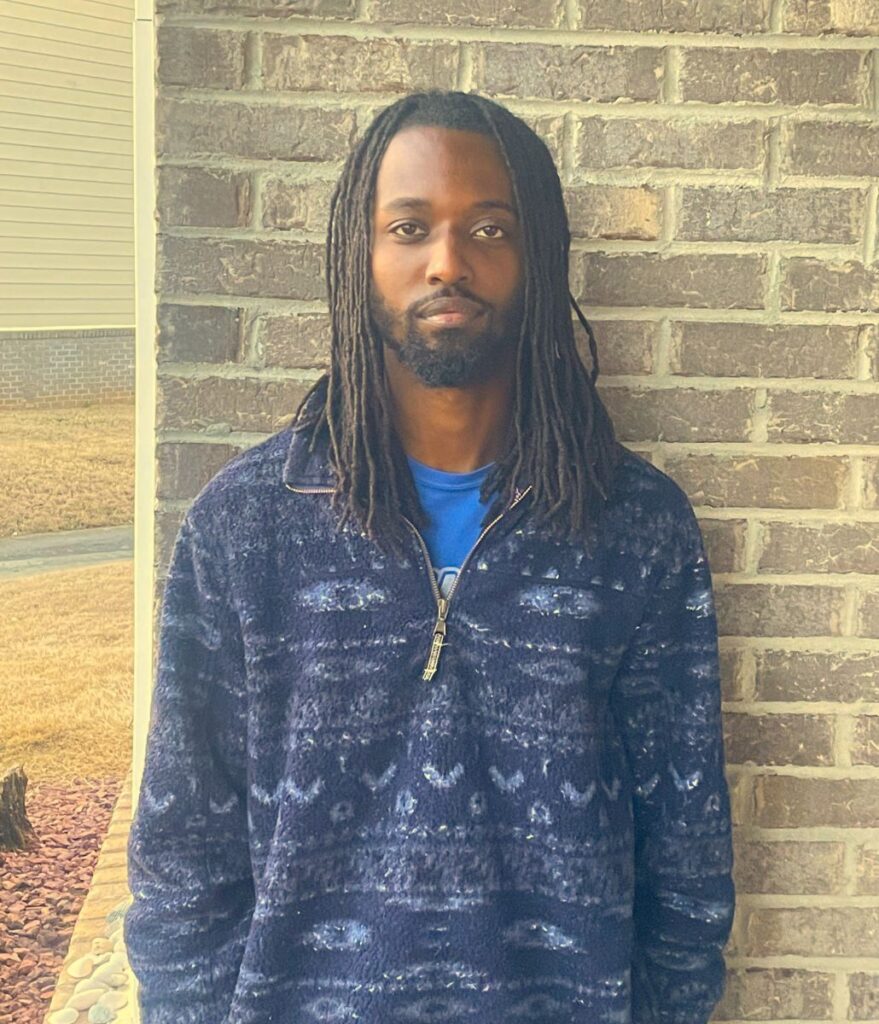 Did you put in extra practice time, beyond class?
Once I got to TWS, from day one, I sacrificed by not working a job—just to put in that extra effort to be there. I spent seven or eight hours a day at school; putting in the extra work really paid off for sure.
Did you find the program difficult? Did you have frustrations?
I tell anybody that's looking to go to Tulsa, or thinking about welding, that it's not easy. You've got to put in the work to get good, to get the results that you want. But, if you listen to what the instructors tell you and you put in the work, you'll get there. I had days when a certain project did not go specifically how I wanted it. I did mostly Stick welding when I did my little construction gigs. I'd never done TIG, MIG, or Flux Core. So, when I first started TIG, it wasn't easy. But that's why I went to TWS. I wanted to learn.
How did you get over those frustrations?
I had a couple days where I had to go home and relax, to just take a breath. I'd get back at it the next day. Don't quit. I didn't quit, but I had days when I was frustrated. Go to the beach, go for a walk, find some time to take a breath, and get back at it the next day. That definitely worked for me.
You enrolled in the Welding with Pipefitting program from the start. Why?
My buddy only did the Welding program and then, as soon as he got done, he started working immediately. But I wanted to do Welding Specialist with Pipefitting because I knew that the extra three months for the pipefitting class would also give me extra time to get better at my welding, especially my TIG and MIG, which is what I really went there to learn. I also knew that it would allow me to get the basics of pipefitting down pat without having to learn everything on the job.
You finished class Thursday, today is Sunday. Tell me about the job search.
I've got a weld test next week out in Oak Creek, Colorado, for a company called Schmueser & Associates. It's a construction/welding/mining company. It's a little bit of all worlds with this company. They have a couple different sites in Colorado, but they have multiple different locations. I'm at home in Alabama this weekend, and we leave Tuesday to drive to Colorado. The weld test is Thursday.
Good luck with the test! How did you find the opportunity?
I was looking up different companies and I came across their name, but I didn't really think anything of it. Then I discovered a buddy of mine worked for them and so he explained everything to me and how the process was for him, why he worked there, and stuff like that. I put in different applications to a couple companies, and they were the first one to contact me back. Within a week they asked me to come out and test. So, I said, I'm going. I've never been out that far, so it'll be an experience for me to go out there. It seems like a five-star company, I've heard nothing but great things about it.
So, you're pretty confident going out there with the family before the weld test?
It's one of those things where you've just got to go for it. I feel confident in myself. I put in the work while I was at TWS, and I also have my experience from before I went to school. So, I'm going to go out there, trust in God, and know everything is going to work out fine, just how I planned it. That's why we're taking that road trip out there together. I don't plan on coming back empty handed. I plan on locking that job in. You've got to have that mindset.
You're just starting out. What's your career plan from here?
I enjoy welding. I fell in love with the TIG process and just the whole thing in general, even more after going to this school. So, I definitely plan on getting as much as I can out of my welding career. But, once I finish welding, years down the road, I want to be a welding inspector. I plan on getting my CWI certification. I would also like the opportunity to go back and teach at Tulsa Welding School one day, once I've put my years in. I really enjoyed helping new students who would come by my booth later in my program. But that's all years from now, when I get to the point where I'm tired and I don't want to weld anymore!
What do you enjoy most about your new trade?
Welding is not for everybody, I'll tell you that. I saw people come and go within the school while I was there. But, for me it's just that feeling of when I put that hood down, I know it's go time. It's like I transitioned from a football helmet to a welding hood—drop the hood and it's go time. That's what I enjoy.
Did you make some connections at school, people you want to stay in touch with?
Oh yeah, I did. I definitely connected with people. I'd say I made five or six good friends that we'll still be chatting about our jobs and what we're doing years from now. But I wasn't too chatty; it's too easy to get caught up in the social side. I stayed focused on what I had to do. I was in my booth welding, but I made friends along the way. You've got to get the balance right. You've got to have some mental toughness to just do what you've got to do, and not get caught up in the social life too much. Spend as much of your time as you can in the booth welding, not chatting.
What advice would you give to people considering going to Tulsa Welding School?
Just have fun. Take it seriously, but have fun along the way. You're learning, so don't be too hard on yourself and get freaked out. Work on your projects, do your own thing, have fun, and enjoy the process because it goes by quick. Those seven or ten months go by so fast, it's ridiculous. Talk to the instructors, joke with them, get to know them. Find out all the information you can from them because they know a lot. They've been around the block when it comes to welding. They are really helpful.
My first phase instructor, Mr. Paul Pearson, really helped me along the way. Even in my last phase, I'd still ask him questions. He'd come in my booth while he had 20 other kids that he was teaching that day and help me just like I was still in his class, even though it was five or six months later. I appreciate all the instructors at Tulsa Welding School, but he was the one that stood at the top that I really appreciated. From day one to my last day there, he helped me with stuff.
If you're a TWS graduate and would like to share your success and be an inspiration to others, please email [email protected] to be considered for a Graduate Connection interview. Please include details such as your graduation date (month/year), program, and campus name (Tulsa/Jacksonville/Houston).