Brian, 19, from Greenville, Missouri, graduated the Professional Welder program at Tulsa Welding School in January 2021.
Thanks for your time, Brian. At age 19, I guess you came to Tulsa right out of high school?
Yes, I moved to Tulsa a little less than a month after I graduated high school.
What made you decide to go straight to welding school?
I come from a poor family. We didn't always have much, but my parents would always do their best to help me out. I figured that welding was a good trade to get into, I could make good money. By going that route, I figure I could help pay back some of the things my parents have done for me. It's working out decently.
Have You Considered a Career in the Skilled Trades?
Fill out the form to recieve a no obligation info packet.
Where did the idea of welding come from? Family? Research?
I have three cousins that weld, but my first taste of welding came my freshman year during our FFA [Future Farmers of America] program, our Agriculture program. I also attended a technical career center while I was in high school for two hours a day. I welded there in my junior and senior years.
How far is Greenville, MO, from Tulsa, OK? And how was moving away from home at 18 years of age?
It's about six hours from home. It wasn't terrible. The worst part was I didn't really care for being in the city, but it wasn't terrible at all. I'm a country boy at heart.
TWS Student Store
The TWS student store is now open! Visit GoShopTWS.com go grab all the latest TWS swag.
Shop Now
What did you enjoy most during your time at Tulsa Welding School?
It was definitely both the amount of hands-on welding time and the instructors. I preferred the hands-on welding time in the lab to the classroom day; the classroom day was online because of COVID and I didn't particularly enjoy that. I enjoyed most of my instructors I had there.
What was it you enjoyed about the teachers?
They were really funny; I got along with them great. They taught very well, and they helped me understand a lot more. The hands-on just gave me more time to get everything down.
Did you have to work while attending school?
I worked at Walmart my first five months down there. By then I had enough money saved up so I could quit and focus solely on school for the last three phases, the last two and a half months. I started on the afternoon shift at school until I got the Walmart job, then I moved to the night shift. 
Did that give you the time to get extra practice in?
I did every on Friday usually, and then after I quit working, I was at school from Noon until closing time every night for my last three phases.
You had prior welding experience, but were there students who didn't?
Yes, it was a good mix. There were some people who didn't know where the power switch was on day one.
Did that give you an advantage?
I would say a little, but not completely. Anyone can learn to weld. We've all got to start somewhere. I just started a little further along. A few students would come to me for advice. I'd tell them what I ran my stuff on, and what I'd done to make my weld look the way I got it to look. It was nice to be able to help people.
You just graduated two months ago, where are you working?
I'm back home working at Manac Trailers in Oran, Missouri. It's about an hour commute from Greenville.
What's your work schedule, and are you happy with the money?
It's a 40-hour work week. It's good. I typically work Monday through Thursday from 6:00 a.m. to 4:30 p.m. I do get overtime offered, but I haven't taken them up on that yet.
What are you doing for Manac?
I'm part of the sub-assembly team. I build parts that go on the trailers before they leave the building. I'm using a pulse MIG process, which is a variant of regular MIG welding.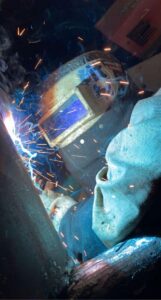 What's your career plan from here?
Eventually I want to be traveling on pipeline jobs. To get to that point I'm planning on sticking here with Manac for a little bit, and then maybe going to the Boilermakers Union for a while to do some traveling work for them. That's how I want to build my experience and skills before going to the pipeline.
What do you enjoy most about your new trade?
I just love welding! I don't know what it is about it. I enjoy it so much I don't even look at it as a job. I look at it as a hobby that I happen to get paid for! If I'm bored at home, honestly, I'll go outside and find something to build out of metal!
Soyou have a welding machine at home? Do you do any side work?
I've got a little gas generator welder at home. I build pipe fencing for people around here where I live.
Did you make some friends at Tulsa, people you'll exchange job leads with?
Not really. I do have a buddy that went to school with me who I referred to Manac Trailers. He works here now. Then I have another buddy who went to another welding school here in Missouri who sends me jobs.
What advice do you have for new students who want to be successful at TWS?
Make sure you're paying attention at school and putting your time in. If you have to work, do that because you have to pay rent, but when you're at school, pay attention and put the work in.
If you're a TWS graduate and would like to share your success and be an inspiration to others, please email [email protected] to be considered for a Graduate Connection interview. Please include details such as your graduation date (month/year), program, and campus name (Tulsa/Jacksonville/Houston). 
This blog has been labeled as archived as it may no longer contain the most up-to-date data. For a list of all current blog posts, please visit our blog homepage at https://www.tws.edu/blog/