Amanda, age 19, from Connecticut, graduated from the Welding Specialist with Pipefitting program at Tulsa Welding School & Technology Center in Houston in late April 2017. Amanda took a month's summer vacation after graduating high school before starting the program in July 2016.
What made you choose a career in welding, Amanda?
I knew that I didn't want to go to a four year university or even community college because academics was never my strong suit. I lived in San Antonio – we moved there from Connecticut when I was 12 – and there are magnet high schools* all over the place. One of them had an FFA [Future Farmers of America] department, an agriculture magnet program. I decided I wanted to go there. I got to do a bunch of different agriculture classes. One of the classes was Ag Mech, and one of the units was welding. I thought it was super cool. I started welding as a freshman and carried on all through high school.
What originally sparked your interest? How did you get started?
I decided I wanted to go to a specialty high school in 8th grade. I saw a cutting torch demonstration at a Fall Fair…but all I saw was fire and the sparks flying, since at the time I really didn't know what they were doing. I just thought, "that looks fun!" I signed up for the class as soon as I could. When I started welding I discovered I was pretty good at it, right from the get-go, without much direction.
Have You Considered a Career in the Skilled Trades?
Fill out the form to recieve a no obligation info packet.
So why did you decide to go to Tulsa Welding School rather than university?
I'd wanted to go to Tulsa since my sophomore year when we had a representative from Tulsa Welding School come talk to us. I thought to myself, "Hey, I'm pretty decent at this, and I can make some money doing it!" I figured 9/10 months of school and about $25,000 in debt or four years at university and $100,000+ in debt? That's when I decided I was going to go to welding school! I actually signed up at Tulsa in September of my senior year to start the following July. It was funny watching everybody struggling with writing up college essays and sending in college applications. I sat back thinking, "I'm done!"
What did you enjoy most about Tulsa Welding School?
My favorite part was absolutely TIG welding. It was very clean, very detailed, and very precise. I could be very OCD with it so I liked that a lot more. I guess it was in the middle or toward the end of my welding training at Tulsa. I knew then that TIG is what I wanted to do. I think I had the best teacher at the school for that program so he made it that much better again.
Why did you choose Welding Specialist with Pipefitting?
TWS Student Store
The TWS student store is now open! Visit GoShopTWS.com go grab all the latest TWS swag.
Shop Now
I figured, since I was already going to be there, why not do the pipefitting too? It's an extra two months and $1,500 to take the course. I thought it would potentially make me more valuable to an employer.
How was it being the only girl in your class?
I had to put up with a little crap from some of the guys being really sexist, but the majority of it was joking around like you'd expect! You have to go with the flow and just being one of the guys. You can't take things too seriously. Don't let anything affect you, just continue on and show them up! I could always blow most of the guys out of the water, and I thought that was the coolest thing. The guys were all talk. They thought I was "just a girl" and they could beat me no problem, but that wasn't the case!
So did you make some lasting connections at the school?
I still talk to a bunch of my instructors and a bunch of buddies that I went through Tulsa with. It's very cool keeping up with everybody, and seeing where everyone is at now. I think it's great. I definitely have better friends from welding school than I did from high school.
Who do you work for now?
I work for Soldream, Inc. in Connecticut. I've been here about three months. We have government contracts and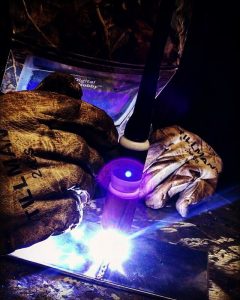 a contract with Pratt & Whitney. I weld parts that go into fighter jets for the military. They go into F100 engines for the F-15 Eagle, F-15E Strike Eagle, and F-16 Fighting Falcon; it's pretty cool!
How did you get the job?
I took a road trip around the country – a summer vacation – after graduating Tulsa. I took a few months moving back up north to Connecticut from Texas. When I got back I googled, "welding shops near me" and this one showed up. I have a four minute commute to work. I don't hit rush hour traffic, and I got the salary I asked for. It's been a fantastic company to work for! This is my first job out of welding school.
What was it like getting your first paycheck?
It was so great. I loved it. I put it right in my account and had some fun with it! It's really nice to be able to make a steady paycheck every week, and be able to really save, not only for now but to have enough to start saving for retirement. I now have the ability to do some really cool things like travel, or build my truck up. Things I couldn't do before because I just didn't have the money. I still wouldn't have the money if I were still in school like most people my age.
What are your career plans from here? What is your ultimate career goal?
I really love the company that I work for. I am perfectly content where I am and have no intentions of moving any time soon! I just think welding is going to be a really cool career path. But I will not be working in the oil fields or on pipelines, or anything like that. I like sitting in an air conditioned shop and TIG welding all day long.
What do you enjoy most about being a welder?
I really like being able to build cool things. In my free time I just think it's so cool to able to take a bunch of scrap metal and turn it into something like a BBQ pit trailer. You can do anything with it!
What advice would you give to people considering TWS?
Don't be afraid to do it just because it's not the common thing to do. It's a fantastic option; definitely consider it. I'm 19 and I've already finished my schooling. I'm paying off my student loans already, which aren't too big, and I've already started my career. I still have a bunch of high school friends who just started their sophomore year of college! They are going to be so far in debt it's going to take them 10/20 years to pay it off, while I'm going to be done, free and clear, making more money than they are. It's definitely a great career path. There are a lot of options, a lot of jobs; you can travel, the opportunities are endless with this career.
*A magnet high school is a public school with specialized courses. "Magnet" refers to how the schools draw students from across the normal school board boundaries defined by authorities.
If you're a TWS graduate and would like to share your success and be an inspiration to others, please email [email protected] to be considered for a Graduate Connection interview. Please include details such as your graduation date (month/year), program, and campus name (Tulsa/Jacksonville/Houston). 
This blog has been labeled as archived as it may no longer contain the most up-to-date data. For a list of all current blog posts, please visit our blog homepage at https://www.tws.edu/blog/