Diani, 23, from Camden, New Jersey, graduated from (what is normally) the seven-month Professional Welder program at Tulsa Welding School in Jacksonville in September 2021.
Thanks for sharing your story, Diani. Tell us why it took you longer than seven months.
Between catching COVID, being in a car accident, and then having to rephase, it actually took me about 14 months from start to finish. It was pretty choppy. I started the program in July 2020.
Have You Considered a Career in the Skilled Trades?
Fill out the form to recieve a no obligation info packet.
Wow – that's an ordeal. Congratulations on seeing it through. What did you do before TWS?
I worked at McDonald's through high school until I graduated in 2016. Then I went into Corrections. I was working at a prison in Georgia just before I came to TWS.
Where did the idea of welding come from?
I'd moved from Georgia to Jacksonville, and I was talking to a family friend who told me they'd graduated Tulsa Welding School within seven months. They showed me where they worked and what they did. It seemed interesting. I'd never touched a welding machine before going to TWS.
TWS Student Store
The TWS student store is now open! Visit GoShopTWS.com go grab all the latest TWS swag.
Shop Now
What made you think welding was the career for you, as opposed to staying in Corrections?
I'm young and I just thought it would be a good change. You never know where welding can take you.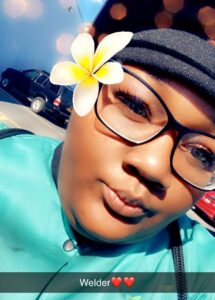 What did you enjoy most about your time at Tulsa Welding School?
My favorite part was waking up every morning, knowing I was doing something to better myself for the future. And knowing that I am going to be successful after it's all done. I'd found a purpose, a real career.
With no experience, how was it?
In the beginning it was fun and fine, but I did struggle with a couple of instructors. They didn't think I had it in me to succeed at welding, given the quality of some of my welds, but I had to prove them wrong…and I have already!
You had to rephase – was that because of COVID or the accident?
It was because of the car accident basically. COVID had me out for two months in October 2020, I lost my taste and smell. It still affects my memory; my memory is really bad. The car accident kept me out for another month in January. It was very choppy between October and February really.
Was the school supportive of you with all those issues?
The staff was really supportive, especially Ms. Tracy in Careers Services and the team in Student Services.
So, when you came back in February, how did you get on?
After the accident, I had to get my head right and finish what I needed to do. In the beginning, at the start of the program, I didn't really take it seriously because I thought I was just going to come here and weld. I thought it'll be easy, but no, it's not! The break gave me an opportunity to reset and start again. I started to get a lot better at my welding. I started watching welding videos on YouTube, and I started to take it really, really seriously, which maybe I hadn't done the year before. I took the chance to stay late when I could and practice, just burning rods.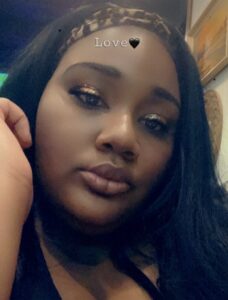 Congratulations on persevering and succeeding. Where are you working now?
I just moved up to Harrisonburg, Virginia, last weekend. I started with Tenneco on Monday as a MIG pipe welder. I had orientation on Monday and training started Tuesday. I just finished my first week.
That's a big move. Have you got a place to live?
I'm in a hotel right now, looking for a place. The company will pay for a hotel for three weeks. Once I settle down and find my own place, it will get easier. Living in a hotel is no fun.
What shift are you working?
My shift is 6.30am to 2.30pm, Monday to Thursday; once I get out of training, I can get some overtime.
How did you get the job?
Ms. Tracy in Career Services at Tulsa told me about Tenneco and gave me a flyer. I started talking on the phone with the Tenneco HR lady – Ms. Becky – and it went from there. I put in an application and did a phone interview; I knew I had the job before I came up to Virginia.
Are you happy with the money you're starting on?
I am. I'm making a little more right now than I did in Corrections, but the only way is up. I also got a relocation bonus which helps.
Are you going to do anything special with your first decent check once you get out of training?
I'm going to get a dog!
What's your career plan from here?
My plan is to stay at Tenneco for at least two to three years to get experience under my belt, then I'm probably going to go back to school for auto collision. One day, possibly, I'd like to open up an auto body shop here in Virginia, so I could still use my welding.
What do you enjoy most about your new trade compared to Corrections?
Although I'm part of a team, I get to work by myself. Once I put my hood down, that's all I'm focused on. Everything else is out the window. I'm kind of a lone wolf; I like being alone, doing my own thing.
What advice would you give to students considering Tulsa Welding School?
Come to school ready for anything. You're going to learn if you put in the work.
If you're a TWS graduate and would like to share your success and be an inspiration to others, please email [email protected] to be considered for a Graduate Connection interview. Please include details such as your graduation date (month/year), program, and campus name (Tulsa/Jacksonville/Houston). 
This blog has been labeled as archived as it may no longer contain the most up-to-date data. For a list of all current blog posts, please visit our blog homepage at https://www.tws.edu/blog/