Levi, 30, from Gore, OK, is a welding instructor at Tulsa Welding School. He currently teaches Phase 6, where students start to learn TIG. Levi, a TWS graduate, has been welding for nine years.
Thanks for sharing your story, Levi. How long have you been an instructor at Tulsa Welding School?
I first worked here for a year in 2015/2016. I then had to go make some money, so I went back on the road for a couple of years. I came back to instructing in May 2018. 
As a boy, what did you want to be when you grew up?
I wanted to be a fireman!
Have You Considered a Career in the Skilled Trades?
Fill out the form to recieve a no obligation info packet.
How did you go into welding?
I graduated high school and had to get to work. I went where I knew I could get a job: the pipeline. My grandpa dropped out of high school at age 16 to go pipeline, so that's how I got into it. I started out as a laborer at 18, then I started operating heavy equipment.
Why did you decide to go to welding school?
After a couple of years on the pipeline, I saw it was the welders who were making all the money. My brother had also started welding. He told me how much money he was making, so I decided to go to Tulsa Welding School to learn to weld! I came through this school in 2010.
What made you decide to go into teaching?
After graduating, I went straight to North Dakota, then spent five years pipelining, most of it out on the road as a rig welder with my own truck. I have a wife and three kids, so I wanted to be home more. The money is nice, but working on the road is hard when you have a family. Having come through the school as a student, I looked up to the instructors here. I really liked the way the guys handled themselves, and I always thought it would be a good job. One day between jobs in 2015, I thought I'd come in and see if they needed anybody, and they set me up with a test.
Tell us about your family.
I have a 9-year-old, an 8-year-old, and a 3-year-old. My wife Kendra and I were high school sweethearts; we've been together since high school, but we didn't get married until 2014.
What do you enjoy most about teaching?
I like the success stories. It's satisfying when a student comes over to tell me that what I showed or told them really helped them out. I also like it when our graduates come back as welders to tell us thank you.
It was hard to give up the money as a rig welder. Are you going to stay teaching?
I sold my truck, so I'm going to stick with teaching, at least until my wife gets out of nursing school. Once she gets out, we'll be fine financially, but until then, it's going to be a struggle.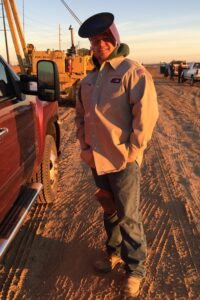 Tell us something most people won't know about you.
Most people don't know that I worked my way up to be a welder. People think because I'm still young I must have started out welding, but I had to work my way up from a laborer, to an operator, before seeing where the money was at, and becoming a welder.
If you could have dinner with anyone, alive or dead, who would it be?
My wife with no kids around, probably!
What was your favorite part of working pipeline?
I enjoyed the money! When you work pipeline you typically work 6/10s—60 hours a week—and you make great money. The best money you can make welding is probably in the pipeline industry. My first job out of school in 2010, I went straight up to North Dakota and I made about $4,500 a week.
What was your favorite tool out in the field?
My truck. Like I said, I was a rig welder and I bought my truck brand-new in 2012. I had a bed built for it, a welding machine in the back of it. It was a real slick welding truck. It kind of hurt my feelings to have to sell it.
If you weren't a teacher, what would you do?
I loved my job when I worked out on the road, I really did. I made good money and loved being one of the few people who could do my job. So in a perfect world, I would probably go back to that, but it's a hard thing to do with young kids.
If you got an unexpected afternoon off, what would you do with that time?
I'd go home, get the kids, and go fishing. I live in a pretty good spot, right by Lake Tenkiller and right by the Arkansas River. The Illinois River comes out of Lake Tenkiller and they stock it with trout.
If you were to tell someone "Thank You" for helping you become you, who would it be and why?
My grandpa, Dean Seratt. I never really had a dad in my life, so my grandpa took on that role and taught me how to be a man. He was always hard working. If I ever needed anything, he would help me out. He's helped me a lot along the way, not only in the pipeline industry but life in general. He just retired a couple of years ago, but he works harder now at the house than he did in the field.
What's the biggest piece of advice you have for new students to help them be successful?
This is what I tell my students: you can learn to weld by coming here, but you only get out of it what you put in. If you aren't prepared to put a whole lot into this school, then you're not going to get a whole lot out of it.
Work hard, burn as many rods as you can, and you can be whatever you want to be as a welder. It's not just showing up and being here. You must work hard at it. It takes a lot of skill to be a welder. That's why we get paid good money. But not everybody has the "want." You have to "want" it and be prepared to work hard to get it. But if you put in the time, you can be whatever you want to be as a welder.
This blog has been labeled as archived as it may no longer contain the most up-to-date data. For a list of all current blog posts, please visit our blog homepage at https://www.tws.edu/blog/