Jacob, 29, from Park Hill, Oklahoma, is a welding instructor at Tulsa Welding School. Jacob has been with the school for almost a year. Jacob has taught every phase, but the class he has taught the most is Phase 3, which is MIG and Flux.
Thanks for your time, Jacob. When did you start welding?
I first got interested in high school. I played sports a lot, so I didn't get to do AG. But I did have a free hour in the morning, so I started going to AG with some buddies. They were building trailers, cattle cars and doing small repair work. That's where I learned how to MIG and flux core weld.
How long have you been welding?
I've got about ten years all together, but about eight years solid. My first job was doing flux core. I've mainly been a shop hand, although I did some shutdowns, things like that. I did a lot of piece work too.
Have You Considered a Career in the Skilled Trades?
Fill out the form to recieve a no obligation info packet.
What's piece work?
Piece work is when you're a contract hand. You come in for a certain amount of time, be it two to three weeks, six to seven weeks, or two to three months—it depends on the job. I've built everything from trailers up to big million-dollar pressure vessels. I've welded a lot of things over those 10 years.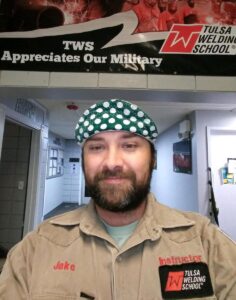 As a boy, what did you want to be when you grew up?
I wanted to be a professional baseball player. I was really big into sports. I had multiple scholarship offers to play basketball and baseball. I had the Kansas City Royals come watch me at Keys High School, which is a small-town school. I was going to play baseball.
Can I ask what happened?
While I was in high school, I bought a motorcycle. While riding it, I hit a deer and wrecked it. I broke my collar bone and the top of my shoulder blade. I was out for a while. I wasn't going to get to play, so they took my scholarship away. I withdrew because I was only going to college to play baseball, so I decided to go to a local vo-tech school, ICTC, for welding. I've been welding ever since.
What made you decide to go into teaching last year?
The company I was working for had me training two or three people a month, teaching them how to weld. I was still doing my welding work and training two or three people. I was getting burned out. I just wanted to be an instructor. I started to think, what if I could do this full time? I found a job listing online for Tulsa Welding School. I applied and talked to Chris Schuler, the Director of Training. He made me an offer, but my company made the same offer. I decided to stay because I'd been there three years. A year later, Chris called me back and told me the position was still available. At that point I realized I'd made a mistake the year before, so I took it. This is the best job I've ever had. It can't get any better for me!
What do you enjoy most about teaching?
I like helping the students. I like to see them really start catching on, when they start trusting me and the things that I say, realizing what I'm telling them is working. That's satisfying. I get to see them progressing. By the time they finish, they are on their way to being as good as I am. That's when I know I've done my job, I've done everything I can for them. At that point I realize they are going to be successful. It's not something I can hold in my pocket, but it is something I keep with me.
Do you have a family Jacob?
I've been married almost six years. We have two little girls: a five-year-old and a three-year-old.
Tell us something most people won't know about you.
I usually don't tell people about the baseball, because even watching baseball on TV depresses me now. I can't watch it. But people may not know that I play music and sing. Before I got married, I played music in bars and casinos all the time.
If you could have dinner with anyone, alive or dead, who would it be?
That's a difficult one because there are a lot of people who influence you over a lifetime. But I would say my grandpa, Raymond Robinson. He died the month before I was born. He is in the Oklahoma Country Music Association. I never got to meet him, but he was a huge folk singer around here. He was a big influence on my family. They all have a lot of stories about him. I never got to have that one on one time with him.
What was your favorite part of being in the field?
Most of my experience was in a shop environment. I got to build something different every day. It was never the same. If you go pipelining, then you just weld pipe: it's downhill stick all the time. Bigger or smaller pipe, it doesn't really matter. But in a shop environment, it's something different every day. You're never welding on the same thing twice. That's what I liked about it. I might do some MIG, or flux core, maybe some TIG welding, or some stick. The type of welding I did was always different, and in different positions: off scaffolding, on a ladder, on a forklift. You see a project start from a bunch of pieces scattered about, and you slowly put them together. At the end you have this huge 16-ton pressure vessel.
If you weren't a teacher and could do anything, what would you do?
Play professional baseball for the Red Sox or play music for a living! One or the other.
If you got an unexpected afternoon off from school, what would you do with that time?
I'd spend it with my kids. I'd come home and take them to the movies, or take them fishing, or take them to a playground. Maybe sit outside on a blanket and paint. We do that a lot.
If you were to tell someone "Thank You" for helping you become you, who would it be and why?
My older brother Terry. Our dad owned his own construction business and he was out of town a lot. Terry is four years older than I am, and he was always there for me. He took care of me. He really pushed me. When we played sports, we'd practice all the time. When I went to welding school, he went to the same vo-tech for heat and air, so we went through school together. He just stayed on top of me and kept reminding me to be the best that I could be, to make the next right choice.
What's the best piece of advice you have for new students who are just starting out?
Realize the opportunity that is in front of you. A lot of kids don't recognize the opportunity, they don't take it as seriously as they should. My advice is to really buckle down, take advantage of everything, and make the most of every day. That way you can get the end result that you want. Try hard, ask a lot of questions, and stay in your booth and weld. The more you weld the better you're going to get, but it is going to take time and it's going to take repetition.
Did you have a favorite tool when you worked in the field?
It's a scraper or a file that I made. I use it to chip off slag, things like that. I've had since my very first job. It's 10 years old and I've dropped and broke it several times. It used to be a foot long, but now it's down to about four inches. I still have it. I keep it in my bucket. I have students ask me about it all the time. They'll take it out of my bucket, and we talk about it. It looks like a snub-nosed little file. It's welded to a piece of rebar. It just looks funny! I guess when it wears out, it'll be time to hang it up.
This blog has been labeled as archived as it may no longer contain the most up-to-date data. For a list of all current blog posts, please visit our blog homepage at https://www.tws.edu/blog/