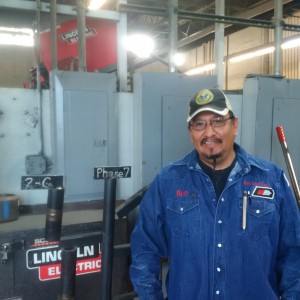 Ike is an Instructor at the Tulsa campus. A Native American – half Cheyenne, half Arickara – Ike has been teaching at Tulsa Welding School for two years. After leaving the Army, Ike had a variety of odd jobs including time as an apprentice carpenter. Ike started welding in his mid 20s, about 20 years ago.
How did you get started in welding, Ike?
A friend was a welder. He worked in a muffler shop, and he started teaching me how to weld. So, I started on some little welding jobs in the muffler shop or on boat docks, things like that. As time went on, I saw how much money you could actually make in welding, so I decided this was the path for me.
Did you go to welding school yourself?
Have You Considered a Career in the Skilled Trades?
Fill out the form to recieve a no obligation info packet.
As a matter of fact I did, about 15 years ago now I'd guess. I came to Tulsa Welding School. In fact, before I came here, I told my roommate he should come here. He graduated and worked on fiber optic pipelines for a while. He made so much money he opened a chain of muffler shops. Unfortunately, he went bankrupt; he didn't know how to run a business. Anyway, when he was making all this money, he told me to take my own advice and go to school, so I did. I actually used my GI Bill to pay for it.
How did you become a teacher?
I don't know where to begin with that. I was a boilermaker for quite a few years, and I wanted to change it up. I'd heard about off-shore welding; I'd talked to some boilermakers and welders about it. There is quite a bit of money in it, so I thought I'd chase the off-shore dream. I was headed down to Beaumont, TX, to follow that dream when I stopped at Tulsa Welding School to brush up on some of the processes.
While I was here, the instructors looked at my welds and we got to talking. They said I was good enough to be an instructor. They knew I was looking for a job, and they'd just had a couple of instructors quit, so the door opened for me. One of them took me to the president's office, and said, "Here's your next instructor, let's get the paperwork rolling." I introduced myself, took a weld test the next day, and here I am.
What do you like best about teaching?
Probably the students. Most of them have a passion for welding; that's what I love most about teaching here at the school. They want to learn. They're sponges. I can see it in their eyes when I'm explaining something to them; they're engrossed in it. Of course you also have students who just want to get by, just get through the school, but those who go on to be the most successful are those with the passion.
As a boy, what did you want to do when you grew up?
I started out wanting to be a race car driver; I built those soap box race cars. I was really into Formula racing and built little Formula racers. I'd put a bucket on the end, fill it with water, and shove off down the hill. Midway down the hill I'd kick the bucket off for a bit more propulsion. But as I got older I realized it's really not a job, so I started looking more into medicine. I thought about being a doctor.
The Army was my pathway to that; I figured I'd let them pay for it. I joined up right out of high school. Because I was only 17 at the time, I needed signatures from my parents. I became a combat medic, so I have my civilian paramedic license, and I ended up on various medical teams within the Army. I was active duty and in the reserves mostly, off and on, for about 14 years.
Tell me something that most people don't know about you?
I tried out for the US Olympic demonstration team for Taekwondo in Seoul, Korea in 1988. That was a big milestone in my martial arts career. Unfortunately, I didn't make it. I've been into martial arts since I was about 9 years old. I've studied a lot, mainly Korean arts like the three different styles of Taekwondo, as well as Hapkido. I got into boxing in high school and then Muay Thai, a combat sport from Thailand. People won't know about all that unless they've seen the memorabilia over the walls in my house.
Please tell us about your family.
I'm long divorced; I have three kids, a boy and two girls but I've not seen them in a long time. I do have animals at home. I have a parakeet. Coming home to an empty house and talking to yourself is kind of weird, so I got a parakeet to talk to! He mimics little words here and there. I've also got a female stray cat who's made herself at home. I call her Pester as she gets into everything like a raccoon. I also have two American Bullys; the breed is a mix between an American Bulldog and a Pitbull.
If you weren't a teacher and money was no object, what would you be?
I'd be a sailor. I'd sail around the world on a sailboat. I've never been on a sail boat, don't know much about it, but that's what I'd like to do!  It's a rich man's sport, I think, but that's something I'd like to do.
What's the best piece of advice you'd give to new students who are just starting out?
This is the absolute best place to start, but you only get out of it what you put into it. If you visit with friends all day and do the bare minimum required welds to pass, it's not a very good outlook. But if you're in there welding, giving it your all, producing some excellent welds, then this is a great opportunity. The instructors here will give you everything, help you step by step, if you're willing to put the work in.
What's your favorite tool?
A die grinder, there are several different kinds; there's a 90° angle, a straight angle. It's a small grinder used for taking small amounts of metal off your weld – grinding, honing, polishing. It gives excellent finishing touches to my welds. You can't really tell I've put a grinder to them. It's my favorite tool. It's a mystery ingredient I use at the end to make a beautiful weld.
If you could choose to have dinner with anyone, alive or dead, who would it be?
That is a hard question. Danica Patrick, the race car driver, I'd like to talk to her. Garth Brooks, he's  another good guy. Historically speaking, it would be a Native American called Russell Means. He's a Sioux off the reservation in Pine Ridge, South Dakota. He led a stand-off against the US government in the 1970s. I'm sure that would make for an interesting dinner.
You get an unexpected afternoon to yourself; what would you do with that time?
I'd jump on a motorcycle and just ride around. I've had a passion for motorcycles ever since I was a kid. I had four of them, but I sold one to another instructor, another got stolen, so I'm down to two Harley's now. I had my first motorcycle when I was 9 years old, a little 50cc Honda my dad bought me. I used to ride circles in the back yard on it. If they weren't home, I'd take it out through the front yard and ride up and down the street. When I knew they were coming back, I'd be back in the yard riding circles!
Thinking back to your time in the field, what was your favorite part of the job?
Definitely the camaraderie of it. If you're on a project with other welders and two or three of you are building the same kind of units, it's almost like a friendly competition. Who's getting done faster? Whose looks better? Sometimes you get the whole shop involved – whose unit looks better? Everybody wants to help everybody; that's what's great about welders.
There's been several times where I've got so mad because I just can't get a weld down. Another welder will notice, come up and say, "Take a break, let me do it" and take over from where I left off. They got me over the part that was frustrating me, and then I'd come back to it and move on. All welders are there to help each other.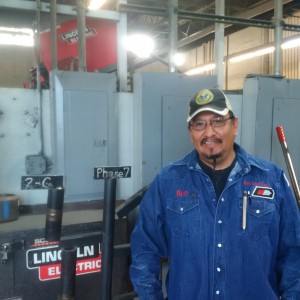 If you were to tell one person, "Thank You", who would it be and what did they do?
It would be my dad, Ralph Dru. He passed away just a few months ago. He was a doctor. He was in the military and served in several conflicts. In fact, he got me into the military. I was in his unit and he was my commander at one point. He went into diplomacy and served down in Honduras for a while and married a Honduran lady. He just led me through life. He was my dad, my father, my commander and my best friend.
This blog has been labeled as archived as it may no longer contain the most up-to-date data. For a list of all current blog posts, please visit our blog homepage at https://www.tws.edu/blog/