Meet Travis Hopkins
Travis Hopkins, welding instructor at Tulsa Welding School – Houston, is four months into the job at our new campus. Born and raised in Denton, TX, Travis arrived in Houston six months ago with the clothes on his back and a motorcycle.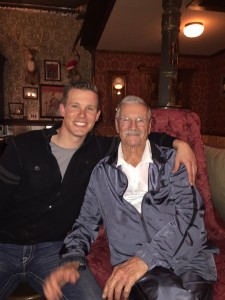 Tell me how you got into welding Travis?
In 2005 when I got out of high school I didn't know what I wanted to do. I was 18, busy having fun and partying, but I kind of knew I had to find a direction fast. I was working the oil fields at the time and I knew a couple of welders and pipeliners; I guess they're the guys that got me into welding.
Have You Considered a Career in the Skilled Trades?
Fill out the form to recieve a no obligation info packet.
And then you went to welding school?
Yes, I started doing some welding work here and there and then in 2007, when I was 20 years old, I went to Texas State Technical College to get my Combination Welding Specialist certification. That took a year, plus another three months for the Advanced Pipe course. After that I went out in the field and got some welding experience, working on pressure vessels, robotics, and cryogenics – stuff like that.
But then the recession came…
Yes, about a year after I graduated the recession hit, times were hard. I really didn't know what to do. I went from job to job. But I decided to use that down time to better my education and kind of wait it out, and do something positive until the jobs came back So in 2009 I went back to school for two years working on my associate's degree in Welding Technology.
When did you start at TWS?
We're just five months into our program and I was just the second instructor they hired, so I picked up the second class that moved through the school. So far I've been with my students all the way through their four months. I'm certified and qualified to teach all the way through the Welding Specialist program. So far I've been teaching morning, afternoon and evening class. I'm like a machine here!
As a boy, what did you want to do when you grew up?
I wanted to either be a teacher or a cop. My aunt Charla inspired me because of her drive and motivation. She can't be stopped! In fact I appreciate the work ethic I've witnessed in all my family. I did look into becoming a cop, but I didn't have the time to pursue it because I've pretty much lived on my own since I was 15, so I had to get to work pretty quick.
But here I am teaching, so one out of two isn't bad right? Last year I came down to Houston for a contract welding job, but it wasn't going to work out. I saw Tulsa Welding School was opening up a campus here, and I thought how cool would it be to become an instructor so I applied. I felt very blessed to land this job. It's kind of a dream job for me, I get to give back and I love it. It was a true blessing.
Tell me something that most people don't know about you?
I'm kind of a normal person you know, there's not a lot that people don't know about me. But I am a very avid rider of superbikes – crotch rockets. I love fast motorcycles. I've got a stretched out R1 racing Yamaha and people don't believe it when I pull up on that. A couple of students have said they couldn't picture me on one, so I guess that might surprise a few people!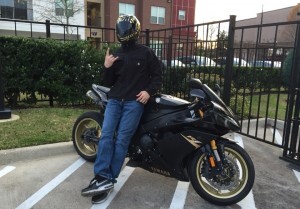 What's your favorite music, book and movie.
I love all kinds of music. Music to me is an emotion; the diverse beats, lyrics and melodies all mean something different. So depending on how I feel, I'll listen to different music. It could be Beethoven to go to sleep, or rap before I workout, or country music if it's just a good day!
If I had to pick a movie it would probably be Training Day with Denzel Washington…or Forrest Gump. I'm not much of a book reader. But my 2nd grade librarian teacher once told me never to judge a book by its cover. So one day, with all the books to choose from, I picked up one without a cover – "For Whom the Bell Tolls" by Ernest Hemingway. It's one of the few books I've read, and probably the one I like the most.
If you could choose to have dinner with anyone, alive or dead, who would it be?
Can I pick a group? I'd love to learn more about the Mayan civilization so I could understand more about them. Or Galileo, one of the greatest scientists and philosophers of all time; he would be very interesting to have dinner with.
Do you have a family Travis?
I'm not married, I don't have kids, but I do have a girlfriend.
If you weren't a teacher and money was no object, what would you do?
I'd like to travel the world. I'd go to poverty stricken villages in third world countries and try to help where I could. But I'd also use the experience to gain some perspective on the world, see what it's like to live somewhere that's not driven by technology. I think it would really make me appreciate what I have.
What's the best piece of advice you'd give to new students who are just starting out?
I know they have lots of personal things going on in their lives, but be dedicated to what you do here. You're here to build your skill and your knowledge, and it might be frustrating at times because you've never done it before, but be patient with yourself.
I also would say that it might be school, but treat it like it's a job. Show up every day, be on time, have your tools, be dedicated and be willing to listen and take instruction. And try to enjoy what you're doing while you're here. You're building a future, so make the most of it.
What's your favorite part of the industry?
The thing I love about welding is the skill I have for it. Every weld I do has my signature, my thumbprint if you like. It's something I can be proud of. I love the art of welding. There are so many different aspects to it. I also love that you can build or fabricate something from the ground up.
What's your favorite tool of the trade?
A TIG rig. It's a Gas Tungsten Arc Welding Torch. It's very slow and meticulous work, but when you get done, it's beautiful and it's clean. It's one of the higher welding skills, and it pays more if you know how to do it. It's a really pretty weld, and people respect the work. You can produce something you can be proud of.
If you were to tell one person "Thank You" for helping you become the person you are today, who would it be and what did they do?
My granddad, Charles Hopkins. He never gave up on me, he never judged me, and he always had good words of advice for me. He's always been there for me. It almost brings tears to my eyes talking to you about him; he means that much to me. I wouldn't be the person I am today without him. He's very proud of me, and I've looked up to him my whole life. He's done a lot for me.
You get an unexpected afternoon to yourself, what would you do with that time?
I'd ride my motorcycle, or maybe get out and enjoy the day. I like to be outdoors and enjoy nature. I love being outside in the fresh air whether I'm riding my bicycle, hunting, or riding my motorcycle.
What super power would you like to have?
I'd love to be able to fly. The sense of freedom, just coasting in the air like a kite or a bird, that would be awesome. But I'd also like to fly fast. When I'm doing 188mph on my motorcycle, that's as close as I can get to flying!
This blog has been labeled as archived as it may no longer contain the most up-to-date data. For a list of all current blog posts, please visit our blog homepage at https://www.tws.edu/blog/