Welding is a great career if you like to work with your hands, stay active while on the job, or get a sense of accomplishment from a completed project. Given that welding requires handling large pieces of metal, operating various welding tools, and following several safety precautions, you might wonder, what does it take to learn welding?
As with any job, it comes down to bringing the right skills, learning the relevant techniques, and practicing. The more commitment you bring to your welder training, the easier it will likely be for you to learn. There are many aspects that go into welding.
Welding Skills & Abilities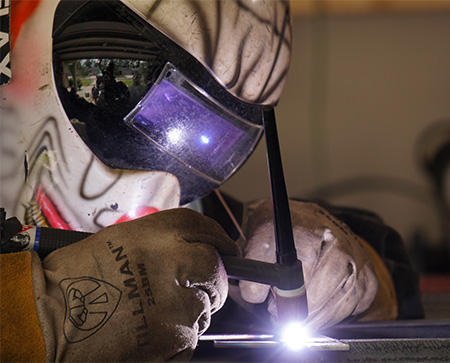 A successful welder has a broad range of skills and abilities. Since this is a highly exact craft, you will need what it takes to perform a welding job properly, such as precision and steadiness. Other relevant competences pertain to reading blueprints, communication, and completing administrative duties.
These are some essential skills and abilities:
Critical thinking
Operation and control
Monitoring
Reading comprehension
Arm-hand steadiness
Near vision
Control precision
Multilimb coordination
Problem sensitivity
Production and processing
Math
Have You Considered a Career in the Skilled Trades?
Fill out the form to recieve a no obligation info packet.
Welding Techniques
Welders learn different welding processes, and as a welder, you will decide which welding technique to use depending on a variety of factors, such as thickness or shape of the material 1. In some cases, innovations in welding technology may also affect your decision to choose a specific welding technique. These various techniques also have varying difficulty levels, but that simply means that some may require more practice than others.
Following are the most common welding techniques a welder may perform on the job.
SMAW
MIG
TIG
High Frequency TIG
FluxCore
Structural Welding
Pipe Welding
Aircraft Welding
Thin Alloy Welding
Pipeline Welding
Practice & Commitment
Any job or skill will become easier through practice and commitment especially if you remain disciplined in your training and take an effort in improving. Even after you complete training, it is a good idea to stay up to date with the latest developments in the welding industry.  Attending trade conferences and subscribing to trade publications are also good ways to show a commitment to the welding industry.
Learning the right skills and abilities and committing to your training will make are crucial. Many welding programs can be completed in under a year which makes it easier and faster to learn the skills you need to start a career.
1 – https://www.onetonline.org/link/summary/51-4121.06
This blog has been labeled as archived as it may no longer contain the most up-to-date data. For a list of all current blog posts, please visit our blog homepage at https://www.tws.edu/blog/