There are a number of adventurous and well-paying welding jobs. If you are looking for a career that is exciting and challenging, welding might be the right choice for you. The military, NASA or NASCAR offer openings for the bold welder.
What Is Considered an Adventurous Job?
An adventurous job is typically associated with excitement, new and unusual experiences, as well as a little bit of risk.
Becoming a welder can be a great way to avoid a monotonous office job where you are tied to your desk from 9 to 5.
Adventurous welding jobs involve traveling, varied job responsibilities and challenging work sites. Many of them offer the opportunity to be part of something big and meaningful.
Below are four adventurous career options in welding to consider.
Have You Considered a Career in the Skilled Trades?
Fill out the form to recieve a no obligation info packet.
Adventurous Jobs in Welding
Welder for NASA
Working at NASA means contributing to the expansion of human presence in space and studying the Earth's system with cutting-edge technology. Plus, you get to work alongside scientists, engineers, technicians and many others. Your work could have an immeasurable impact on humanity.
A welder at NASA will need to be an expert in hand welding and computer numerical control (CNC) welding operations. He or she must also be trained in the following welding techniques:
TIG
SMAW
Gas or oxy-acetylene welding
Plasma cutting1
In addition, NASA welders must be skilled in precision welding, as there are many small and delicate metal components in aeronautics.1
Benefits of Working at NASA
Employment at NASA also comes with generous benefits:
Health, vision, dental and life insurance
A comprehensive retirement plan
Monetary and non-monetary awards for performance
Career development opportunities
Paid time off2
Military Welder
The U.S. military maintains a presence around the world, so you might have the chance to work overseas. If you are looking for camaraderie and don't mind risky worksites, you could be the perfect candidate.
Army welders work in machine and repair shops, but also in the field and on construction sites. They may fabricate or repair metal parts for tanks and other equipment. Sometimes they may also be called to work on bridges.3
Navy welders in particular work in shipyards. The job responsibilities of air force welders are similar, but they also work on aircrafts.3
Benefits of Working in the Military
The military takes excellent care of its employees, thanks to its ample benefits, including financial support for education, 30 days of annual paid vacation and tax-free room and board.4
Traveling Welder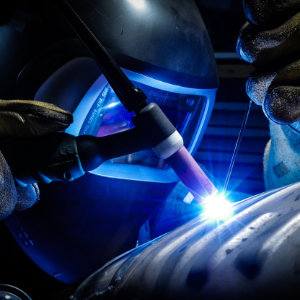 A traveling welding job can take you to some far-flung corners of the world. You might work at an Army base in the Middle East, on a cruise ship in the Caribbean or along a pipeline in Canada. This is a great career for someone who likes to be on the move, meet new people and encounter different job challenges.
Traveling Welder Job Description
As a traveling welder, you usually repair pipes in a lot of different locations. It is common for traveling welders to work in industrial or military environments. These road techs work on a variety of projects:
Industrial shutdowns
Shipyards
Military bases
Passenger ships
Pipelines5
Since this line of work is typically project-based, you can get a lot of time off between projects. Welders who work on industrial shutdowns, for example, usually only work six months out of the year.5
Welder for NASCAR
Are you looking for a welding job in a competitive, high-stakes environment? Would you love to work in one of America's most popular sports industries? NASCAR racing teams hire welders to work in their pit crew.
NASCAR Welder Job Description
Having skilled welders on the team is crucial because all the metal parts of the racing car are custom- made. You build the car from the ground up and repair and adjust components whenever needed.5
This is a job with huge responsibility. The weld quality of the vehicle is one of the major reasons why drivers can walk away from a crash on the speedway unharmed. Welders fabricate components like the roll cage and the chassis, which have to withstand impacts at speeds of more than 200 miles per hour.6
Train for an Exciting Career in Welding
Do you want to know more about where a career in welding could take you? Tulsa Welding School's Admissions Department can explain your welding career options and how to get started on the path to them with welding training. Give us a call at (855) 237-7711.
1 https://www.nasa.gov/centers/wstf/supporting_capabilities/machining_and_fabrication/welding.html
2 https://www.nasa.gov/careers/benefits
3 https://www.weldingsuppliesfromioc.com/blog/could-you-be-a-military-welder/
4 https://www.military.com/join-armed-forces/military-benefits-overview.html
5 http://gowelding.org/articles/facts-about-career-welding/
6 https://www.millerwelds.com/resources/article-library/welding-essentials-for-racing-a-visit-with-kevin-harvick-inc
This blog has been labeled as archived as it may no longer contain the most up-to-date data. For a list of all current blog posts, please visit our blog homepage at https://www.tws.edu/blog/