A structural welder lays out and fabricates the metal framework that supports commercial and industrial structures. Structural welders also cut and repair metal for beams, columns, girders and other building components.1
If you want to pursue a structural welding career and are looking for an especially adventurous job, you may want to consider becoming a telecommunication tower technician (also known as tower field welder or tower climber).
What Is a Telecommunication Tower Technician?
Tower Field Welder Job Duties
Employers expect telecommunication tower technicians to operate with great care and attention to detail. The job responsibilities of a tower climber include studying layouts, reading blueprints and following work orders.2
Welders in this line of work must be capable of "out-of-position" welding, which means vertical or overhead welding. This can be quite challenging because you are working against gravity, which causes the liquid weld pool to drip or sag, potentially resulting in a poor weld.3
Tower Field Welder Safety
Adhering to work safety is of the utmost importance when working at such heights. As a telecommunication tower technician, you will be secured in a fall protection harness. In addition, you might wear fire retardant clothing, gloves and a welding helmet with a chinstrap.4
Tower Field Welder Work Environments
Tower field welders weld structures that are part of telecommunication towers. They may have to climb to heights of up to 500 feet. This welding career also involves a lot of travel—you can expect to work across multiple states for extended periods of time.
As you always work outdoors, work conditions can sometimes be difficult. Tower climbers work whether it is rainy, windy, very hot or very cold.4
How Much Does Being a Telecommunication Tower Technician Pay?
The salary of a tower field welder varies depending on employer. Tower climbers are typically paid an hourly wage.2 Some workers in this industry may also get paid by the job.5
Depending on the company you work for, you might receive a benefits package that includes medical coverage, disability insurance, a retirement plan and professional development programs.
You might also get compensated for the following:
Fall protection
Safety
Personal protective
Cell phon2
How Do I Become a Telecommunication Tower Technician?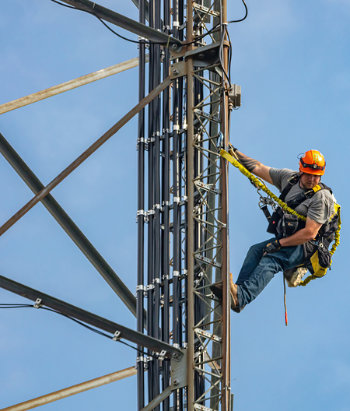 Complete Welding Training
Enrolling in welding classes is an important first step, especially since telecommunications tower welding requires a lot of skill and many positions require structural welding experience. Plus, employers generally prefer welders with post- secondary training.6
Aspiring tower field welders should be skilled at flux-cored arc welding (FCAW) and shielded metal arc welding (SMAW). They must know how to weld horizontally, vertically and overhead. Additionally, they must be proficient in the use of cutting torches, plasma arc torches and cutting machines.2
TWS prepares students for careers in structural welding, and instructs them in SMAW, plasma arc cutting and plate welding in various positions. Learning the fundamentals of structural welding can help you jumpstart your tower welder career.
Have You Considered a Career in Welding or HVAC?
Fill out the form to recieve a no obligation info packet.
Meet General Requirements
Good analytical
Solid computer
Strong communication
Ability to identify and solve
Ability to work
Interest in working in the field.
Physical ability and willingness to climb
Physical ability to lift 50+
Willingness to work outdoors in all types of
Ability and willingness to travel for extended periods of t2
Your employer may offer additional training that covers job-specific matters like basic rigging, ropes and knots, antenna/line installation and maintenance or tower structural installation and maintenance.2
Is Telecommunication Tower Technician the Right Job for Me?
Working on telecommunications towers can be quite different from the more traditional welding jobs we usually associate with, like the manufacturing industry. As a tower field welder, you are always outdoors, you work at great heights and you are on the road most of the time.
In case you aren't afraid of challenges and like the idea of working across the country, though, becoming a tower field welder might be an appealing choice for you. Find out what a day in the life of a structural welder looks like if you are interested in a structural welding career.
1 https://jobdescriptionandresumeexamples.com/structural-welder-job-description-example-duties-and-responsibilities/
2 http://towermrl.applicantstack.com/x/detail/a2vjq6la1ub2
3 https://www.thefabricator.com/article/consumables/out-of-position-welding
4 https://towersafety.com/welding-on-towers-and-the-required-ppe/
5 https://jobshadow.com/interview-with-a-tower-climber-2/
6 https://www.bls.gov/ooh/production/welders-cutters-solderers-and-brazers.htm#tab-4
This blog has been labeled as archived as it may no longer contain the most up-to-date data. For a list of all current blog posts, please visit our blog homepage at https://www.tws.edu/blog/