Welders are skilled trades workers who shape and join pieces of metal, like steel and aluminum, using heated torches or lasers. Welding is a skill employed in many different fields, from aerospace to ship building and construction to automotive.1
If you are considering going into welding, you may be wondering: do you have to be strong to be a welder?
While physical stamina and strength are generally considered important attributes to have as a welder, they are certainly not the only ones.2 Let's consider the skills that can be helpful for pursuing a career in welding.
How Important Is Physical Strength to Welding?
It's true that metal pieces are often heavy, and welds sometimes take considerable time to complete. For this reason, strength and physical stamina can be important to welding.1 Welders typically must be strong enough to lift and handle heavy materials.3 Welding is a physical job, so being in good physical condition, and able to bend, stoop or reach while working is generally considered to be helpful.2
Many employers look for welding candidates who are physically capable of completing a job, which may entail hours of kneeling, walking, crawling or standing. Some employers suggest that a welder can carry 50 pounds and lift up to 100 pounds.4
Women and Welding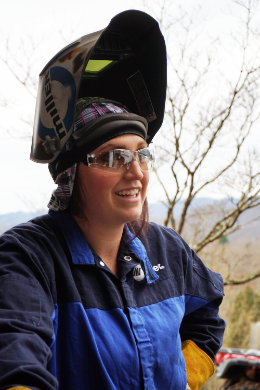 Welding is typically a male-dominated field, with women making up roughly only 5% of all welders.5
Why is this? Certainly, there may be many reasons, mostly around social norms and gender expectations, but a woman is just as capable of being a successful welder as a man.6,7
While having a reasonable level of physical strength can be a necessary component of being a professional welder, "not being as strong as the guys" shouldn't be a reason to stop any woman from pursuing welding training.
In fact, there has been a strong push in recent years to attract women to the field of welding, such as welding programs for high school girls and welding camps for young women.8 There are even scholarships for women in trade school.
There is usually nothing stopping a woman who wants to become a welder from pursuing her dreams.
Being strong is by no means the most important characteristic of a successful welder.2 Let's consider the whole picture and see what other welding skills are important to the job.
Have You Considered a Career in Welding or HVAC?
Fill out the form to recieve a no obligation info packet.
Welding Skills
Being physically fit is only one aspect of a welding career. A welder can benefit from possessing the following attributes and skills:
Attention to detail. Welders perform precision work, so the ability to work accurately and be detail-oriented can be key.2 Good eyesight and hand-eye coordination can help a welder perform well and minimize flaws.1 Welders work in sometimes-dangerous work environments, so keeping tools clean and following safety standards is of the utmost importance.9
Mathematical understanding. Welding is much more than just physical stamina; welding requires a good understanding of mathematical concepts, such as calculating dimensions, reading blueprints, spatially reasoning and interpreting diagrams. Welders don't need to know the most advanced mathematical concepts, but they do need to be able to apply a practical understanding to the job at hand.9
Administrative organization. You may be surprised to know that having administrative skills can be important to being a welder. Welders often need to be able to document their work, maintain inventory and order supplies when necessary. They might even need to plan and manage projects, either alone or with a team. Time management, organization and task prioritization are some of the administrative skills that can be helpful to welders.9
Technological proficiency. Welding is a field that uses technology and tools as a main part of the job, so a welder will need to be able to use the tools of the trade. Some of the devices a welder may use include lifting and control devices, soldering irons and robotic welding equipment. A successful welder is an adaptable worker who is able to keep learning as technology advances.9
More than Strength: The Well-Rounded Welder
Having a range of skills and qualities can make for a well-rounded welder. There is plenty to learn in the field of welding, and even more skills that you may need in addition to this list. Both men and women can become successful welders and being physically strong is only one element of a welding career.2,5
Quality counts and doing a job well can be an important factor to thriving in the welding industry.
Welding does not have to be intimidating. If you're a woman and you're drawn to exploring this career path, you might be surprised to learn there can even be fun jobs for women in the skilled trades (including welding).
1https://work.chron.com/requirements-becoming-welder-6817.html
2https://www.bls.gov/ooh/production/welders-cutters-solderers-and-brazers.htm#tab-4
3https://www.laborfinders.com/blog/do-you-want-a-career-as-a-welder/
4https://woman.thenest.com/requirements-becoming-welder-16249.html
5https://www.bls.gov/cps/cpsaat11.htm
6https://www.theatlantic.com/education/archive/2018/01/why-are-women-still-choosing-the-lowest-paying-jobs/551414/
7https://www.quora.com/Why-aren-t-there-more-women-in-welding
8https://www.futureofbusinessandtech.com/women-in-skilled-trades/the-sky-is-the-limit-for-women-in-welding/#
9https://www.thebalancecareers.com/welder-skills-list-2062500
This blog has been labeled as archived as it may no longer contain the most up-to-date data. For a list of all current blog posts, please visit our blog homepage at https://www.tws.edu/blog/