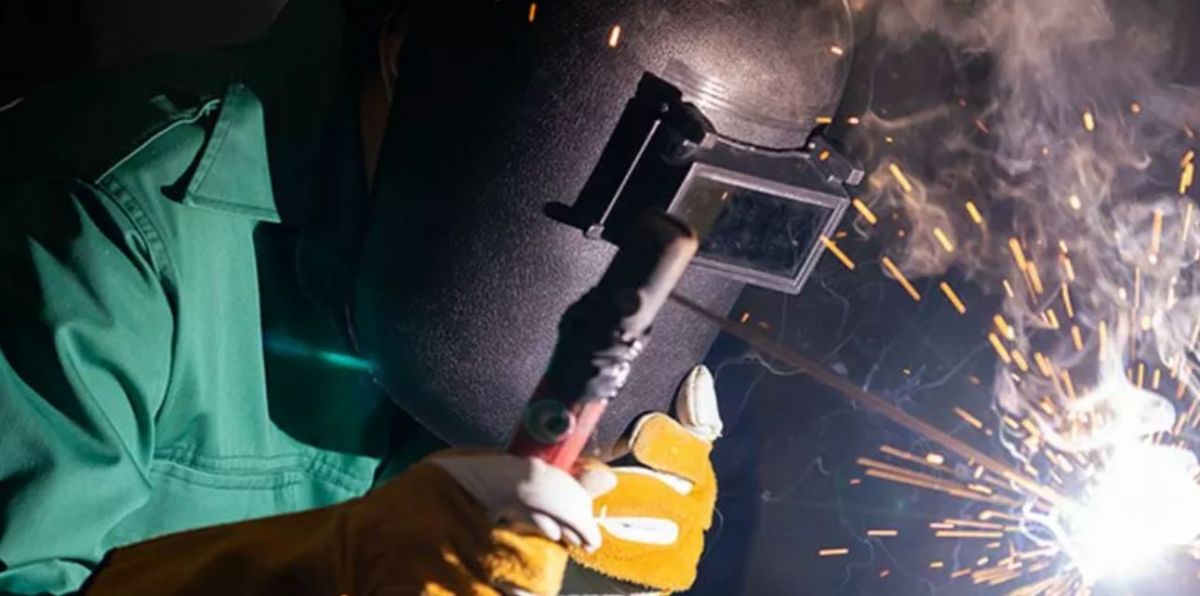 Are you interested in welding and want to learn more about tensile strength testing? There are many variables to create a strong weld and tensile strength testing is one way to test both the weld and base metals. Learning about tensile strength testing and other welding techniques can help you turn your interest in welding into a life-long career. Let Tulsa Welding School teach you more about tensile strength testing and the many welding fundamentals you will need to start a career as a welding specialist. So, what is tensile strength testing in welding?
What is Tensile Strength Testing in Welding?
Tensile testing is a destructive testing method that helps ensure a weld meets the required levels of strength and ductility.
To perform a tensile strength test, a sample of filler metal is loaded in tension until the point of failure. The test equipment calculates the ultimate tensile strength. Tensile strength is measured in pounds per inch (psi) and is the maximum stress withstood before failure.
There are three common tensile tests:
All Weld Metal Testing – testing only the weld metal that is welded on a test plate.
Have You Considered a Career in the Skilled Trades?
Fill out the form to recieve a no obligation info packet.
Transverse Tensile Testing – a tensile bar is extracted from the transverse axis (perpendicular) of the plate. This tests both the weld metal and base metal.
Longitudinal Tensile Testing – testing a specimen extracted in the longitudinal axis of the weld.
Other methods for testing tensile strength include:
Pull Test – weld is pulled apart until it fails
Bend Test – weld is bent until it fails
Tension Test – weld is placed in controlled tension until it fails
Shear Test – weld is placed in shear until it has a sliding failure along a plane that is parallel to the force applied.
Compression Test – weld is compressed under crushing loads until failure
What are Some Additional Terms That Relate to Tensile Strength Testing?
Here are some additional terms you should know as a welding, as described by the American Welding Society:
Ultimate Tensile Strength – the maximum amount of tensile stress that a welded joint can withstand before it breaks.
Yield Strength – the amount of stress a weld can withstand before it begins to deform.
Ductility – the ability of metal to change shape without losing strength.
Brittleness – the tendency of a material to fracture without first experiencing deformation.
Heat Treatment – the controlled heating and cooling of metals to manipulate its properties.
Extensometer – the device that measures the elongation of a metal during a tensile strength test.
Maximum Load Point – the point of a stress-strain diagram where the metal experienced the greatest amount of tensile force.
Percent Elongation – the ratio of the metal stretched during the tensile test, compared to its original size.
Interfacial Fracture – the separation of a resistance pot weld from the base material.
Aloyant – elements added to a metal to improve its hardness and strength.
Tempering – a heat treatment that relieves stress and reduces brittleness as a result of quenching.
Final Thoughts
Ready to make welding your career? Learn more about tensile strength testing and welding fundamentals at Tulsa Welding School. In as little as 7 months, you can become a trained professional welder and start welding in an industry of your choice. Whether you are interested in shipbuilding, manufacturing, automotive, infrastructure, pipefitting or one of the other industries that utilize welding, Tulsa Welding School can help you learn welding with classroom theory and interactive workshop courses. Take your welding skill to the next level and start a life-long career as a professional welder.
Want to Learn More?
Interested in learning how to obtain a welding diploma? The Professional Welder program at Tulsa Welding School starts by helping you learn what it's really like to be a welder: in interactive workshop courses and welding booths. In as little as seven months, you'll be trained in structural welding, flux core welding and pipe welding. You'll also be prepared to excel in job interviews and welding tests for various certifications.
Read about the types of welding careers you can pursue with your welding skills. Ready to start a Professional Welding program? Contact us today.