When you start welding school, you'll find out about the exciting ways you could apply your new skills one day in the wide world of welding:
Erecting new buildings
Fusing pipelines
Constructing planes, trains and automobiles
Welding training students get hands-on training in the core processes of SMAW, MIG, TIG and fluxcore welding. And you'll learn how to use new tools and types of equipment.
Welding School Toolbox Must-Haves
Welders rely on a lot of different kinds of tools to turn slabs of steel into metal masterpieces. Below are some of the gadgets beginner welders shouldn't do without when they start their training.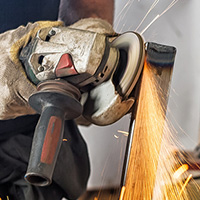 Angle Grinder and Discs
Angle grinders are often called "a welder's best friend" because they have so many uses in the shop:
Removing rust
Cutting metal
Grinding grooves
Smoothing out welds
These handheld power tools accomplish all of this with a blade or consumable stone disc attachments.
Consider picking up a 4 ½-inch or 6-inch angle grinder for welding training. You'll also want a variety of discs to handle different jobs like mill scale, weld splatter and porosity. Cutoff, grinding and wire wheels and flap discs are also toolbox essentials.[1]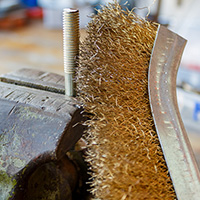 Wire Brush
Another helpful tool for removing rust and slag and cleaning metals prior to welding is a wire brush. This is a brush with metal bristles.
You'll want to use a separate brush for each type of metal: one for stainless steel, one for aluminum and one with mild steel bristles for mild steel. Make sure to mark which brush is which to avoid contaminating metal workpieces.[2]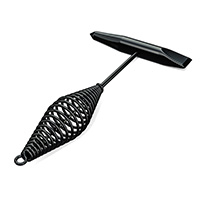 Chipping Hammer
When it comes to tough slag removal jobs, a chipping hammer is your go-to tool.
Shielded metal arc welding is one of the first processes you'll learn in welding training, and a chipping hammer will come in handy for cleaning slag from the weld edges and breaking flux off the bead.[3]
C-Clamps
The last thing students want is their workpieces sliding around right before they strike the arc. C-clamps hold pieces together tightly. You'll need a range of sizes of clamps to meet the work-holding requirements of projects of differing sizes and weights.[4]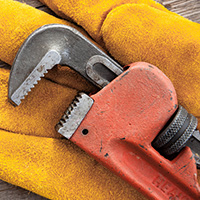 Adjustable Wrench
This tool comes in handy when you need to loosen nuts on the welding pressure regulator between the gas tanks and hoses used in oxy-fuel cutting and processes requiring shielding gases.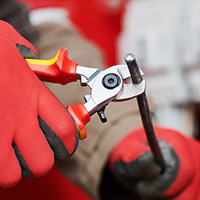 Wire Cutters
Gas metal arc welding, or MIG welding, is another fundamental process you'll learn in welding school. When you need to clean out your consumables or snip the ends of welding wire, reach for a good pair of wire cutters.[5]
Learn about other important tools for welding students in "Tools of the Trade: A Beginner's Guide for Welders."
Essential Welding Equipment
Now you have an idea of some of the tools you could soon work with. What else will you likely need to make your start in welding school a success?
Have You Considered a Career in the Skilled Trades?
Fill out the form to recieve a no obligation info packet.
Welding Safety Gear
When it comes to protecting yourself, pretty much anywhere sparks could fly should be covered up.
This means wearing fire-resistant welding gloves and full-coverage clothing: long-sleeved, wool shirts, long, heavy pants with no cuffs and a welding jacket. Shield feet from heat and heavy objects with steel-toed, leather work boots.
Welding Helmet
A good welding helmet is more than a way to protect your head. It can help you work better and more productively.
These days, students have a lot of options to choose from; it really comes down to how many features they want and how much they have to spend.
Head and Eye Protection
Don't count on your welding helmet to do all the work of keeping your head, eyes and ears safe.
Wearing hard hats, goggles and safety glasses—along with a good hood—is recommended. And it's not just a matter of remembering to put all this gear on, there are also best practices for protecting your head and eyes while welding.
Learn more about welding tools for beginners.
[1] https://www.thefabricator.com/blog/10-things-welding-students-need-for-class
[2] https://www.thefabricator.com/blog/10-things-welding-students-need-for-class
[3] https://www.thefabricator.com/blog/10-things-welding-students-need-for-class
[4] https://www.ccohs.ca/oshanswers/safety_haz/hand_tools/clamps.html
[5] https://www.thefabricator.com/blog/10-things-welding-students-need-for-class
This blog has been labeled as archived as it may no longer contain the most up-to-date data. For a list of all current blog posts, please visit our blog homepage at https://www.tws.edu/blog/