Science, technology, engineering, and mathematics (STEM for short) are vital skills for the future economy. STEM occupations can vary considerably, but as U.S. Bureau of Labor Statistics (BLS) points out, most STEM workers use their understanding of these four core subjects to solve complex problems, often while using computers and other equipment. 1
Increasingly, STEM is being incorporated into the skilled trades. Recent advancements in technology have had an impact on welding and fabrication. Those who understand why STEM is important—and make an effort to obtain the necessary STEM credentials—may enjoy a competitive advantage over other trade workers.
Rising Demand for Qualified Welders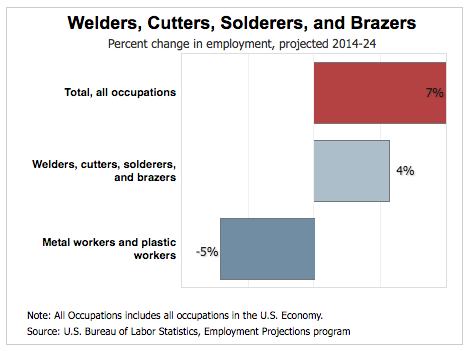 Job growth is promising for welders at all levels and in all areas of the industry, but the BLS reports that opportunities for welders, cutters, solderers, and brazers (51-4121) are most promising for those with training in the latest technologies. 2
As cited by the American Welding Society, welding is a STEM field. 3 Welders willing to embrace new technologies and other changes in the industry while those who don't may not fare well in a changing industry.
Have You Considered a Career in the Skilled Trades?
Fill out the form to recieve a no obligation info packet.
This is part of the reason why women are beginning to see the skilled trades, including welding, as viable career options as they are desperately needed. In an Op Ed at U.S. News & World Report believe that STEM-based training is key to closing the gender gap in welding and other trades. Women who undergo welding training and work in the welding industry can increase their pay by as much as 50 percent compared to other manufacturing jobs that don't require secondary education. Plus, you can take pride in a challenging yet fulfilling role as a highly-trained trade worker. 4
STEM Skills Offer Competitive Advantage
A Change the Equation study highlighted by U.S. News & World Report found that, while 3.6 workers are forced to compete for every one unfilled job in America, this trend reverses in STEM, where there is just one unemployed individual for every two unfilled jobs. 5 This is certainly true in the manufacturing sector; a study conducted by the Manufacturing Institute and Deloitte indicates that 2 million of the 3.5 million manufacturing jobs over the next decade will go unfilled due to the skills gap. 6
Whether you're hoping to break into the trades with a career in welding or are already gainfully employed as a welder, you can benefit from gaining an in-depth understanding of STEM as it relates to welding and fabrication. Your STEM skills will improve the quality of your work, while also making it easier to land higher-paying jobs.
1 – http://www.bls.gov/careeroutlook/2014/spring/art01.pdf
2 – http://www.bls.gov/ooh/production/welders-cutters-solderers-and-brazers.htm#tab-6
3 – http://awo.aws.org/2015/10/tomorrows-welders-need-stem-skills-today/
4 – http://www.usnews.com/news/stem-solutions/articles/2016-03-25/closing-the-gender-and-skills-gap-in-stem
5 – http://www.usnews.com/opinion/articles/2012/06/15/stem-education-is-the-key-to-the-uss-economic-future
6 – http://www.themanufacturinginstitute.org/~/media/827DBC76533942679A15EF7067A704CD.ashx
This blog has been labeled as archived as it may no longer contain the most up-to-date data. For a list of all current blog posts, please visit our blog homepage at https://www.tws.edu/blog/