Does your ideal career have a relatively short training period, high demand, respectable wages, variety and chances to travel, and provide opportunities for advancement? Then a welding career might be for you. Read on to learn more.
What Is Welding?
Welding fuses metal parts together through the use of heat to create a permanent bond using different types of welding processes . The process is necessary to manufacturing that involves steel, aluminum, and other metals ranging from forging chassis for automobiles and the frames for buildings to developing factory machinery and putting together medical devices. Over 50 percent of U.S. products require welding. 1
Working as a Welder?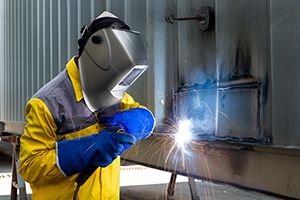 As of 2014, welders, cutters, solderers, and brazers (51-4121), as designated by the U.S. Bureau of Labor Statistics (BLS), worked at around 397,900 jobs in the following industries:
Manufacturing: 60%
Specialty trade contractors: 6%
Repair and maintenance: 5%
Merchant wholesalers, durable goods: 4% 2
The physical nature of the profession provides benefits not available to those who sit behind a desk for eight hours a day. If you enjoy variety, you could work at different locations throughout your career.
Have You Considered a Career in the Skilled Trades?
Fill out the form to recieve a no obligation info packet.
Welders Earnings
Welders averaged $40,970 a year, or $19.70 an hour, as of May 2015, according to the BLS. Here are some other interesting facts about the welding industry:
Most jobs are in architectural and structural metals manufacturing where 47,080 welders averaged $37,850 a year, or $18.20 an hour. Ranking second for employment was agriculture, construction, and mining machinery manufacturing with pay at a mean $38,670 yearly, or $18.59 hourly.
The highest paying industry was electric power generation, transmission, and distribution at a mean $71,570 a year, or $34.41 an hour. Wages for natural gas distribution at $69,010 annually or $33.18 hourly. 3
Where Can a Welding Career Take Me?
With the right combination of welding training, certifications, experience, and skills, some welders are able to advance into unique or cutting-edge career paths:
NASA welders recently completed a crew module for Orion that is designed to go to the moon and back in 2018. 4
NASCAR vehicles require welds that are strong enough to withstand the demands of the track and yet light enough to enhance performance.
Theme parks like Walt Disney World depend on welders to build and maintain attractions. Welders created much of the iconic Spaceship Earth at Epcot Center, for example.
Welders wanting to travel can go across the country to work in shipbuilding, military support, road technology, or underwater maintenance.
Several opportunities for advancement exist beyond the physical task of welding. Those with the aptitude, experience, and right credentials can take charge of teams as project managers, become inspectors to verify that work meets customer specifications, educate others as instructors, or sell equipment and services as sales consultants.
How Do You Become a Welder?
Most employers prefer to hire welders who have gone through a formal training program, asserts the BLS. 5 At a vocational school, welding training can take less than two years. You learn primarily through hands-on instruction using equipment simulating real work situations rather than lectures. Trade schools often have connections to local and national companies to provide networking opportunities and help with job leads for students when they graduate.
As you can see, welding can be an exciting and rewarding career path—and one you can enter in a relatively short period of time. So, is welding the right career for you?
1 – http://careersinwelding.com/welding_fun_facts.php
2 – http://www.bls.gov/ooh/production/welders-cutters-solderers-and-brazers.htm#tab-3
3 – http://www.bls.gov/oes/current/oes514121.htm
4 – http://www.universetoday.com/126581/nasa-completes-welding-on-lunar-orion/
5 – http://www.bls.gov/ooh/production/welders-cutters-solderers-and-brazers.htm#tab-4
This blog has been labeled as archived as it may no longer contain the most up-to-date data. For a list of all current blog posts, please visit our blog homepage at https://www.tws.edu/blog/