Many welding projects require a sturdy surface to work on, and that's when a welding table can come in handy. It can help you get the job done safely and comfortably.
When it comes to choosing a welding table, you have many options: different sizes, accessories and surfaces, as well as fixed versus portable tables.
Which welding table is best for you? In this article, you'll find more details about the various features to help you make an informed decision.[1]
What Is a Welding Table?
Considered a basic necessity for any welder's workspace, a welding table is essentially a waist-level platform that serves as a workbench. Sizes can range from 20'' x 40'' to 6.5'' x 13.''
To prevent fire hazards, welding tables are made from steel as a rule. The surface they provide is helpful for both welding and metal fabrication.[2][3]
Have You Considered a Career in the Skilled Trades?
Fill out the form to recieve a no obligation info packet.
Why Use a Welding Table?
The main purpose of a welding table is to provide a welder with a stable surface to work on. A welding table can be helpful with the following tasks:
Squaring corners
Gauging
Measuring
Mounting
Bending brakes and jigs
Electrical grounding
Another benefit of a welding table is comfort. Most tables have adjustable legs, allowing a welder to sit or stand in an ergonomic position while working.[4][5]
What Makes a Good Welding Table?
Comfort and sturdiness are the must-have qualities of a good welding table. Beyond these characteristics, the type of welding table that's best for you can depend on your shop space, project and budget.[6]
Below are some of the main features to consider when selecting a welding table.
Size of the Welding Table
How big is your typical project? That can help you determine what size welding table you need. If you need more space to work on big hunks of metal, opt for a table with a length and width of 4 feet or more. A large, modular table can be a good option if your project sizes tend to vary.
Choose a table that is two to three feet in length and width for smaller workpieces. Some smaller tables are even designed to fold flat, a bonus for welders who are short on shop space.[7]
Welding Table Accessories
How will you keep your work from sliding around? A clamp. The good news is most welding tables come with the clamp built in already. You can also keep cables out of your way by securing them with the clamp.
Here are some other accessories available that can also help make the workday easier:
Trays to catch debris
Magnets to hold work in place
Angled rails or braces that can serve as an extra set of hands to keep workpieces in specific positions[8][9]
Some tables come with hooks on the side, which are great for keeping cables out of the way or holding the welding gun.[10]
Portability of the Welding Table
If you have a large shop and plan on doing heavy-duty projects, you might want a large table with fixed legs. These tables usually can bear greater weights. Variations include modular options and those with wheels or casters.
Welders with smaller shops or who ply their trade at multiple worksites may find a portable welding table more useful than a fixed one. The bases of these tables can fold up flat, making them easy to transport around.
Many come with wheels so that welders don't have to frequently fold and unfold them. One drawback to portable tables is that they usually can't support as much weight as fixed ones.[11]
Welding Table Surface
Two features that can be helpful are surface coating and slots. A zinc coating can prevent rust and hot debris from adhering to the table while still allowing it to conduct electricity. Slots and holes make it easier to clamp work because the welder isn't limited to securing the work to the edges of the table.[12]
Additional Welding Table Options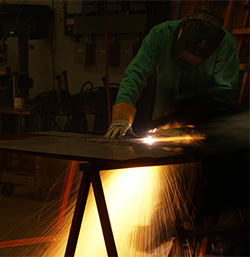 DIY Welding Table
Making your own welding table is yet another option, and, of course, you can add all the bells and whistles mentioned above, if you want.
Here are the standard supplies necessary for building a welding table:
Four angle irons for the legs
Two mild steel plates
Steel tubing
Four casters with threaded shafts and matching nuts
Four nuts
Four lock washers
You can read the full instructions on Lincoln Electric's website.
Used Welding Table
If you don't have the time to build your own welding table or the budget for a new one, consider purchasing a used table. You can check the local classified section in your paper or one of the many secondhand selling websites.[13]
Weighing Your Welding Table Options
There are many considerations when choosing a welding table and, ultimately, the best one for you will depend on your project, workspace and budget.
Students enrolled in welding training may want to take on the task of building their own table or quickly picking up a used one, while professional welders may require a new table with extra features.
Either way, a welding table can be a helpful piece of equipment in most welding shops.
A welding table is just one of the tools you'll need in the welding industry. Find out what's commonly found in a welding student's toolbox.
[1] https://beginwelding.com/choose-best-welding-table/
[2] https://www.bakersgas.com/weldmyworld/2011/03/04/what-is-a-welding-table/
[3] https://www.lincolnelectric.com/en-us/support/welding-projects/Pages/metal-welding-table-detail.aspx
[4] https://www.bakersgas.com/weldmyworld/2011/03/04/what-is-a-welding-table/
[5] https://beginwelding.com/choose-best-welding-table/
[6] https://weldinghelmetpros.com/welding-tables
[7] https://beginwelding.com/choose-best-welding-table/
[8] https://www.bakersgas.com/weldmyworld/2011/03/04/what-is-a-welding-table/
[9] https://beginwelding.com/choose-best-welding-table/
[10] https://beginwelding.com/choose-best-welding-table/
[11] https://beginwelding.com/choose-best-welding-table/
[12] https://beginwelding.com/choose-best-welding-table/
[13] http://www.weldingtipsandtricks.com/welding-table.html
This blog has been labeled as archived as it may no longer contain the most up-to-date data. For a list of all current blog posts, please visit our blog homepage at https://www.tws.edu/blog/