How can you find career success and satisfaction as a woman in welding? Consider these 5 tips:
Learn the fundamentals of metal fusing in welding training.1
Find scholarships for women in trade school.2
Connect with other women in welding.3
Wear women's safety gear.4
Earn welding certifications.1,5
Keep reading to see how these tips might help you achieve your welding career goals.
5 Ways Women Can Level Up Their Welding Careers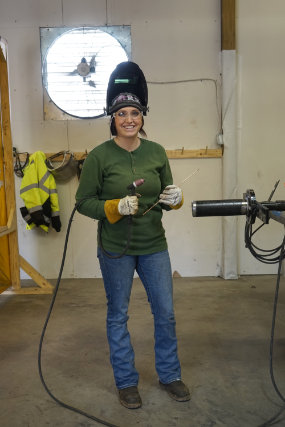 1. Learn Metal Fusing Fundamentals in Welding Training
Some postsecondary training is usually required to become a welder. Community colleges or vocational schools may offer this training. The U.S. Armed Forces might also offer this training.1
Courses in blueprint reading, physics, shop math, chemistry and metallurgy could be helpful. Basic knowledge of electricity and computers can also be useful, since many welders are increasingly responsible for programming computer-controlled machines.1
Some employers in the welding industry may be willing to hire workers out of high school and provide on-the-job training. Still, many employers prefer to hire those who have already been through a welding training program. Even entry-level workers often receive on-the-job training upon employment.1
2. Find Scholarships for Women in Trade School
If you are interested in going to a vocational school to train to become a welder, you might want to look into scholarships for women in trade school. One scholarship to consider is the Air Products Women of Gases and Welding Scholarship. The recipient of this scholarship might receive $2,500 toward her training.2
This likely isn't the only scholarship out there for women pursuing welding training. Check with your school's financial aid department for more.
Have You Considered a Career in the Skilled Trades?
Fill out the form to recieve a no obligation info packet.
3. Connect with other Women in Welding
Building relationships with other women in the welding industry could serve as a support network. Talking to other female welders could uncover shared experiences, helping you feel part of something bigger than yourself.3
Finding sisterhood in welding might help you navigate the industry more comfortably and encourage you to take on and overcome new challenges. Many women in welding celebrate each other's victories while striving for personal success.3
4. Wear Welding Safety Gear for Women
Welders need the proper gear to not only do their jobs effectively but also to keep them safe from hazards.4
For years, there was just a standard size for welding gear, which forced everyone in the industry to wear it, regardless of if it fit or not. This meant that women were often forced to wear gear that was too big for them. They often wore gloves too large for their hands, which usually resulted in weak welds from tactile-related issues. Women usually did not have access to jackets that fit, resulting in sleeves that were dangerously too long.4
Today, there is welding gear available specifically for women. Depending on your size, you might want to consider women's sized welding gear.4 You can likely find more information about welding gear for women online and select the equipment that's right for you.
5. Earn Welding Certifications
You might need welding certifications for some jobs, according to the Bureau of Labor Statistics. Employers may look for applicants certified in specific skills or in welding in general.1
In many cases, the courses offered at welding schools can help prepare you for welding certifications, such as the American Welding Society's Certified Welder program.1
To receive a welding certification, you likely need to prove your skills as a welder by taking a hands-on test on the procedures used in a specific industry, such as structural steel or chemical refinery.5
Join the Women Finding Success in Welding
Now you have some tips and resources in your toolbelt to help you join the ranks of women finding success in welding.
1https://www.bls.gov/OOH/production/welders-cutters-solderers-and-brazers.htm#tab-4
2https://www.aws.org/foundation/page/air-products-women-of-gases-welding-scholarship
3https://www.thefabricator.com/thewelder/article/arcwelding/advice-to-female-welders-from-female-welders
4https://weldfabulous.com/blogwomens-welding-gear-everyone-deserves-comfort-safety/
5https://www.aws.org/certification/detail/certified-welder-program-old
This blog has been labeled as archived as it may no longer contain the most up-to-date data. For a list of all current blog posts, please visit our blog homepage at https://www.tws.edu/blog/