Looking for ways to get a leg up in the welding job market or advance in the industry?
One of the keys to career growth is building up training and work experience. Another is making connections to other professionals in the field. And, of course, showing up on time and doing your best work can be just as important to making it as a welder.[1]
4 Ways to Level-Up Your Welding Career
1. Basic Welding Training
It's possible to land a job as a welder without basic training, but your prospects might be better with it.
Learning core welding processes like MIG, TIG and SMAW in a welding training program can equip you with the skills used in a range of industries:
Structural welding
Pipe welding
Aircraft welding
Many more
Having the right welding skills for the career you want can be important. Right now, welding positions are among the jobs that are the hardest to fill across the globe.
Have You Considered a Career in the Skilled Trades?
Fill out the form to recieve a no obligation info packet.
It's not necessarily that enough workers aren't applying for these jobs. Rather, many applicants lack the right skills.[2]
In the manufacturing sector, the problem is so acute that the number of days it takes companies to fill open jobs has jumped from 70 in 2015 to 93 in 2018.
Learning the fundamentals of welding in a training program can help give you a solid foundation of skills to enter the industry with. The Bureau of Labor Statistics supports this recommendation, reporting that many employers would rather hire applicants who have completed training and credentialing programs.
2. Continuing Education and Welding Certifications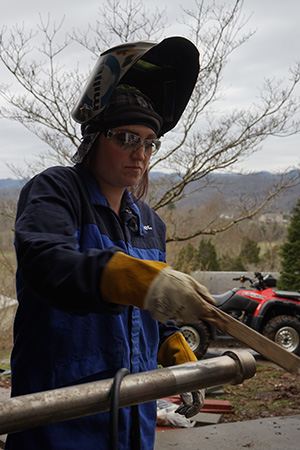 A welding certification can show potential employers that you have certain skills and knowledge. After basic welding training, you'll likely be tested on your skills by each company you apply at. This is known as an employer certification. This type of certification is generally accepted only by the employer who tested you, meaning you'll have to recertify when you go for the next job.[3]
There are formalized industry certifications that can help advance your career. For example, instead of conducting their own tests, many employers look for applicants who have successfully completed the American Welding Society's (AWS) Certified Welder program.
This certification proves to companies that you have passed tests on AWS Standard Welding Procedures, specifications standard across the industry and non-code welding specifications created by individual companies. You can present this certification at each new job you apply to.[4]
Beyond the AWS Certified Welder program, there are a host of other welding certifications you could earn. The AWS offers nine other certifications, such as Certified Welding Inspector and Certified Radiographic Interpreter. These are specialized certifications that can improve opportunities to land higher-level positions and leadership roles.[5]
The AWS isn't the only certifying organization, either. The American Petroleum Institute offers certifications for working on gas and oil pipelines, and The American Society of Mechanical Engineers tests on its codes for welding boiler and pressure vessels.[6]
3. Professional Trade Associations
You don't have to spend all of your time in class to learn. Joining a professional welding organization can give you opportunities to learn, network and gain credibility in the industry.[7] The AWS is one example. Members receive news, leading industry publications, access to educational programs and certification resources and opportunities to connect with other welding professionals.[8]
Aside from these benefits, membership in a professional welding association can show companies you might want to work for that you're committed to the field and keeping your skills and knowledge current.[9]
Below are some of the major welding organizations:
American Welding Society (AWS)
American National Standards Institute (ANSI)
Edison Welding Institute (EWI)
Fabricators & Manufacturers Association International (FMA)
Industrial Fasteners Institute (IFI)
Society of Manufacturing Engineers (SME)
The Welding Institute (TWI)
Welding Research Council (WRC)[10]
4. Welding Trade Shows and Conferences
Welding trade shows can be another great place to network and catch up on the latest industry technologies and trends.[11] Similarly, welding conferences can allow you to learn about the most current topics and technologies from industry experts.[12]
Upcoming Welding Events
Welding Tradeshows
FABTECH 2019
Check out 1,500 companies' products and learn about the latest industry developments at "North America's largest metal forming, fabricating, welding and finishing event." This year's FABTECH will be held in Chicago from November 11-14.
Welding Conferences
2019 Welding Industry Summit
Learn how to bring more value to your welding operations and to turn welding plans into successful projects at the 2019 Welding Industry Summit. The event will be held in Woodland, Texas from August 29-30.[13]
Welding conferences on shipbuilding, aerospace joining, inspection and other topics will be held in 2019 and 2020.
Welding Career Success in 2019 and Beyond
Learning basic and specialized skills, networking and keeping up with industry trends can all help you advance your welding career. But no matter how skilled and knowledgeable you are, it's also important to show up on time, be respectful and do your best work. Bringing the right skills and your best effort to every job can be keys to long-term career success.[14]
How else can you advance your welding career? Welding competitions. Held at the local, state, national and even worldwide level, welding competitions can be a great way to demonstrate your skills for an audience of experts and potential employers.[15]
[1] https://www.careeronestop.org/GetMyFuture/ExploreCareers/advance-in-a-career.aspx
[2] https://go.manpowergroup.com/talent-shortage-2018#hardesttofillroles
[3] http://www.weldingtipsandtricks.com/welding-certification.html
[4] https://www.aws.org/certification/cw_faqs
[5] https://www.aws.org/certification/
[6] https://work.chron.com/welding-certification-classifications-17865.html
[7] https://money.usnews.com/careers/company-culture/articles/2018-09-05/the-perks-of-professional-organizations
[8] https://www.aws.org/membership/
[9] https://money.usnews.com/careers/company-culture/articles/2018-09-05/the-perks-of-professional-organizations
[10] http://welding.com/resources/web-resource-center/welding-organizations/
[11] https://www.aws.org/events/tradeshows
[12] events
[13] https://awo.aws.org/conferences/upcoming-conferences/welding-summit-2019/
[14] https://www.careeronestop.org/GetMyFuture/ExploreCareers/advance-in-a-career.aspx
[15] https://www.millerwelds.com/resources/article-library/skillsusa-paves-the-way-for-a-bright-future-in-welding
This blog has been labeled as archived as it may no longer contain the most up-to-date data. For a list of all current blog posts, please visit our blog homepage at https://www.tws.edu/blog/