Look, we get it. When you're in school, taking on more responsibilities can be daunting. You're not just feeling the burn of student debt, you're also feeling your time getting away from you.
But you still need to pay for things when you're in trade school, and a part-time job might be your ticket to some financial stability. Hey, trade school is already shorter and less expensive than college![1]
But what about scheduling? Well, many trade schools offer both day and evening classes, making them more compatible with people who have outside responsibilities like part-time jobs.
Jobs, even those part-time gigs, are about more than just money, though. They can teach you organizational and management skills that you can take with you once your launch your full-time career in the trades.
You'll have to decide for yourself what kind of job you could bear day to day while working toward graduation, but we can at least give your search a jumpstart. Check out these 5 part-time jobs for students in trade school.
Have You Considered a Career in the Skilled Trades?
Fill out the form to recieve a no obligation info packet.
1. Service
The food service industry is popular among working students because of the flexible schedule.
Restaurants and bars are busiest when 9-to-5 workers have time off. You could likely pick up shifts during lunch or dinnertime, weekends or holidays.
A restaurant job can teach you how to work under pressure, keep customers satisfied and follow strict health and safety regulations around different substances and machines.
How much could you make waiting tables? The Bureau of Labor Statistics reported that waiters and waitresses made $9.61 an hour in 2016. Of course, you could earn tips too![2]
2. Night Auditor
Hotels have plenty of afterhours jobs.
Also known as a night clerk or night receptionist, a night auditor works behind the front desk during the graveyard shift. They often do double duty at night, handling both customer service and accounting responsibilities.[3]
This multitasking job. This job requires a lot of multitasking, but it can also equip you with a lot of new skills:
Better organization
Professional dealing with tired and picky people (These aren't going anywhere, no matter what industry you work in, so you might as well get used to them.)
The basics of managing a small business, all without the pressure of being the boss or owner
3. Guest Services Coordinator
If you can picture yourself working in the tourism, travel or retail industry, this could be the part-time job for you.
Customer service representative, guest relations and hospitality coordinator are other job titles for this role. Whatever your name tag says, your primary responsibility will be one-on-one interactions with customers and clients.
Resolving customer complaints and issues can teach valuable problem-solving skills.
4. Tour Guide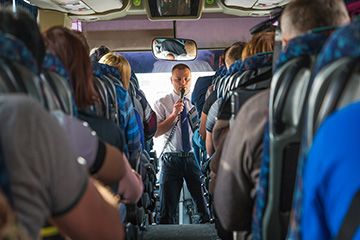 This job could have you guiding future students across your trade school campus or foreign tourists around your hometown. It requires a lot of thinking and working on your feet.
Of course, if you like being physical active, you'll get plenty of that. A typical tour guide job will require a lot of moving while you work—and studies have shown that sedentary jobs can come with health risks.[4]
You're already pursuing a career in the skilled trades, which requires a lot of physical strength and stamina,[5] so you know you have a lot of physical activity ahead of you. An active job like this can make you become accustomed to this sort of work, making it easier in the future.
The tour guide job comes with a few other benefits, though:
Pushing you to remember facts, improving your memory skills
Thinking creatively
Adjusting to different group dynamics
Mastering the art of small talk and making people feel uncomfortable
5. Barista
Unlike servers, baristas and food service-related workers have a wider variety of smaller, transaction-based tasks. Though the pace of a crowded café or fast food restaurant can be just as intense as a server's dinner shift, baristas have down time behind the counter and collaborate more often with other workers.[6]
As a barista, you won't just learn how to interact with lots of different people, you'll also have plenty of free coffee to fuel all your late-night cram sessions!
Building Strong Professional Skills
Welders, pipefitters, HVAC technicians, electricians and other skilled workers need a combination of technical and practical skills.
Every job requires a balance of specific and general knowledge. Vocational training and real-world experience can help you build both types of skillsets.
Enough about where you'll work while in trade school! Discover where a skilled trades career could take you after graduation.
[1] http://www.bls.gov/oes/current/oes430000.htm
[2] https://www.bls.gov/ooh/food-preparation-and-serving/waiters-and-waitresses.htm
[3] http://www.businessinsider.com/high-paying-part-time-jobs-2015-10
[4] http://www.ncbi.nlm.nih.gov/pmc/articles/PMC2996155/
[5] https://www.bls.gov/ooh/production/welders-cutters-solderers-and-brazers.htm#tab-4
[6] http://www.bls.gov/ooh/food-preparation-and-serving/food-and-beverage-serving-and-related-workers.htm#tab-2
This blog has been labeled as archived as it may no longer contain the most up-to-date data. For a list of all current blog posts, please visit our blog homepage at https://www.tws.edu/blog/