Trade school admissions requirements can vary with the school, but typically there are at least 4 steps to get into trade school:
Step 1: Meet Age and Educational Requirements
Many trade schools require you to be at least 18 years old and have a high school diploma or GED.
Step 2: Decide Which Skilled Trade Career You Want to Pursue
Do you want to become a welder? Or would you be more interested in a career wiring buildings as an electrician? Do your homework to decide which skilled trades career might be right for you.
Step 3: Find the Trade School Program to Prepare for that Career
Planning on a career fusing metal? Then you'd want to enroll in a welding training program. Want to repair air conditioners? HVAC classes would be the way to go.
Step 4: Complete an Entrance Interview with the Trade School's Admissions Representative
Your final step before starting classes could be to sit for an entrance interview with a member of the trade school's admissions team.
Take a look at how the perceptions of vocational programs have shifted post-pandemic and the steps you could take to get into trade school to build your new future below.
Increased Interest in Trade School and Tradespeople
At the same time college enrollment continues to shrink, some trade schools are reporting growth.1 The uncertainty caused by the pandemic led many people to reconsider their educational and career paths.2 This shift motivated many people to consider trade school and trades careers.
The pandemic uprooted the lives of millions of Americans across the country as unemployment reached all-time highs.3 This unforeseen disruption forced people to rethink their professional and academic plans.
There's been a noticeable uptick in interest surrounding trade schools, with many people citing the pandemic as their motivation.4 A recent StrataTech survey was conducted to determine how people's views of the trades have changed and the reasons behind this change. Here are some of the most important findings:
People Are Positive about the Trades
When asked about their feelings regarding trade schools, 87% of people enrolled or thinking of enrolling in vocational programs had a positive view of the schools.4 When narrowing down the respondents to high schoolers, a similar trend was found, with 80% reporting a positive view of trade school programs.4 Of those respondents who were enrolled in a trade school or considering the possibility, 57% reported that the COVID-19 pandemic was their primary motivation.4
Students Want a Closer Connection to the Workforce
When exploring what adults needed before considering a return to school, the Strada Center for Education Insights found guaranteed employment was the single most important factor.5 Another survey found the lack of connectivity between a degree and employment opportunities was keeping people from enrolling in college.2
The top two motivations for those enrolling or thinking of enrolling in the trades are the high rate of job placement following graduation and the opportunity to gain real-life experience.4 These factors might help explain why college enrollment rates are declining as interest in trade school increases.
Workers Are Seeking a Secure Source of Income
Job insecurity is another reason more people are looking towards the trades for career opportunities. In fact, 62% of people who needed to earn an extra source of income during the pandemic were motivated to enroll in a trade school.4 The StrataTech survey found 56% of people who enrolled or considered enrolling in the trades due to COVID-19 were looking for a more stable source of income. Another 29% were motivated by the fact that tradespeople like welders and electricians are considered essential workers.4
Have You Considered a Career in the Skilled Trades?
Fill out the form to recieve a no obligation info packet.
How to Get into Trade School: 4 Common Steps Students Take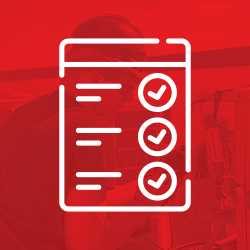 Step 1: Meet Age and Educational Requirements
The first step towards securing your spot in a trade school is to meet the minimum requirements. Although it varies between programs, most require applicants to be at least 18 years old. You'll also typically need a high school diploma or a General Equivalency Diploma (GED).6
There can be some physical requirements that you'll need to meet to attend trade school. For example, you may needto be capable of lifting objects and making necessary motions to complete certain tasks depending on the program in which you enroll.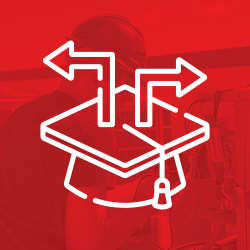 Step 2. Decide Which Skilled Trade Career You Want to Pursue
Here comes the most exciting step in the process: what kind of trade do you want to train for? Would you enjoy engaging with people on a daily basis or do you prefer working on your own? For example, many HVAC technicians work with home and business owners on a regular basis. But, it's not uncommon for welders to work on their own in a shop. Do you like working inside or outside? Thinking about all of these details can help you narrow down what trade is best for you.
There are a wide variety of different trades careers. Choosing one that lines up with your preferences, personality and future goals can make for a more fulfilling and rewarding career later down the line.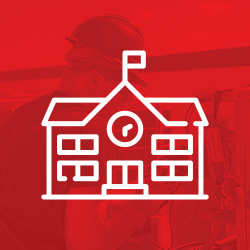 Step 3. Find the Trade School Program to Prepare for that Career
Once you've determined what trade you want to pursue, it's time to look for a trade school program that can prepare you for a career in that field. At Tulsa Welding School, we offer a wide variety of vocational training programs for individuals interested in becoming welders, HVAC technicians or electricians.
Our programs last anywhere between seven and 14 months and provide you with the skills you need for entry-level positions in the trades after graduation. If you're interested in learning more about our programs, feel free to contact us to schedule a tour before you apply for admission.
Step 4. Complete an Entrance Interview with the Trade School's Admissions Representative
Many trade schools require applicants to complete a preliminary interview with an admissions representative.6 This entrance interview typically occurs during an orientation program hosted for new students. If you successfully pass this part of the application process, you're considered officially enrolled.6
Trade School FAQ
1. Are trade schools easy to get into?
When compared to the college admissions process and the requirements of higher education, many people can find trade schools to be easier to get into.
2. What GPA do you need for trade school?
There's no set GPA required to get into a trade school. As long as you have a high school diploma or GED, you're qualified.
3. Can I get into trade school with a low GPA?
It depends. If your GPA was too low to receive a high school diploma, then you'll need to pass the GED before you can apply to a trade school.
4. Can you go to trade school at any age?
You must be at least 18 before you can attend a trade school.
5. Do trade schools require SAT scores?
No, most trade schools don't require standardized test scores.
Take Your First Step Toward Trade School Today
Are you ready to take the first step toward training to become a skilled tradesperson? Feel free to contact a Tulsa Welding School rep to get started. Call 855-806-4921 today.
1https://hechingerreport.org/more-people-with-bachelors-degrees-go-back-to-school-to-learn-skilled-trades/
2https://stradaeducation.org/report/reconnecting-hs-experts/
3https://fas.org/sgp/crs/misc/R46554.pdf
4https://stratatech.com/wp-content/uploads/2021/10/2021-StrataTech-COVID-19-Pandemic-Survey.pdf
5https://cci.stradaeducation.org/report/back-to-school/
6https://www.tws.edu/wp-content/uploads/tws-school-catalog.pdf
This blog has been labeled as archived as it may no longer contain the most up-to-date data. For a list of all current blog posts, please visit our blog homepage at https://www.tws.edu/blog/