Parents can play a vital role in helping their children grow to become successful adults with rewarding careers.
If your child has shown interest in metalworking and wants to pursue a welding career, here are some resources and suggestions to help you guide him or her in the right direction.
Why a Welding Career Could Be a Good Choice
Is welding a career you could feel good about helping your child prepare for? It can be.
A variety of professional welding opportunities exist because multiple industries need welders, including manufacturing, metal product fabrication, construction and oil and gas production.1
Professionals with proper welding training and education can be sought after, and career advancement in welding is often a possibility.
Have You Considered a Career in the Skilled Trades?
Fill out the form to recieve a no obligation info packet.
3 Ways to Help Your Child Prepare for a Welding Career
The path to welding school can start earlier than you might think.
Your child can begin preparing for a career as a metal fuser long before high school graduation.
Below are some steps you can take to help him or her get a head start on the path to this potentially promising career.
1.   Encourage Technical Education Courses
Modern high schools may offer technical education programs for students who are interested in vocational career paths.2 For example, one Texas high school funds its own welding program for up to 50 students per year by selling their welded creations.3
Even without dedicated technical courses, high schools can offer class selections that align with pursuing a welding career. A few examples of courses that may be available for your child in high school are chemistry, shop class and physics.
In addition to specific classes and career-centered programs in high school, you can look for ways to expose your aspiring welder to the following subject matter:
Electricity
Blueprint reading
Metalworking
Metallurgy4
Finding community programs or a professional willing to give a prospect some insight could be two resources for this information.
2.   Help Your Child Enroll in a Welding Training Program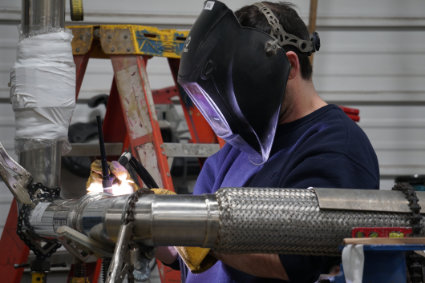 Proper welding training can be an important step for a teenager after graduating from high school because many employers prefer candidates with this credential.
Welding training is available through multiple platforms:
Vocational/technical institutes
Community colleges
Private welding, soldering and brazing schools
Welding and soldering schools operated by the U.S. Armed Forces4
Students who seek a diploma in welding from a private welding school may choose from multiple welding programs, such as the Associate of Occupational Studies in Welding Technology or Welding Specialist with Pipefitting programs at Tulsa Welding School.
3.   Nurture Important Qualities for Welders
Just as it is with other lines of employment, the most successful welders tend to have a certain set of qualities that help them on the job. As a parent, you can work to nurture these skills early on by encouraging extracurricular activities that help to sharpen them.
The following skills can be important for anyone looking to start a welding career:
Physical Strength and Stamina
Repetitive movements, lifting, standing for long hours, bending and reaching are often part of the daily job as a welder. Welders need to have good physical strength and stamina to handle the requirements of their jobs.4
Excellent Manual Dexterity
Welders can benefit from exceptional hand-eye coordination and a steady hand. Manual dexterity helps with tasks like holding a torch in a fixed position during long welds.4
Technical Skills
Technical skills are important when manually operating the equipment used for welding, such as MIG welders or stud welding equipment.4
Attention to Detail
The best welders can produce almost-flawless welds. They have a keen eye for detail. They see changes in molten metal as they weld, detect shifts in jointed pieces and can point out a straight edge or defects in welding.4
Skills with Spatial Orientation
Fitting metal pieces properly according to instructions or specifications involves an understanding of dimensional diagrams. Spatial orientation is necessary in many welding scenarios.4
Get More Information from a Welding School
As you can see, there are several steps your child can take long before graduating from high school to prepare for a career in welding.
You may be able to find more valuable resources, school tours and information about the career path and training programs by reaching out to a welding school.
Tulsa Welding School was founded in 1949 and has spent 60 years helping students prepare for careers in the welding trade. Contact us to learn more about how we can help you help your driven child. Call 855-237-7711.
1https://www.bls.gov/ooh/production/welders-cutters-solderers-and-brazers.htm#tab-6
2https://www.sctimes.com/story/news/local/spark/2016/05/09/high-school-welding-class-teaches-industry-standards/83077968/
3https://www.millerwelds.com/resources/article-library/texas-students-fund-welding-program-with-their-own-work
4https://www.bls.gov/ooh/production/welders-cutters-solderers-and-brazers.htm#tab-4
This blog has been labeled as archived as it may no longer contain the most up-to-date data. For a list of all current blog posts, please visit our blog homepage at https://www.tws.edu/blog/