One of the best things about taking welding classes is that you can create or fix nearly anything. While most people tend to think of industrial uses for their welding skills, there are actually a number of useful and even decorative household fixtures you can create. If you're trying to figure out what to get the special people in your life for upcoming birthdays or holidays, try these ideas.
1. Rustic Yard Decorations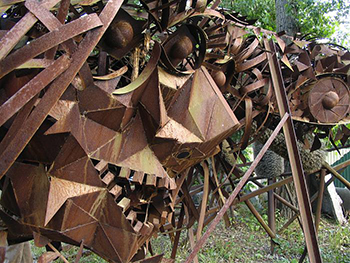 Who wouldn't want a nicer looking yard? There are a number of yard ornaments that are both beautiful and practical. One of the simplest gifts to make is a set of yard stakes that can be used for everything from pinning down decorations to tying back vines. 1
You can make yard stakes simply by cutting rebar and finishing the ends. These industrial steel bars rust quickly in the open air providing the perfect earthy complement to everything from ferns to succulents. Surprise your spouse one weekend by combining rebar with cedar to create a baluster, put your own spin on a garden gate, or frame a quiet sitting area with an arbor.
Tip: Once the rebar fixture has rusted to your satisfaction, seal it with a clear coat. 2
2. Personalized Book Ends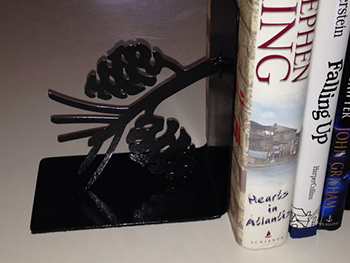 If you have someone in your life who loves to read, then a set of personalized bookends can be a thoughtful gift. These are often a great project for beginning welders because they are relatively simple to make. After cutting and bending two small pieces of sheet metal, simply spot weld a decoration. Popular ideas include horseshoes and tools. You could also weld two similar objects together at a right angle. 3
Tip: Make sure the bookends are heavy enough to support several books. If you use a thinner metal, add a lip that can be slid under the books for additional support.
Have You Considered a Career in the Skilled Trades?
Fill out the form to recieve a no obligation info packet.
3. Custom Candleholders
Candles are common holiday and housewarming gifts. How about a pair of custom holders to go with them? Simply weld decorations like hearts or stars to some basic holders. You'll need a scroll tool for more advanced projects like a heart shaped candleholder. 4 If you're up for a challenge, try a tiered wall sconce for tea lights.
Tip: Make sure to fashion a wax catcher so that your gift adds ambiance to the recipient's room without the mess.
4. Wine Rack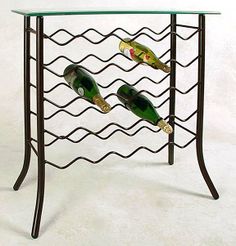 What better to pair with wine than a specially welded rack? This can be a more advanced project. To make it, you'll need to bend several pieces of metal into a U-shape, and then weld them onto a bar. To save time, you may want to consider using scrap pieces of rebar that have already been shaped or decorative objects like as horseshoes 5. Create a rack for just one bottle or a cellar's worth.
Tip: Include a nice bottle of red with this gift!
Gifts to Remember
If you know how to weld, then there are thousands of options when it comes to making gifts for your friends and family. You'll save money, and every gift you make will be personal and memorable. Start with the gifts listed here, and then try some of these other neat welding projects.
1 – http://www.hgtv.com/design/make-and-celebrate/handmade/how-to-weld-metal-flower-garden-art
2 – http://www.houzz.com/ideabooks/25223479/list/9-imaginative-ideas-for-industrial-rebar-in-the-garden/
3 – http://www.weldmyworld.com/blog/2011/03/how-to-weld-unique-bookends.html
4 – http://www.instructables.com/id/Metal-Heart-Candle-Holder/step2/Making-the-scrolls/
5 – https://www.youtube.com/watch?v=tnMOdtRVYqg
This blog has been labeled as archived as it may no longer contain the most up-to-date data. For a list of all current blog posts, please visit our blog homepage at https://www.tws.edu/blog/