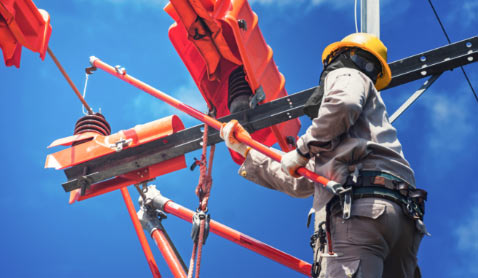 Interested in electricity and the fundamentals of electrical systems? Consider attending a school offering an industrial electrician program or an electrical lineworker program. Both are great opportunities to enter a life-long career, with the help of Tulsa Welding School. However, first, let's look into what an industrial electrician and electrical lineworker do.
What Does an Industrial Electrician Do?
Industrial Electricians install, maintain, and repair electrical power, communications, lighting, and control systems in businesses and factories. According to the U.S. Bureau of Labor Statistics, industrial electricians typically do the following:
Read blueprints or technical diagrams of electrical power systems
Install and maintain wiring, control, and lighting systems in industrial settings
Inspect electrical components, such as transformers and industrial electrical systems
Identify electrical problems using a variety of industrial testing devices
Repair or replace wiring, equipment, or fixtures using power tools and equipment
Follow state and local building regulations based on the National Electrical Code
What Does an Electrical Lineworker Do?
Electrical lineworkers install and repair electrical power systems and telecommunication cables.  According to the U.S. Bureau of Labor Statistics, linemen do the following:
Install, maintain, and repair power lines, substations, and transformers.
Identify and replace defective components on power lines and transformers
Test power lines and other electrical lineworker equipment.
Install, maintain, and repair power lines between homes, buildings, and street poles.
Climb poles or use truck-mounted buckets to repair power lines.
Travel to job sites and remote transformer stations.
Follow safety standards and protocols set by federal, state, and local governments.
What is an Industrial Electrician School vs Electrical Lineworker School?
An industrial electrician school trains students in the fundamentals of electricity and solar. This program also focuses on electrical wiring for industrial settings, advanced commercial wiring, motors and lighting practices, and electrical distribution systems. Our Electrical Applications program can be completed in as little as 7 months.
An electrical lineworker school trains students in electricity as it concerns electrical power systems, pole line construction, transformers, substations, and electricity transmission. Classes in this program focus on OSHA and compliance testing, job briefs and leadership training, pole climbing school, general pole line construction, field equipment, tools, and materials for lineworkers, and an introduction to transformers and grounding. Our Electrical Lineworker program can be completed in as little as 3 ½ months and is available at our Dallas Metro Campus.
Have You Considered a Career in the Skilled Trades?
Fill out the form to recieve a no obligation info packet.
Final Thoughts
Both programs focus on electricity and electrical systems. Plus, they both prepare you for an apprenticeship to become a journeyman within 3 to 4 years of experience.
The choice is yours. Either trade is focused on electrical fundamentals, but it is up to you to determine which direction your career path takes you. When you come to a fork in the road, take it.
Electrical Applications Program
The Electrical Applications program at TWS trains students in hands-on courses, guided by expert instructors, for one purpose: to prepare them for job opportunities as an entry-level electrician. This in-depth program teaches students about the fundamentals of mechanical and electrical principles, residential and commercial wiring, and more. This program is offered at our Jacksonville, FL, Tulsa, OK, and Houston TX campuses. Contact us at (855) 981-7313 to learn more about our Electrical Applications program.
Electrical Lineworker Program
Because becoming a lineman is a hands-on job, technical training is typically required for anyone to enter this field. Many people decide to invest in a trade program to learn the trade skills they need to be safe and effective as a professional. To learn more about our Electrical Lineworker program offered at the Dallas Metro campus contact us at Tulsa Welding School call (214) 227-9911.