Are you considering a career in welding? You have a lot of options when it comes to choosing a welding career path, and your welding training could give you a competitive advantage with employers. Here are some of the career paths you can pursue.
Where to Find Welding Jobs
Manufacturing is by far the biggest industry where welders are employed followed by construction according to the Bureau of Labor Statistics as of May 2016.  Here are a few examples of jobs those with welding skills can get.
Pipefitters
Plumbers, pipefitters, and steamfitters install and repair the pipes that carry liquids or gases to, from, and within commercial and residential structure. This field is expected to have faster than average job growth at 12 percent through 2024. 1 Pipefitters install and maintain piping in primarily commercial settings. Much of the demand for pipefitters and steamfitters will most likely from the construction and retrofitting of power plants and factories. 2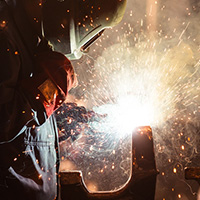 Ironworkers
The sometimes self-titled, "cowboys in the sky," ironworkers help make our buildings, bridges, and roads strong and sturdy by installing structural and reinforcing iron and steel. Job growth is expected to be 9 percent, which is slightly above average, through 2024 for ironworkers, but specialized positions within the field will likely have even greater job opportunities. For example, there will be 23 percent more jobs for reinforcing iron and rebar workers by 2024. 3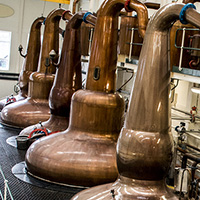 Boilermakers
Boilermakers produce the parts for boilers and install, repair, and re-pipe hot water and commercial steam boilers. They're also predicted to enjoy faster than average job growth through 2024. Those with welding experience may have a competitive advantage but the work can be dangerous and long periods away from home. 4
Sheet Metal Workers
Sheet metal workers fabricate and install products made from thin steel, aluminum or other alloyed metal. Sheet metal makes many products including HVAC ducts, rain gutters and siding. Like the other jobs listed, those with welding experience may be well suited for this type of work. Job growth is set at 7 percent, about as fast as average for all occupations. 5
Have You Considered a Career in the Skilled Trades?
Fill out the form to recieve a no obligation info packet.
Career Preparation
As you can see, there are some great career possibilities awaiting you once you finish welding school. Paying a visit to your career services department can be a good idea before you start your job hunt. They can assist you in composing a resume, preparing for interviews and employer or American Welding Society certification welding tests, and may even have connections to companies that are hiring. All of this can help you enter the industry prepared to get that first job.
1 – http://www.bls.gov/ooh/construction-and-extraction/plumbers-pipefitters-and-steamfitters.htm#tab-1
2 – http://www.bls.gov/ooh/construction-and-extraction/plumbers-pipefitters-and-steamfitters.htm#tab-6
3 – https://www.bls.gov/ooh/construction-and-extraction/structural-iron-and-steel-workers.htm#tab-6
4 – https://www.bls.gov/ooh/construction-and-extraction/boilermakers.htm
5 – https://www.bls.gov/ooh/construction-and-extraction/sheet-metal-workers.htm#tab-2
This blog has been labeled as archived as it may no longer contain the most up-to-date data. For a list of all current blog posts, please visit our blog homepage at https://www.tws.edu/blog/