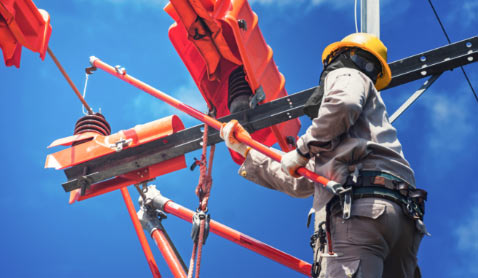 Do you see electrical lineworkers fixing power lines and think that is something you can do? You can. You can become an electrical lineworker with an education from Tulsa Welding School (TWS) in the Dallas Metro.
What Does an Electrical Lineworker Do?
Electrical lineworkers install and repair electrical power lines, power systems, and transformer stations.
According to the U.S. Bureau of Labor Statistics, lineworkers do the following:
Install Power Lines
Electrical lineworkers install transmission and distribution lines between power plants, buildings, and homes. They learn how to install the power lines during an Electrical Lineworker trade program at TWS.
Have You Considered a Career in the Skilled Trades?
Fill out the form to recieve a no obligation info packet.
Maintain Power Lines
Power lines need regular maintenance. Electrical lineworkers ensure power lines work correctly and provide electricity at the correct voltage to homes and businesses.
Test Power Lines
When power lines are installed, the electrical lineworker will test them for different use cases to ensure they hold up during extreme weather. A contact or non-contact voltage tester is the most common way to test a power line.
Repair Power Lines
Electrical Lineworkers are responsible for repairing power lines during storms and natural disasters to restore electricity to customers.
Replace Defective Components
Occasionally, electrical lineworkers will need to identify and replace defective components. Whether a transformer blows, an arrester needs replacing, or an insulator needs refurbishing, the electrical lineworker is trained to test components for defects and replace them as needed.
Crossarm – some street poles use crossarms to configure three-wire installations.
Lighting Arresters – arresters protect equipment from dangerous surges in electricity by safely diverting the electric current to the ground.
Neutral Line – provides a return path for electric current to the source.
Pole Ground Wire – copper wire that provides a path for electricity to the ground.
Primary Wires – lines that carry high-voltage electricity from transformers to customers.
Insulators – are made of materials that do not conduct electricity, allowing the electrical lineworker to connect the live wires to the pole.
Secondary Service Drop – wires that carry power from the transformer to the customers using electricity.
Transformers – used in the electric grid to convert electricity to different voltages.
Climb Poles
Electrical Lineworkers climb poles to string, splice, and tension wires between poles and transformers. At the end of the Electrical Lineworker program at TWS, you will complete your exam to obtain a pole climbing certification.
Travel to Job Sites
Power lines can go down in any neighborhood or community. Electrical lineworkers usually work in a geographical location and may travel to a job site to install, maintain, or repair power lines. They may drive utility vehicles with adjustable buckets to reach power lines on street poles.
Follow Safety Standards
Electrical safety is important because exposure to electric current can be dangerous. When shortcuts are taken, and safe procedures are not followed, electrical lineworkers can get hurt. They must follow safety standards and guidelines set by federal, state, and local governments.
OSHA standards are designed to protect employees exposed to dangers like electric shock and electrocution. You will learn about OSHA electrical standards during your trade program at TWS.
The National Electrical Safety Code (NESC) sets the ground rules and guidelines for safeguarding utility workers during installation, operation, and maintenance of communication lines and associated equipment.
Final Thoughts
Now that you know what an electrical lineworker does, it is time to learn more about Tulsa Welding School. We prepare you for a career as an electrical lineworker at our Dallas Metro campus. Start a rewarding career today and become a hero in your community next time a storm rolls in and the power goes out.
Want to Learn More?
Because becoming a lineworker is a hands-on job, technical training is typically required for anyone to enter this field. Many people invest in a trade program to learn the trade skills they need to be safe and effective as a professional. To learn more about our Electrical Lineworker program at the Dallas Metro campus, contact us at Tulsa Welding School or call (214) 227-9911.