Take a look around. What do you see? Automobiles, buildings, water towers and pipelines—all of these structures and more exist thanks to welders.
Welding is an integral part of everything from manufacturing to construction, and there may be job opportunities for those with the right welding training and skills.
If you're a high school senior looking for a career after graduation, consider training for one of these five options in welding.
1.  Welder, Cutter, Solderer and Brazer
In 2019, there were 438,900 welders, cutters, solderers and brazers employed in the country. Between 2019 and 2029, the Bureau of Labor Statistics (BLS) expects 13,600 more jobs to be added to that number.1*
Qualified welders may be needed to help rebuild and repair many bridges, buildings and highways.1
Have You Considered a Career in the Skilled Trades?
Fill out the form to recieve a no obligation info packet.
Welding Career Options
Workers with the right welding training and skills may find career opportunities in an array of industries. Below are some of the main fields where welders work:
Specialty trade
Maintenance and repair2
Welder Job Duties
Welders, cutters, solderers and brazers can have a host of job responsibilities:
Examining
Calculating dimensions of items to
Inspecting welding equipment and
Using equipment to join or cut pieces of metal.3
2.  Plumber, Pipefitter or Steamfitter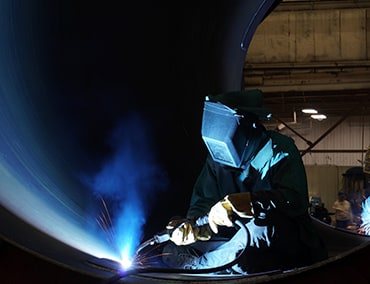 An estimated 490,200 employment positions existed as of 2019 for plumbers, pipefitters and steamfitters. All 3 of these career paths can involve welding and/or pipefitting, and those who train for them may find healthy demand for their skills. Between 2019 and 2029, the BLS predicts a 4% increase in jobs for plumbers, pipefitters and steamfitters.4
Plumber, Pipefitter and Steamfitter Career Options
The need for plumbers, pipefitters and steamfitters in the following fields may drive demand:
Building maintenance
Construction
Repair fields4
Plumber, Pipefitter and Steamfitter Job Duties
Each of these three welding-related career paths can involve unique skills and job requirements.
However, plumbers, pipefitters and steamfitters share one common job focus: working on pipes. These pipes may carry either gases or liquids. Some of the typical job tasks include the following:
Reading blueprints to install new pipe
Determining what kinds of pipes and materials to
Installing new pipes to carry liquids or gases through or around structures.
Identifying problems with existing pipe
Making general repairs on existing pipe 5
Plumbers, pipefitters and steamfitters can use different skills and tools to achieve their jobs. Welding or pipefitting are skills they may use when connecting metal pipes.5
3.  Ironworker
As of 2019, an estimated 95,900 ironworker jobs were in the United States. This welding field has a faster-than-average job growth outlook: 5% between 2019 and 2029.6 This
demand projection may translate into approximately 4,500 openings over the next ten years.7
Ironworker Career Options
Ironworkers tend to work in the construction industry, where they use iron and steel to help reinforce structures like bridges, buildings, and
Ironworker Job Duties
These tradespeople may be responsible for the following tasks:
Installing metal
Using heavy equipment to lift and position iron or metal
Employing bolts, hardware and welding to connect iron pieces 8
4.  Welding, Soldering and Brazing Machine Setters, Operators and Tenders (Robotic Welder Operators)
There were approximately 38,750 jobs for these professionals in 2017. Perhaps one of the more modern types of welding career, robotic welder operators work with machines or robots that heat, treat, weld, solder or otherwise manipulate metal pieces or components.
9*
Robotic Welder Operator Career Options
Robotic welder operators work in multiple industries:
Motor vehicle and motor vehicle parts manufacturing
Fabricated metal product manufacturing
Machine shops
Screw, nut and bolt manufacturing
Machinery fabrication9
Those who train for this type of welding career may also find their way into ship and boat building, electric power generation industries and utility system construction. Workers who use laser-cutting and plasma-cutting equipment can be included in this career category.9
Robotic Welder Operator Job Duties
These tradespeople may handle the following tasks:
Reading blueprints and production schedules to identify project specifications.
Aligning, assembling and securing workpieces for welding, bonding or soldering.
Setting up and operating welding
Inspecting, measuring and testing finished 10
5.  Structural Metal Fabricators and Fitters
As of May 2019, there were 76,890 positions for structural metal fabricators and fitters.11
Structural Metal Fabricators and Fitter Career Options
Structural metal fabricators and fitters can be found in many industries:
Machinery manufacturing
Ship building
Structural building
Fabricated metal product manufacturing11
Structural Metal Fabricator and Fitter Job Duties
These professionals can be tasked with the following duties:
Positioning or aligning parts to fit into an existing
Fabricating metal pieces and 11
Get Started on the Path to a Welding Career with the Proper Training
From auto manufacturing to metal fabrication, professionals with welding training can end up in a host of fields and may work their way through different industries over the course of their careers.
At Tulsa Welding School, our carefully designed training programs have helped students gain the technical skills they need for entry level welding positions over the last six decades.
Reach out to one of our friendly representatives to learn more about the programs we have available that can help get your career plans and goals off to the right start. Contact us online or call 855-237-7711.
* According to BLS data Oklahoma employed 11,390, Florida employed 13,730 and Texas employed 50,790 welders, cutters, solderers (514121) as of May 2019. BLS Data.
1https://www.bls.gov/ooh/production/welders-cutters-solderers-and-brazers.htm#tab-1
2https://www.bls.gov/ooh/production/welders-cutters-solderers-and-brazers.htm#tab-3
3https://www.bls.gov/ooh/production/welders-cutters-solderers-and-brazers.htm#tab-2
4https://www.bls.gov/ooh/construction-and-extraction/plumbers-pipefitters-and-steamfitters.htm
5https://www.bls.gov/ooh/construction-and-extraction/plumbers-pipefitters-and-steamfitters.htm#tab-2
6https://www.bls.gov/ooh/construction-and-extraction/structural-iron-and-steel-workers.htm#tab-1
7https://www.bls.gov/ooh/construction-and-extraction/structural-iron-and-steel-workers.htm#tab-6
8https://www.bls.gov/ooh/construction-and-extraction/structural-iron-and-steel-workers.htm#tab-2
9https://www.bls.gov/oes/2017/may/oes514122.htm#(3)
10https://www.onetonline.org/link/summary/51-4122.00
11https://www.bls.gov/oes/current/oes512041.htm
This blog has been labeled as archived as it may no longer contain the most up-to-date data. For a list of all current blog posts, please visit our blog homepage at https://www.tws.edu/blog/