Next time you fill your tank up at the gas station, you have pipefitters to thank.[1] These tradespeople weld and construct the massive pipes found in oil refineries, and the need for them has been strong in the oil and natural gas industry in recent years.
But that's not all. Pipefitters have a hand in powering cities through their work at power plants.
They also make sure gases, liquids and air flow smoothly in factories, helping important products like cars and cell phones get made.[2]
Where else do pipefitters work?
What Is a Pipefitter?
Pipefitters install fittings and pipes that transport air, steam and water, as well as other types of liquids and gases. This means figuring out what type of materials are needed for a specific job and getting them in the correct quantities and sizes.
Have You Considered a Career in the Skilled Trades?
Fill out the form to recieve a no obligation info packet.
Pipefitters use saws, drills and welding torches to connect pipes. When they're finished, pipefitters conduct pressure tests to make sure their work is watertight and airtight.
One of the main differences between pipefitters and plumbers is the size of the pipes they work on.
Plumbers typically work in homes and residential buildings. The pipes are smaller and usually made of steel, copper, or plastic. Pipefitters tend to work in industrial settings like power plants and factories, so the pipes are larger and made of steel or stainless steel.[3]
Where Do Pipefitters Work?
What is the career outlook for pipefitters? How many jobs are there? Which industries and states typically employ these tradespeople?
These are important considerations for anyone thinking about becoming a pipefitter.
Job Outlook
The Bureau of Labor Statistics (BLS) reports that jobs will be added for pipefitters at a rate almost twice as fast as the national average through 2026: 16 percent versus 7 percent.
Many of the job openings will come from retiring tradesmen and women. The construction industry may be another source of employment, but levels of building activity can fluctuate with the economy.
Pipefitters will also be needed to maintain and repair existing pipe systems, including major segments of the nation's infrastructure.[4]
Industries
Where there are pipes, there is a need for pipefitters. Factories, businesses and even homes are some common places they can ply their trade. They also work in nuclear plants, power stations, water treatment facilities and shipyards. Some pipefitters work outdoors on construction sites or on pipelines.[5]
Top Industries
Below are the top employers of pipefitters by industry. Keep in mind that the BLS includes plumbers and steamfitters in its data for pipefitters.
Air conditioning, plumbing and heating contractors: 62 percent
Self-employed plumbers, pipefitters and steamfitters: 13 percent
Government: 4 percent
Civil engineering and heavy construction: 4 percent
Manufacturing: 3 percent[6]
Top States
Some states employ more pipefitters, plumbers and steamfitters than others. Check out the top states for these tradespeople.
California
Texas
New York
Florida
Illinois[7]
Pipefitter Specializations
It's not uncommon for pipefitters to focus on a specialty.
Manufacturing: Installation and repair of pipe systems
HVAC industry: Servicing pipes used for heating and cooling equipment
Commercial buildings: Working on pipe networks used for putting out fires
Medical industry: Pipe systems that transport medical gases
Energy sector: Fabricating pipes for power systems[8]
How Much Can Pipefitters Make?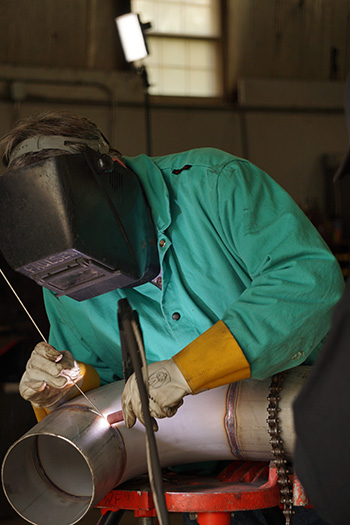 Another big question is, how much money could you make as a pipefitter?
Like other careers, there is a range of salaries for pipefitters. In 2016, they took home between $30,430 and $90,530 a year, reports the BLS.[9]
Those with pipefitter training and certifications or licenses may earn more than those without these credentials. Just as there are more pipefitter jobs in some industries and states than others, the pay can also vary by industry and location.
Experience and skill level is yet another reason for differences in pipefitters' earnings.[10]
How Long Is Pipefitter School?
Attending a pipefitter training program at a trade school is one way you can prepare for this career. The training is largely hands-on and can be completed in 10 months. Students learn the skills that can help them land entry-level positions as a pipefitter, plumber, boilermaker, or steamfitter.
Learn more about entering a pipefitting training program.
[1] http://awsweldlink.org/careers/detail/pipefitter
[2] http://work.chron.com/pipefitters-refinery-29629.html
[3] https://www.bls.gov/ooh/construction-and-extraction/plumbers-pipefitters-and-steamfitters.htm#tab-2
[4] https://www.bls.gov/ooh/construction-and-extraction/plumbers-pipefitters-and-steamfitters.htm#tab-6
[5] http://awsweldlink.org/careers/detail/pipefitter
[6] https://www.bls.gov/ooh/construction-and-extraction/plumbers-pipefitters-and-steamfitters.htm#tab-3
[7] https://www.bls.gov/oes/current/oes472152.htm
[8] http://awsweldlink.org/careers/detail/pipefitter
[9] https://www.bls.gov/oes/current/oes472152.htm
[10] https://www.bls.gov/careeroutlook/2015/article/wage-differences.htm
This blog has been labeled as archived as it may no longer contain the most up-to-date data. For a list of all current blog posts, please visit our blog homepage at https://www.tws.edu/blog/