Jaylon, 20, is from Albany, Georgia, but has lived in Jacksonville since the age of four. He graduated from the Professional Welder with Pipefitting program at Tulsa Welding School in Jacksonville in February 2022.
Thanks for sharing your story, Jaylon. Did you come to Tulsa Welding School from high school?
After high school I worked at Whataburger while I figured out what I wanted to do. I started welding school in March 2021 and continued working at Whataburger while I went to school.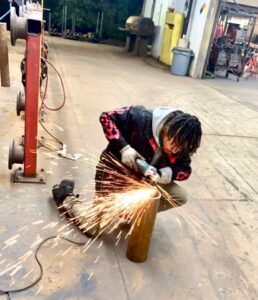 So, what made you think about coming to Tulsa Welding School?
Have You Considered a Career in the Skilled Trades?
Fill out the form to recieve a no obligation info packet.
Living in Jacksonville, my mom had seen the ads for Tulsa Welding School, and she told me about it. She thought I would like it. I thought it looked interesting, I thought I might like it too.
Had you done any welding before?
No, never. Although I've liked fire since I was younger, and when I looked into welding, I thought I would catch on pretty quick and end up liking it because I'd be working with fire.
What did you enjoy most about your time at Tulsa Welding School?
I really enjoyed the TIG welding part. But the overall experience, I enjoyed it because it was hands-on, and it was fast. I wanted to be done with school in less than a year. I didn't want to go to college, I just wanted to find a trade and be able to move on with my life. I made sure that I asked a lot of questions; you can work things out yourself eventually, but it's a lot easier if you ask questions. I took things one step at a time without getting distracted. I'd just try to focus on the one project in front of me.
TWS Student Store
The TWS student store is now open! Visit GoShopTWS.com go grab all the latest TWS swag.
Shop Now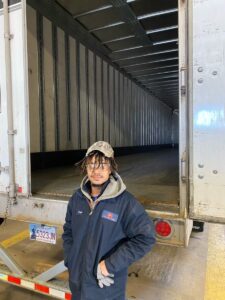 What shift did you do at school?
I had the night class, but I would come to school early some days, in the afternoon, just to get some practice in.
Having never welded before, how did you find the program? Easy? Frustrating?
Some phases came easy, it was like I'd been there before. I went in with the attitude that this is where I need to be, I need to get this done. I started to get frustrated in some of the later phases, like the sixth phase. When I would get frustrated, I'd walk away and take a deep breath. Some people would get their projects done before me and that would frustrate me. But I tried to tell myself not to worry about anyone else, I just needed to focus on my own project, to worry about what was in front of me and no-one else.
Did you sign up for Pipefitting from the start, or add it during the welding program?
I went ahead and signed up from the start. There are a lot of guys (and women) my age going into welding, and a lot of older guys, but not everyone does pipefitting. I thought it would be good to go-ahead and get the pipefitting down have that skill and experience while I was young.
So, you graduated a week ago. Who are you working for?
I work for Great Dane here in Jacksonville; we repair trailers at this location. I started back in October last year while I was still at school. I quit Whataburger and started before I went into the Pipefitting program.
How did you get the job?
A friend of mine, someone I met at Tulsa Welding School, his dad is one of the top people over there at Great Dane, so I got the opportunity through him.
Sometime who you know is as important as what you know. Were you tempted to quit school because you had the job already?
No, I was still determined to finish. I wanted to make sure that I got the skills down and I had everything that I needed to know coming out of school. There is still much more I need to know, you never stop learning welding, but I wanted to get everything I could out of school.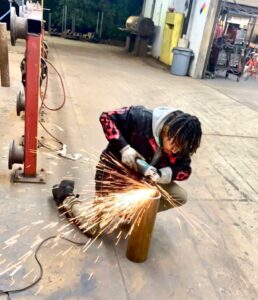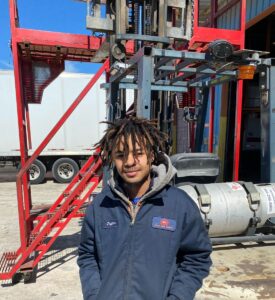 Were you happy with your first welding paycheck?
Yeah, I was pretty happy with my first paycheck, especially coming from Whataburger. It was quite a jump!
Do you get overtime?
Sometimes, yes. If we get backed up on trailers, we may have to work weekends at time and a half. That helps the paycheck.
What's your career plan from here?
I think I'll be here for just a couple more months. I'm looking at a job down in Goose Creek, South Carolina, with W International. They came up to the school to recruit welders. If you wanted a job with them, you pretty much just had to show up! I put in an application and I'm just waiting on my background check. I think I'll be moving in April. That's a pretty good job over there working on submarines.
What do you enjoy most about your new trade?
I just like the whole process. You're doing everything yourself. It's a boost to your adrenaline when you finish your project, what you're working on, to know that you actually did that yourself.
Did you make some connections at Tulsa? People you will stay in touch with.
Yeah, I have a couple of people. I have one friend up in Iowa right now: he's working on trailers over there.
What advice would you give to students considering Tulsa Welding School?
Go in there with the right attitude and motivation; go in believing that you can get it done, that you will see it through. Just show the people there that you have the right attitude, and you want to do it, and they will help you.
Motivation is important. What was your motivation, other than your mom!?
My motivation was thinking about my future. Having a trade like this will help my future in the long run.
If you're a TWS graduate and would like to share your success and be an inspiration to others, please email [email protected] to be considered for a Graduate Connection interview. Please include details such as your graduation date (month/year), program, and campus name (Tulsa/Jacksonville/Houston). 
This blog has been labeled as archived as it may no longer contain the most up-to-date data. For a list of all current blog posts, please visit our blog homepage at https://www.tws.edu/blog/