Dallan, 19, from Santa Fe, Texas, graduated the Professional Welder with Pipefitting program at Tulsa Welding School & Technology Center in Houston in July 2021.
Thanks for your time Dallan. Did you go straight to welding school out of high school?
I actually started in July after graduating high school in June. I had one last month of freedom!
Did you enroll in the Pipefitting program from the start or add it on later?
No, I added it later. I definitely had Pipefitting in mind as something I wanted to do, but it depended on whether I had a job coming out of the welding program, and how well paid that job was going to be. Since I didn't have a job lined up, at least one worth taking, I decided to do the Pipefitting.
Have You Considered a Career in the Skilled Trades?
Fill out the form to recieve a no obligation info packet.
When did you start welding?
I first welded as a sophomore in high school, but it was just in an Ag Mech class. We didn't do much welding. It was what we called a "blowoff'" class; something we could easily get 100% to boost our GPA without having to do a ton of work. But I enjoyed the welding enough to enroll in a community college welding course offered through my high school. I learned a little, not a ton, in two years. Enough to know that welding was something I wanted to do, which is why I applied to Tulsa.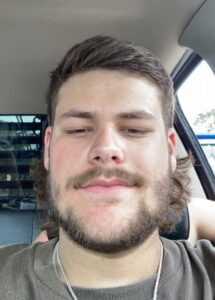 What did you enjoy most about Tulsa Welding School?
Other than really enjoying the welding, especially learning how to TIG, I met some good people. When you go to a new school, you're scared to meet people. But you're going there for something you're passionate about, something you want to do for the rest of your career. When you get there, you realize the place is full of people with the exact same mindset as you. I made some lifelong friends there. You know the kind of friends you can talk to everyday and then not talk to for weeks upon months, and never skip a beat.
TWS Student Store
The TWS student store is now open! Visit GoShopTWS.com go grab all the latest TWS swag.
Shop Now
How were the instructors, and the experience compared to high school?
Most of the instructors were cool. They talked to you like adults about their welding experience which helped a lot. Especially for someone like me who had never been on a job site as a hand, never mind as a welder. So, them sharing their real-world stories helped a ton, especially in the transition from student to worker. That on-the-job insight really gives you stuff to look for. That's where Tulsa is different from high school. High school teaches you to take tests. Tulsa Welding School teaches you to succeed in your career.
Are you glad you stayed on for the Pipefitting course?
Yes, the Pipefitting course was useful. It taught me a lot of things that I didn't think I needed to know. On my job now, even though I'm not pipefitting, I do use some of the information I learned because I have to do some fitting type things. For someone straight out of high school without a ton of hands-on experience, working with wood or metal, it taught me a lot. I'm glad that I stayed on for those extra three months.
You graduated a month ago, where are you working?
I am working for an aluminum fab shop called Cerda Industries in Houston, Texas. We make aluminum shoring, trench, and excavation products.
How did you get the job?
Through a family member who knows the owner really well. I actually sent the owner my résumé asking him to circulate it to other people he knows in the industry; he knows a bunch of fab shops. Somehow his shop foreman got a hold of it and called me the next day. He asked me to take a weld test. I took the test on MIG aluminum, something I had never done in my life, and ended up passing. The rest is history!
Congratulations! It's useful to have connections sometimes.
You have to get experience somewhere, somehow, either through a job at a fab shop, or by being the lowest person on the totem pole in a plant as a firewatcher. Nine time out of ten you won't get into a plant as a welder making the big bucks straight out of school. Even if your weld test is equivalent to someone else's, if they have more years of experience, they will choose the other candidate. I think that's how plants are, how the pipeline is, and how the industry is in general. You have to be prepared to pay your dues and build your experience, so take any opportunity that comes your way early in your career.
So, having said that, are happy with what you're making right now?
I'm not disappointed by any means, because for a starting job for someone with no experience, it's not bad. I'm getting paid to learn and build my experience. It's constant pay. I'm not scared I'm going to get laid off and not find the next project for six months. I learned more in the first week on this job than I learned anywhere else. I'm not even talking about welding, just learning about being on a site.
You have to come out of school with the right expectations. As a wannabe welder in school, you hear the stories of how much traveling welders make in the plants or on the pipeline with their rig trucks and all that good stuff. But at times like these, that work can be hard to find. Those guys might make big bucks on those types of jobs, but then they might be out of work for months at a time when they aren't making a dollar. Nine times out of ten, you're not going to get those jobs anyway right out of school. So I'm happy with where I'm at right now as I build my experience.
So, you don't want to be a traveling welder then?
No, I do not want to be a shutdown/turnaround guy. They can make a lot of money, but that's only if they get on a new job every three to six months which is difficult at the moment.
What's your career plan from here?
My plan is to get the experience I need, then get a steady job making good money in a plant. I want to work my way up to a CWI (Certified Welding Inspector). After that, there's always more you can do in this field. If I don't enjoy being a CWI, I could be a shop foreman or supervisor, or even a welding supervisor. But like I said before, I don't want to do plant shutdowns. I want to be at an actively working plant where I'm on a schedule. I've learned, as I've grown up, that I do best when I'm on a schedule with a routine.
What do you enjoy most about your new trade?
A lot of people ask me why I wanted to be a welder, and it's the same answer. I look at welding as a form of art. It's something I enjoy doing, that I'm good at, that others may not be able to do. When I lay a really nice bead on a plate, it amazes me every time. It doesn't matter if I've done it one hundred times or once, it's the same amount of excitement. Especially with a TIG weld when you get that rainbow color through your bead. That's when it feels like an art form that I get to do for a living. It definitely feels like work, but it doesn't feel like the same work every day, even though you are doing the same thing every day.
You mentioned it earlier, but did you make some last connections at school?
There are people I will definitely stay in touch with for sure. I've got one buddy who went off to a job in Iowa. We talked about going out there together, but things didn't work out that way. Maybe later in our careers it will work out that we can work together somewhere. We've talked about that. I've got another buddy. I talked to him just the other day and he seems to be doing pretty good for himself too.
What advice do you have for new students to be successful at TWS?
Keep your hood down and spend all your time in your booth. If you don't, you won't see the progression. It's all about repetition. Make the most of the phases in school. They are only five weeks long. It's like playing sports. If you do something a million times, you will get better. Practice, practice, practice. Welding is one of the hardest things to master. You could ask any welder in the USA and ask them if they've mastered the trade of welding? I guarantee you every single one of them will tell you no.
If you're a TWS graduate and would like to share your success and be an inspiration to others, please email [email protected] to be considered for a Graduate Connection interview. Please include details such as your graduation date (month/year), program, and campus name (Tulsa/Jacksonville/Houston). 
This blog has been labeled as archived as it may no longer contain the most up-to-date data. For a list of all current blog posts, please visit our blog homepage at https://www.tws.edu/blog/